Just about 7.5 kilometres in length, the Golden Mile is the most famous and exclusive address in Marbella – and one of the classic avenues on the Mediterranean.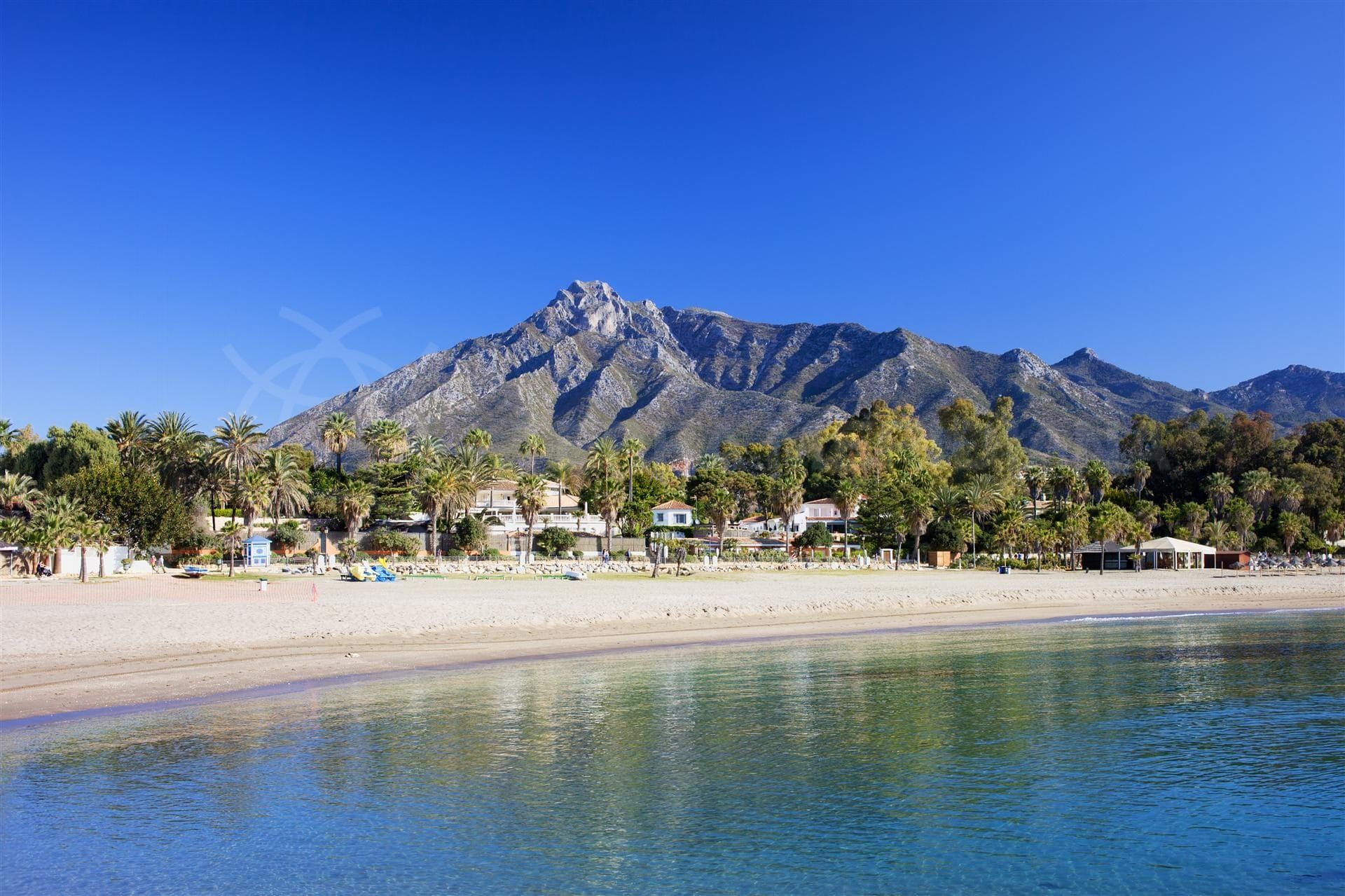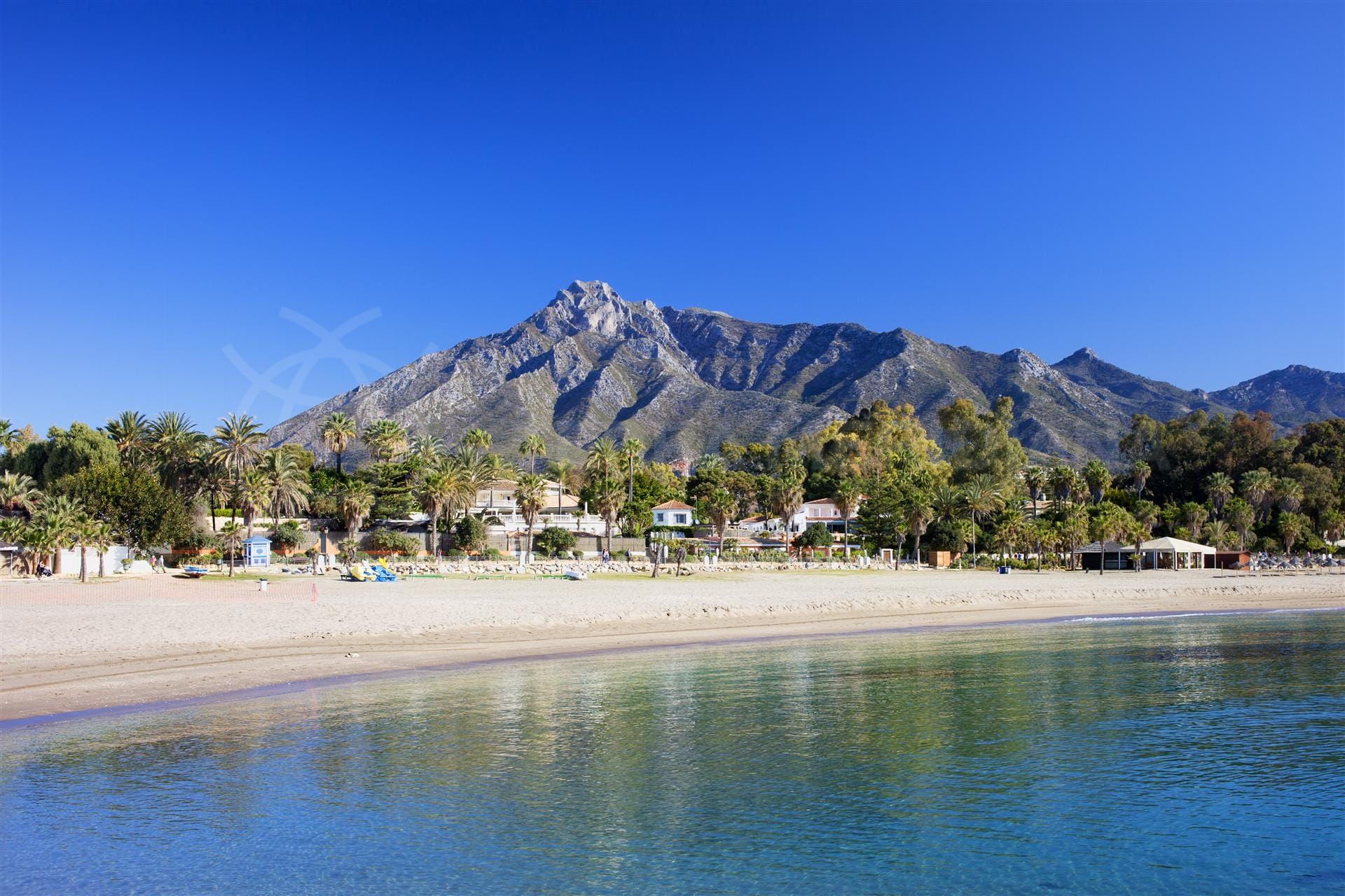 This palm-lined avenue runs parallel to the sea connecting Marbella town and Puerto Banús, with its glamorous marina. The sea-facing side of the Golden Mile contains a narrow beachside stretch with many of the most prestigious villas, apartments and resort hotels in the region, including the iconic Marbella Club Hotel and Puente Romano Resort Hotel, both of which are intimately connected with the rise of Marbella as an international elite destination.
On the mountain side of the road are located exclusive leafy residential areas including apartments and townhouses but above all villas. It is also home to a series of small commercial centres with interior design studios, luxury furniture outlets, elegant cafes, restaurants and some offices. A prominent feature on the mountain side is the Marbella mosque, known officially as the King Abdul Aziz Mosque and designed by Spanish architect Juan Mora Urbano in 1981.
Situated close to it is the immense palace complex that is a Saudi royal summer residence. Remarkably well hidden from view in spite of its size, it is the largest private home in Marbella and one of the largest in Spain. Another venue of note right at the Puerto Banús entrance to the Golden Mile is the Ralli Museum, an art gallery that forms part of a series of museums in Santiago de Chile, Punta del Este in Uruguay and Caesarea in Israel. The museum specialises in Latin American and Spanish art, with important collections also by internationally renowned artists such as Salvador Dali, Joan Miró and Marc Chagall. In addition, the museum, which is free of charge and open daily from 10am to 3pm, also features regular exhibitions from leading European and American painters, sculptors and graphic artists.
Marbella Golden Mile – Early beginnings
We may think of the Golden Mile as an expression of modern prestige and privilege, but those who enjoys its pleasures today are certainly not the first to do so. The oldest archaeological evidence comes in the form of the remains of a Roman villa found near the mouth of the Río Verde, the point which separates the Golden Mile and Puerto Banús. Built almost 2000 years ago and part of the then Roman fishing town of Silniana (or Cilniana), all that is left of the villa are its floors and some walls, but from the beautifully preserved hand-inland mosaic tiles it is possible to see that the wealthy Romans enjoyed a level of luxury and comfort not only the classic villas built here up to recent times.
Another Roman remnant of great importance is the charming little Roman Bridge around which the Puente Romano Resort Hotel was built in 1979. It continues to form the focal point of a beautiful subtropical garden complex that begins at the hotel's atmospheric Plaza Village and continues on to its Sea Grill and Del Mar beachside venues. It was on the Golden Mile that Marbella's destiny as an international luxury resort destination was shaped, for it was near the El Rodeo estate that Ricardo Soriano, Marquis of Ivanrey, acquired that the Marbella Club Hotel would be built by Prince Alfonso von Hohenlohe in 1954. Soon it became a playground for the world's rich and famous, and by the 1970s Marbella's reputation also drew in large numbers of permanent and seasonal foreign residents.
Marbella Golden Mile – Dining and shopping exclusivity
In addition to its two famous hotels there is also the iconic Gran Meliá Hotel Don Pepe, designed by Eleuterio Población in 1963, and the less famous but pleasant Alanda Hotel Marbella and Hotel Iberostar Marbella Coral Beach. The Golden Mile is synonymous with exclusivity and privilege, so expect to find elegant art galleries, Brioni fashion, top furniture brands (including an El Corte Inglés décor outlet), interior design and architecture studios, and many of the top restaurants, cafes and beach clubs in Marbella.
Villa Tiberio, Les Cubes, El Carnicero, Sushi des Artistes, Tai Pan and the Marbella Club Grill are top restaurants offering a variety of international cuisines, but the fine dining epicentre of Marbella is fast becoming the Puente Romano's Plaza Village – home to such eateries as the Michelin-starred Dani García and Bibo restaurants, Serafina, Thai Gallery and Uni, while famous chefs Dani García and Nobu Matsuhisa are opening new establishments on the Golden Mile. The new Nobu restaurant at the Plaza Village will also be accompanied by a Nobu suites hotel within the Puente Romano.
Organic and Cappuccino Marbella offer the exclusive café experience – the latter right on the beach – while Trocadero Playa, Del Mar, the Sea Grill and Besaya Beach are among the most exclusive beach club venues in the region. Far more humble and traditional but every bit as popular in its prime beachside location is the evergreen Victors Beach chiringuito beach bar. Nightlife in the area is focused on glamorous venues such as Suite at the Puente Romano, Buddha Bar and the iconic Olivia Valere.
Marbella Golden Mile – Sport activities
In addition to the nearby golf courses of Nueva Andalucía and the marinas of Puerto Banús and Marbella, the Puente Romano complex offers a prestigious tennis club and Six Senses Spa in which to enjoy either relaxing or active physical exercise. Beach exercise and yoga are also available, while the coastal Paseo Marítimo that connects the shoreline of Marbella and Puerto Banús by means of the Golden Mile is popular with people who jog, walk, cycle and even roller-skate. With all the shopping and nightlife of Puerto Banús, and the bustle and café society of Marbella, just a few minutes away, the Golden Mile is nonetheless a very private haven of exclusivity where you will find a millionaire's row of frontline beach villas and apartments, and on the mountainside residential urbanisations such as La Virginia and Las Lomas de Marbella Club.
Frequently Asked Questions:
What Is the Golden Mile Like?
In the Costa del Sol, there is no more classic or chic address than one along the Golden Mile. Luxurious architecture set in classic Mediterranean scenery surrounds the palm-lined boulevard that follows the coast. Diverse properties promise to suit a variety of tastes and a broad price range. Activities to suit all fancies lie within easy reach. The Golden Mile is the place to be—and an excellent place to own or invest in property.
Where is the Golden Mile located?
The name refers to 7.5 kilometres of seaside road between chic Marbella to the east and glamourous Puerto Banús to the west. An address on the Golden Mile places you at the  heart of the Costa del Sol. This puts you in easy reach of every amenity and activity it has to offer. Reach international airports in Málaga and Gibraltar in an hour or less. Highways connect the major cities and sites of Andalucía, such as Cádiz, Sevilla, Ronda, and Granada. Marinas and beaches, eateries, shops, and museums are just minutes away. Over 70  golf courses are only a short drive away. You will also find some of the best equestrian and polo grounds in the world. The rest of Spain lies within easy reach by plane, train, or bus from Malaga. For more information, see our Marbella Guide.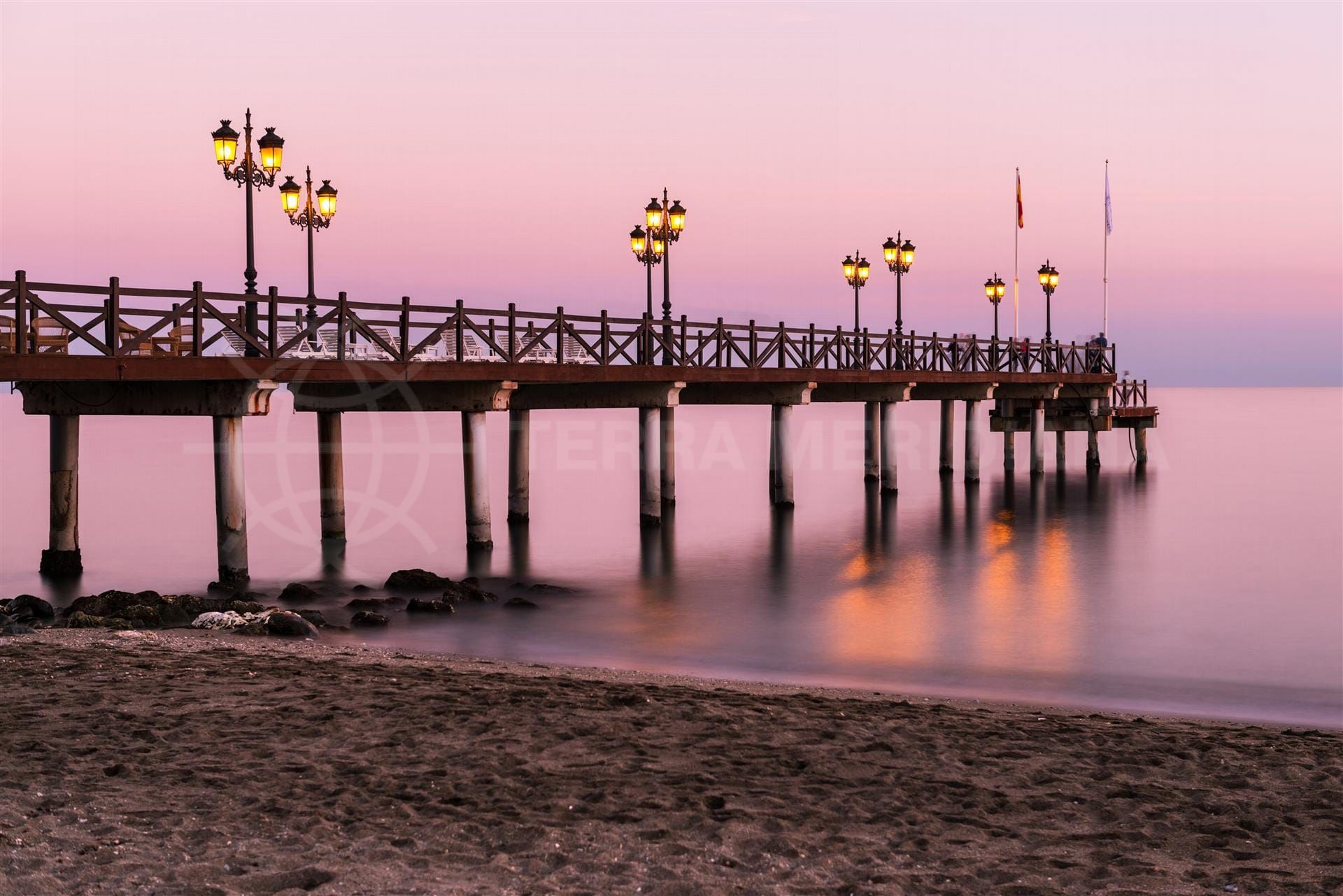 What is the history of the Golden Mile?
People have long inhabited the Golden Mile, but mostly as fishermen, not as jetsetters. One exception is the remains of a Roman villa found near Rio Verde, on the edge of Puerto Banús. This was once a luxury seaside village called Silniana (or Cilniana). Here, they have discovered beautifully preserved mosaic tiles. They show that beauty and luxury are  nothing new to this part of the Costa del Sol. It's a feature that goes back millennia. The charming Roman Bridge provides another glimpse at Marbella's ancient past. Once, it was a thoroughfare over which, Romans, Moors, and Spaniards passed. Nowadays, it forms the focal point of the beautiful subtropical gardens that adorn the Puente Romano Resort Hotel. In the heart of Marbella lies the Alcazaba of Marbella, a Moorish castle built in the tenth century. Numerous other buildings mark Spain's many transformations in style over the centuries.
And it was here on the Golden Mile that Marbella's new life as an international luxury resort destination unfolded, beginning in the 1950s. It began in 1954 when Prince Alfonso  von Hohenlohe created the Marbella Club Hotel. Its arrival transformed the area into the "special place for special people" that it is today. By the 1970s Marbella had grown  beyond a getaway for European royalty and A-list celebrities to include permanent and seasonal residents from around the world. But it still maintains an atmosphere of glamour,  luxury and high quality, Mediterranean living.
What kind of sports are found along the Golden Mile?
There are plenty of opportunities for physical activity, sports and exercise along the Golden Mile. Here, you will have easy access to walking, hiking, golf, tennis, rock climbing or even polo. Of course, if relaxation is more your speed, there's no shortage of high-quality spas offering services to spoil yourself. Breezy walks along sunny beaches are a good place to start. You can jog, stroll, cycle, and roller-skate along the Paseo Marítimo, one of Europe's longest seaside urban walkway. The Paseo will take you to the marinas of Marbella and Puerto Banús. Here you will find numerous options to pursue an exciting range of water sports. There are over 70 golf courses nearby – many created by world-famous designers. To learn more, check out our Marbella Golf Guide.
Both Marbella and nearby Estepona have a number of high-quality tennis clubs. You can read about them in our Tennis Clubs Guide. Sotogrande is around a 30 minute drive from the Golden Mile. It is a magnet for equestrian sports, including some of the best polo grounds in the world, which you can read about in our Sotogrande Polo Guide. Looking  inland, roadways carry you aloft to mountain pueblos, secluded forests, and historic national parks. Explore the many paths for hikers. For those who love climbing, the mountains of Andalusia offer some of the world's best. Further afield, the Sierra Nevada and Alpujarra mountains offer alpine hiking, mountain biking and, during winter, top-rate skiing.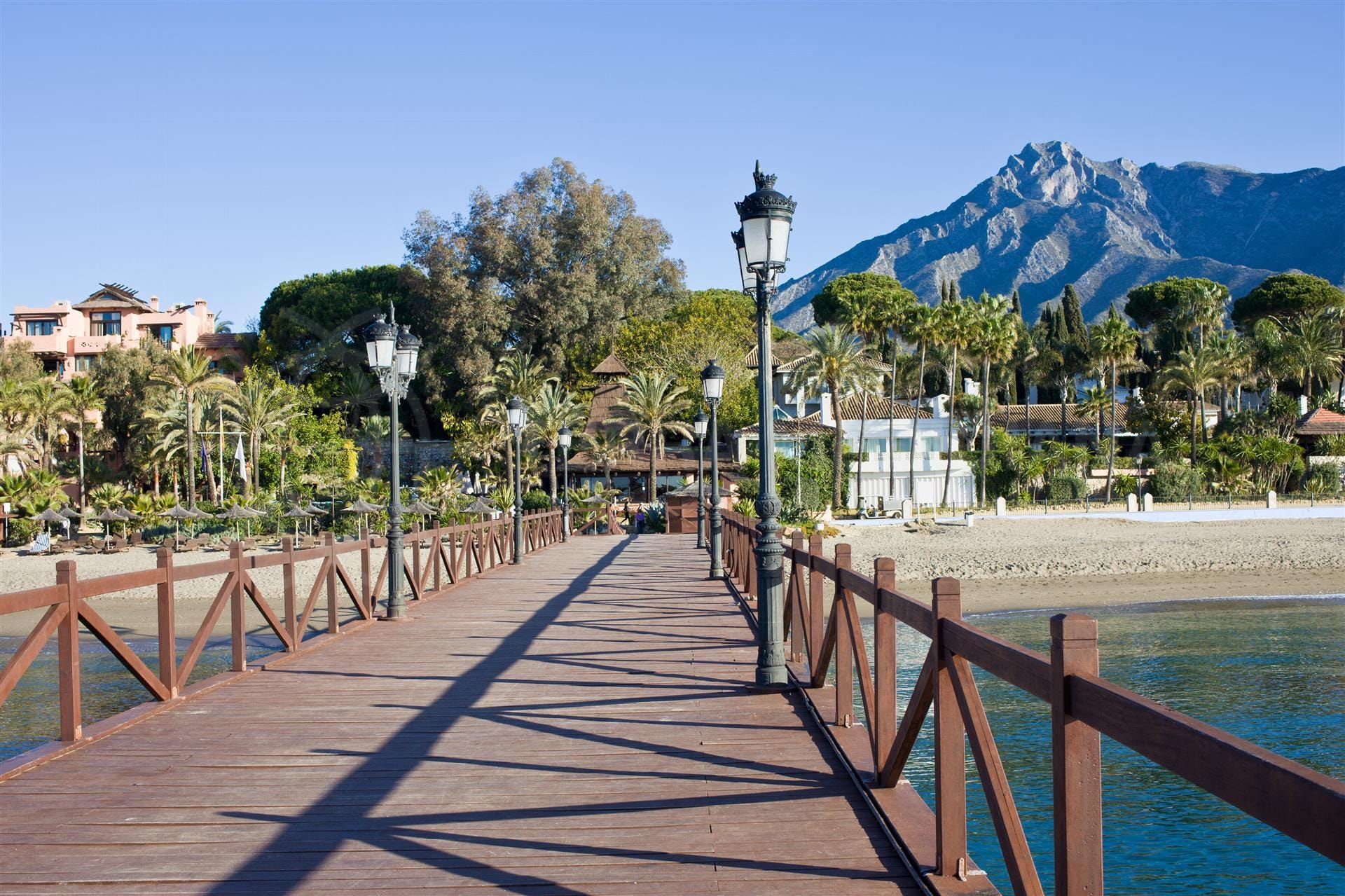 What are the beaches like in the Golden Mile?
Some say that the Golden Mile has the most beautiful stretch of beach along the entire Costa del Sol. Beyond the Golden Mile, there still lie miles of beach extending in both directions. Just around Marbella, there are 23 beaches on the 28 km of coastline. The Old Town beaches of just the beginning of any beachcomber's adventure. You can find out more about the beaches of Marbella in our Beach Guide.
What else is there to see and do in the Golden Mile?
The Golden Mile is synonymous with luxury, style and culture. You will find elegant art galleries, top furniture and fashion brands, interior design and architecture studios. It is  also the location of many of Marbella's top restaurants, cafes and beach clubs. Culture buffs are also in luck. Marbella offers many museums, the early Christian Basilica de Vega del Mar, a Moorish castle, and numerous local festivals.
Is the Golden Mile a good place to live?
In addition to luxury, comfort and sophistication, the Golden Mile also offers exquisite privacy and security. Many developments offer gated entrances with 24-hour security. This means tranquil, leafy streets within a few steps of the lively beach. Whether you seek a first-line villa close to the beach, or a panoramic penthouse shrouded in tropical greenery,  you can find a development complex complete with their own spa, security, and concierge services.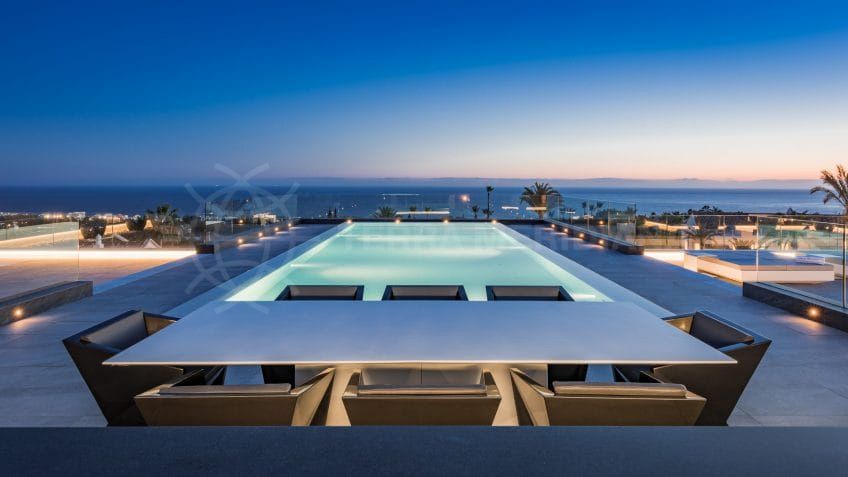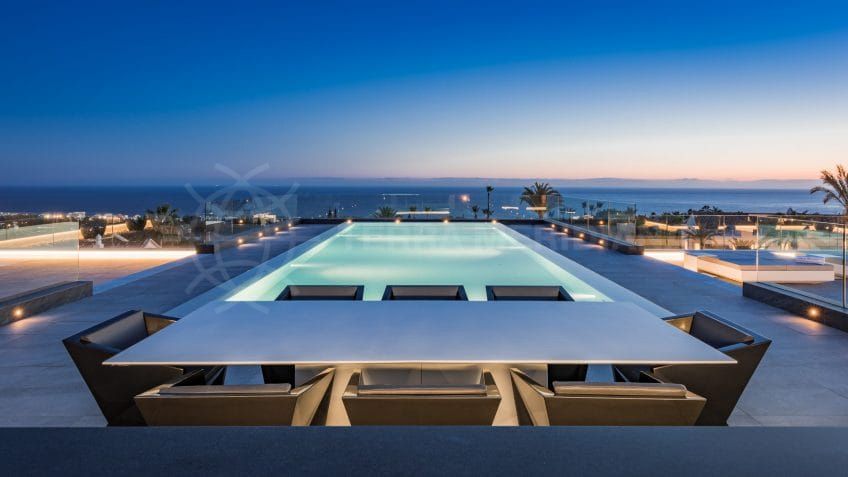 Is the Golden Mile a good place to buy property?
Although the Golden Mile is a symbol of luxury and grand villas, populated by the wealthy, it also has many options for a wide range of buyers. There is a millionaire's row of front-line beach villas and apartments. Likewise, there are mountainside residential urbanizations such as Sierra Blanca and Las Lomas de Marbella Club. Here, you will find many of  Marbella's finest homes and also – especially along the beachfront – the site of its highest square-metre prices. Such is the demand for beachfront property on the Golden Mile in Marbella that it actually exceeds supply, so homes here are snapped up quickly.
The Golden Mile also offers a host of affordable alternatives. For instance, there are apartment complexes in gated communities offering a convenient, more compact alternative.
If you are looking for a home or buying to invest, a deciding factor will always be property's surroundings. The Golden Mile is divided into beach and mountain sides by the N340 road. Many of the best hotels, golf courses, shops, and fine-dining restaurants sit alongside it. Beach-side residences to the south of the road are longer established, while newer developments tend to be found in the foothills.
On the mountain side of the road are exclusive leafy residential areas including apartments, townhouses, and villas. It is also home to a series of small commercial centres with  interior design studios, luxury furniture outlets, elegant cafes, restaurants and some offices.
Beachside gated communities of villas such as Santa Margarita in the Marbella Club, Casablanca, Las Torres or Las Verdiales are highly sought after locations and properties seldom come to market, you can expect to pay multiple millions for a property here and 20,000-80,000 per week for a rental property. The Puente Romano apartment complex of apartments has proven a very good investment for buyers and investors looking to rent and is probably one of the most liquid property markets in the Costa del Sol with properties selling rapidly.
Is the Golden Mile a good place to retire?
Imagine leaving your expensive city and settling into a town with a high quality of life at an affordable cost. Imagine having to choose from dozens of golf and tennis clubs, varied to suit every taste and budget. Think of a place that offers every kind of leisure – golfing, mountain trekking, beachcombing, snorkelling, kicking back with a good book on the  beach, or laughing with friends at a seaside wine bar or world-class restaurant. All of this comes with excellent public transport and world-class healthcare services. Imagine this, and you imagine the Golden Mile.
It's also closely connected to Spain, Europe and the world by nearby road, rail, and air. Affordable trains and buses can take you to nearly every town and city in Spain. The coast offers high air quality, ranking high in the Spanish indexes year after year. You can't beat 320 days of sun per year, either. And don't forget the azure Mediterranean waters.
Reliable EU-level medical care is always within reach along the Golden Mile. Get immediate attention in Marbella, and access specialists and higher levels of care in neighbouring places like Marbella and Málaga. Pharmacies provide late hours and service in English. For the retirement that has everything, the Golden Mile is the place to be.
areas in Marbella golden mile
More about Marbella golden mile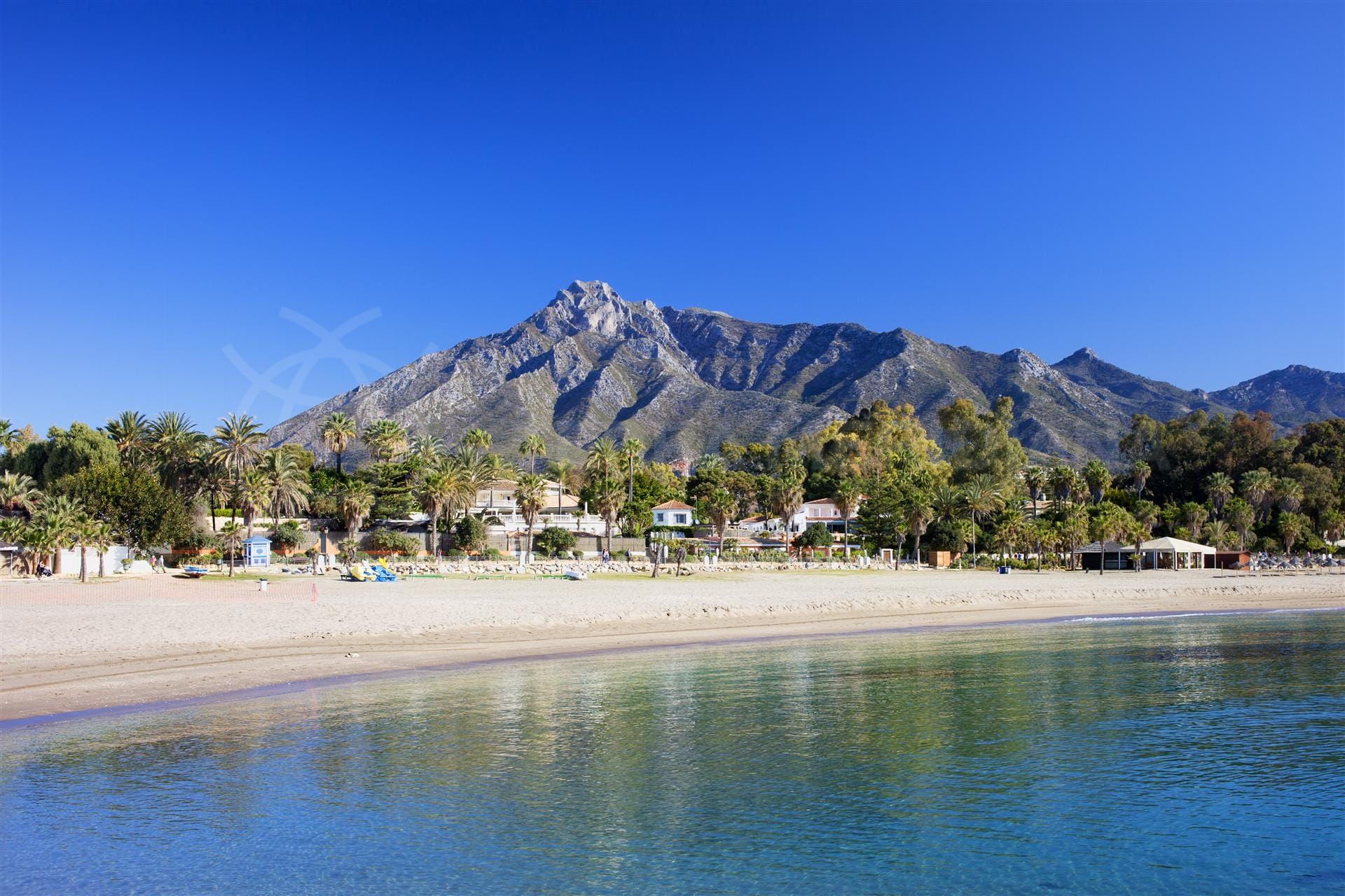 Latest articles about Marbella Golden Mile