The Marbella Club Hotel – a Marbella icon with international allure
What began life as the private Marbella residence of Prince Alfonso von Hohenlohe-Langenburg has since become a legendary part of Marbella's reputation as an international luxury destination.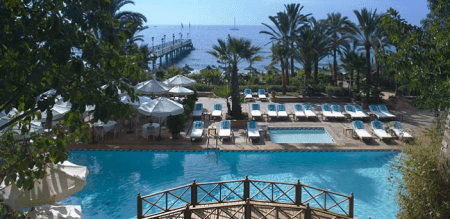 The visionary who fell in love with Marbella's beauty and put it on the map, built his own private residence on its Mediterranean shoreline in the early fifties, adding another 20 rooms in 1954 to accommodate guests. It soon became the Marbella Club Hotel, a legendary venue of glamour and elegance that drew an international elite of European aristocrats, royalty and business leaders alongside American tycoons and Hollywood stars.
A destination for the international jet-set and Marbella high society
The venue, which once had the feel of a country retreat just outside Marbella town, grew as it became the darling of an international jet-set that included the likes of Frank Sinatra, Ava Gardner, Deborah Kerr, Grace Kelly and many, many others. By the 1960s the Marbella Club Hotel had begun to take the form we know and love today, and many an international socialite had built a luxury summer home near it, creating the celebrated Golden Mile that is today one of the finest addresses anywhere along the Mediterranean.
A new jet-set wave arrived, including Brigitte Bardot, Philippe Junot, Sean Connery, James Hunt, Adnan Kashoggi and the first of many Saudi and Arab royals. Marbella's reputation was by now well-established and the Golden Mile the centre of glamour and exclusivity in Marbella – a status it retains to this day. Soon, luxury boutiques and restaurants opened on the Golden Mile, inspired by the sophistication of the Marbella Club Hotel itself, which expanded to include a first-class collection of fine dining restaurants, cafés, boutiques, a beach club and excellent accommodation in private suites, apartments and even villas.
Today the Marbella Club Hotel, which is paired with the equally illustrious Puente Romano Hotel, forms part of a complex that boasts the finest haute cuisine offering in Marbella, a state-of-the-art spa, beach club and tennis centre, as well as a new owner's club in the style of a London gentleman's club, and also its own 18-hole golf course and horse-riding facilities in nearby Benahavis. The hotel's amenities, along with its 121 beautifully appointed rooms and 16 villas, have been kept up to date throughout, combining the best of modern style and comforts with the inimitable heritage of a Mediterranean classic.
A few highly exclusive private properties are immersed within this refined world, forming part of the beachside community of Santa Margarita, where villas seldom come up for sale and are quickly snapped up when they do. They are at the heart of Marbella's finest address, surrounded by the services of the landmark that has frequently won the Travel and Leisure Best Hotels in the World' award for its unequalled excellence.
Originally published in January 2013, updated by Adam Neale in December 2018
By Adam Neale | Property News | December 13th, 2018
Related Posts
Villas for sale near Marbella Club Hotel and Marbella Club Golf Resort