Stretching up into the Serranía de Ronda from close to some of the Costa del Sol's best beaches, Benahavís boasts a big, and beautifully preserved, municipal area that brings together some of the Spanish Mediterranean's most varied natural attractions with a choice of high-end homes in hillside developments.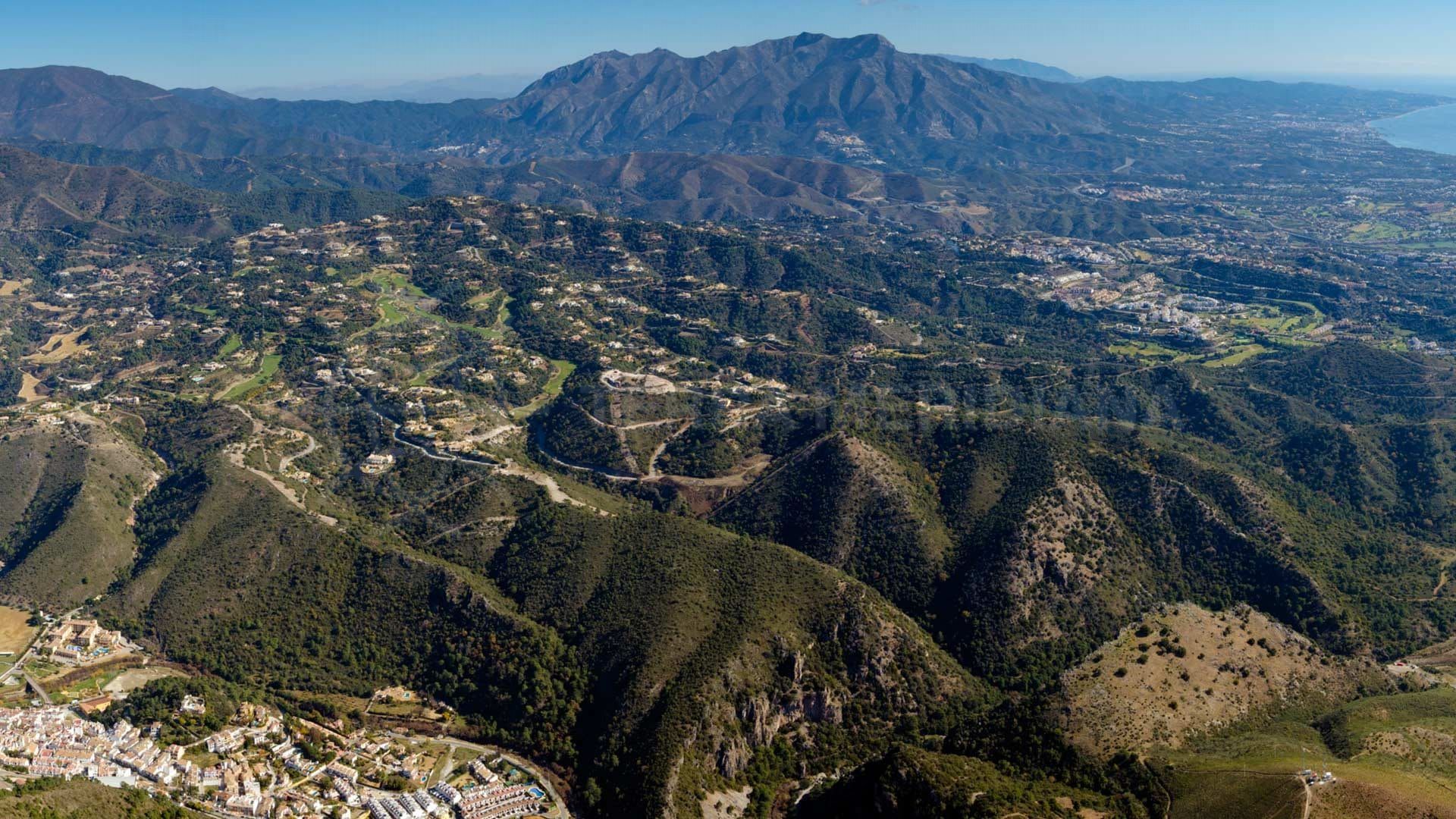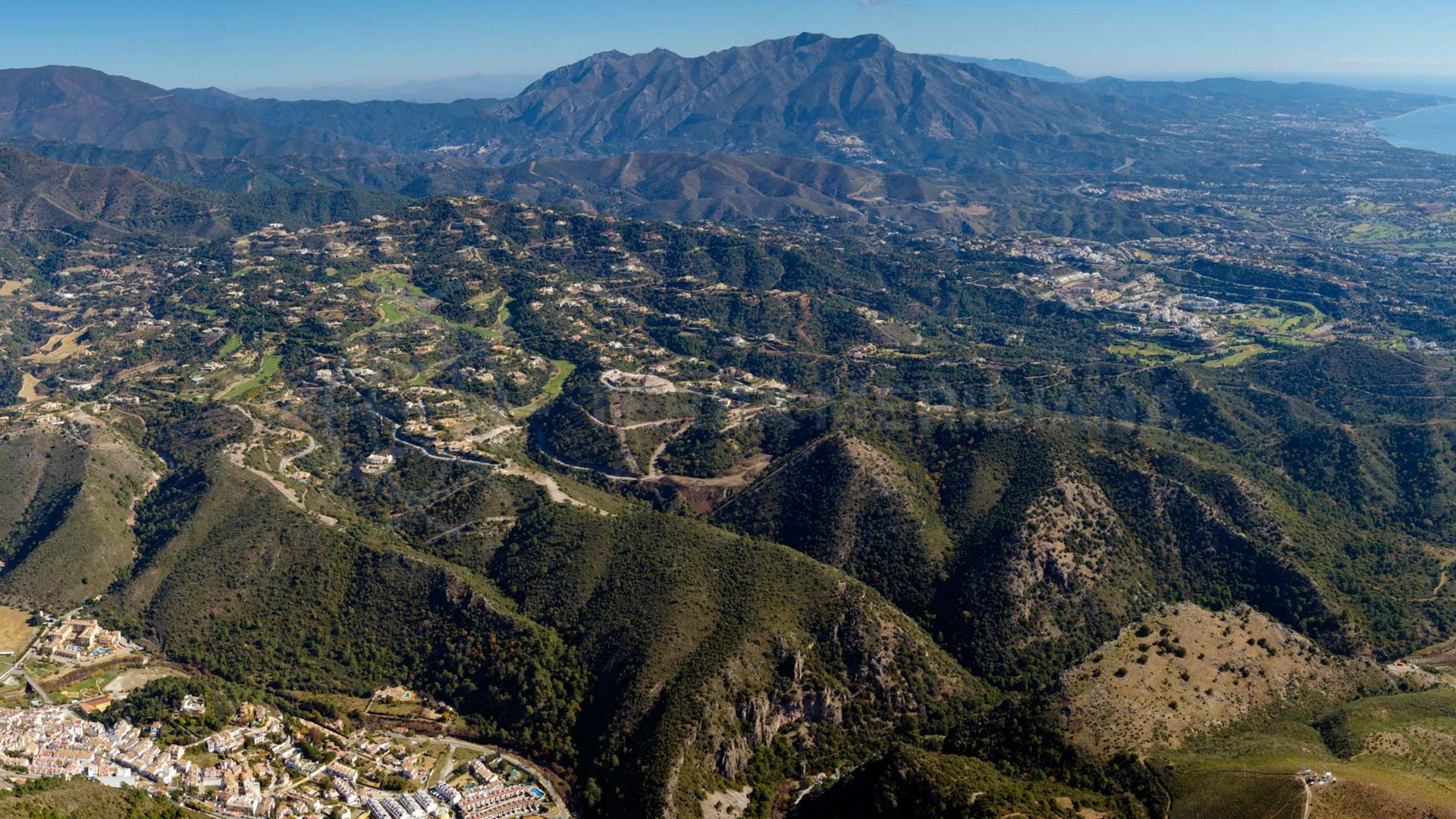 The municipal area of Benahavís reaches from the reservoir on the Taraje River, located north of the N340 coast road where it passes behind Cancelada in Estepona, to the slopes of the Sierra de las Nieves Natural Park, close to the La Fuenfría recreational area. It covers 145 square kilometres of sunny hillsides that face south to the Mediterranean, offering breathtaking views to Gibraltar and the coast of Morocco on clear days.
Location
The municipality is criss-crossed by three major rivers that flow into the Mediterranean Sea from the Serranía de Ronda mountains: the Guadalmina, that lies east of the village centre and drove the mills along its course; the Guadalmansa, which extends on the western side of the municipal area and served as the power for its oil industry: and the Gaudaiza, running along the route of the modern road from Ronda to San Pedro Alcántara.
The road that rises to Benahavís proper provides some of the most dramatic views of the Costa del Sol and its changing scenery as it climbs away from the coast. The canyon formed by the Guadalmina cuts deep into the hills to the right, tightening up as it squeezes through 'Las Angosturas' ('The Narrows') before opening again as it enters the village itself, surrounded by rocky, volcanic terrain, riddled with rich veins of granite and marble.
Most of the municipality's terrain remains much as it has been for centuries: densely carpeted with olive trees and other Mediterranean vegetation, such as chestnuts close to its waterways, giving the impression of a green, fertile landscape for a large part of the year. It is home to a diverse collection of fauna, including mountain goats, deer, and other mammals, reptiles and lizards, and a whole host of fish and insects.
Development
While Benahavís proper has been sympathetically developed over the decades to retain the quiet calm and charm of a typical whitewashed village, with its cobbled streets and traditional architecture, the hillsides around the municipal hide a number of exclusive residential developments, including sought-after estates like La Zagaleta, El Madroñal and Marbella Club Golf Resort, many of which feature golf courses and other luxury amenities.
Frequently Asked Questions
What is Benahavís famous for?
One of Spain's famous white mountain villages, Benahaviswas founded in the 11th century. With spectacular views of the Mediterranean, it is only a 10-minute drive from the coast. Perhaps best known for golf and restaurants, Benahavis boasts 12 luxury golf courses and more top-notch restaurants per capita than anywhere else in Andalusia. It has become a magnet for golfers and foodies.
If Marbella has the glamour of a small, luxurious city, Benahavís is its rural twin. It provides a healthy dose of small-town charm and beauty along with its luxury offerings. The village is surrounded by natural parkland, cork, and pine groves, and is shaped by three rivers: the Guadaiza, the Guadalmina and the Guadalmedina, each with its own valley.
From the ruins of the nearby, mountaintop Montemayor Castle, one can see 100km in any direction, and as far as the coast of Africa. Benahavis is a mecca for anyone who loves nature, tranquillity, sports, great food, and beautiful homes. Alongside the traditional Andalusian village, it boasts several magnificent housing developments that offer a wealth of amenities.
What is Benahavís like?
The larger municipality of Benahavís comprises 150 square kilometres on the south side of the Serranía de Ronda. The town itself is one of the most mountainous of Andalusia's white villages, surrounded by peaks and spectacular views. Of the town's population of 10,000, about one-third are Spanish and one-quarter are British. Not surprisingly, Benahavis is an expat-friendly town with lots of services offered in the native languages of its expat residents as well as Spanish.
The town itself, originally founded by Arabs, has studiously conserved its traditional character, with narrow, winding streets, white houses, public squares, flowers, and fountains.
A sizable proportion of the population, particularly expats, live in the stunning developments just outside of the town. These incorporate state-of-the art amenities, within close range of the historic architecture and traditional character of the village. Because Benahavis is only a few kilometres from the Mediterranean coast, you can count on 320 days of sunshine every year. Because of its mountain elevation, 150 meters above sea level, it is a little cooler in the winter. Summer nights are also pleasantly cooler because of the higher altitude, even though the beach is only ten minutes away.
What is there to do in Benahavís?
Surrounded by the parkland of the nearby mountains, forests and rivers, Benahavís inspires a healthy lifestyle of outdoor activities. Close to beautiful hiking paths and climbing routes, Benahavis is perfect for the adventurer. And its three rivers, with their waterfalls and pools, are popular for canyoning.
In addition to proximity to 12 luxury golf courses, many of the housing developments have their own football pitches and basketball courts, alongside community and private swimming pools. In the town itself you fill find two sports complexes. There is the Club Deportivo Benahavís, which has a public swimming pool, football pitch, driving range, outdoor concerts, and a nearby skate park. The other, in the centre of town, called the Pabellón Deportes Benahavís, has an indoor court for basketball, soccer, gymnastics and more.
If shopping locally appeals to you, there are many opportunities here. On Tuesdays, a local market that sells everything from art to sunglasses to clothes. And on Sundays, the Mercadillo de Benahavís flea market is only 2 km south of the town.
Benavavis's tranquil surroundings and stunning beauty have lured a thriving creative community of artists of every stripe from chefs to artisanal craftspeople to writers and fine artists. The old town has many small local shops offering crafts, art, and clothing. The British sculptor David Marshall has his gallery here. Marshall is even credited with a local housing development, known as La Aldea.
And of course, let's not forget that Benahavís is famous for more fine dining restaurants per capita than anywhere else on the Costa del Sol, and perhaps even in all of Spain. If you're a food lover, Benahavís is heaven on earth for you.
Where is Benahavís located?
Towards the western end of the Costa del Sol, Benahavís lies inland 8 km from the Mediterranean, between Estepona and Marbella. Both Estepona and Marbella are under 30 minutes away by car. From the Malaga airport, you can drive to Benahavís in under an hour. The Gibraltar International Airport is just over an hour away.
If you are going to drive from Malaga airport, note that the toll for the AP7 will cost you about €8. The A7 is free but is high volume and can suffer from heavy traffic, depending on the time of day that you are traveling.
There is also a more scenic inland route, away from the Mediterranean and the traffic of the coastal highway that takes about 10 minutes longer than the coastal route.
There is a bus route to Benahavís from Malaga airport, but it is a bit complicated, involving three buses in total. It takes just under two hours. You can also take a shuttle from the airport to Marbella and a taxi from there to Benahavís. This will take you one hour and cost about €30-€40, while a taxi the entire way will cost €90-€100.
Although Benahavís has the feeling of being an isolated village, travel there is simple and straightforward. In just four hours, you can escape rainy London and settle into a spectacular sunny mountain view of the Mediterranean (or 9 holes of golf on a luxury course).
What is the history of Benahavís?
Benahavís was founded towards the end of the 11th century. Its name means 'Son of Havis' in Arabic after King Havis who ruled Montemayor Castle at the time. The castle's position was strategically placed for the battles fought between Andalusia's Arab kings of the time. Its ruins set against breath-taking views can still be visited today.
Fascinatingly, there are several underground passageways connecting the castle to the coast seven kilometres away. During ancient times, the tunnels, large enough to fit a man on horseback, were used to transport soldiers, food, and weapons to and from boats shored up on the beaches below.
Both castle and village were handed to the Christians in 1485 when Ferdinand and Isabella took control of Marbella and the surrounding region.
Are there good restaurants in Benahavís?
There's a good reason that the town is known as the Rincon Gastronomico of the Costa del Sol — or the region's gastronomic corner.
Benahavís' fame as a centre of great restaurants makes it a big draw for visitors. Along two streets in the old town, Calle Estepona and Calle Malaga, you will find dozens of four- and five-star rated restaurants.
There are many excellent restaurants, including El Castillo and the Amanhavis Hotel, where menus cover local, French, Belgian, and Mediterranean cooking, and the dishes are of particularly high quality. For genuine foodies, the village of Benahavís is one of the best places to live on the Costa del Sol.
Among Spanish visitors, Benahavís is above all a popular weekend afternoon destination, when families fill the Andalusian country restaurants known as ventas.
Tourists tend to visit the village's restaurants and cafés early on summer evenings, and many stay on to swell numbers and mingle with the local and foreign residents who generally dine after nine in the evening. A bonus is that many of Benahavis's restaurants are clustered together in the old centre of the village.
What kind of hiking can you find in Benahavís?
Once you're finished with all those tasty meals and tapas bars, you might to want to get some exercise and Benahavís is the place to do it. It is a hiking mecca. Why not start with a walk around the beautiful and historic town? At the entry point into the town, just a ten-minute walk from the downtown, there is a beautiful park built to highlight the Torre Leonera. This is one of five towers, once part of the town's defensive structures that are associated with the Montemayor castle.
The well-preserved tower still stands surrounded by gardens, ponds, and a children's playground. It is an hour hike from the park to the Castillo Montemayor along a beautiful mountain path. (If you prefer to go by car, the drive will take you 13 minutes.)
Benahavís is, in fact, the site of dozens of excellent hiking trails.  Local experts also provide guided tours and can take you to the most beautiful sites, such as rock pools where you can swim in chilly mountain water, along river trails, or into valleys and canyons.
There are trails to suit every activity level, all of them surrounded by the Costa del Sol's natural beauty. If you're feeling very bold, you can take the longest trek around Benahavís, Los Arqueros – Istán, which is 73 kilometres long and takes a full 21 hours.
There is also the more manageable loop of the SL-A 276 Acequia del Guadalmina, which is a 4.5 k hike. As it is an extremely popular hike, it is recommended that you start your journey first thing in the morning to avoid the crowds.
Are there beaches close to Benahavís?
Of course, the Costa del Sol is famous for its many, beautiful beaches. Benahavís is a mountain village and not a beach town, but it is a hop, skip, and a jump from some of the Costa del Sol's most popular beaches.
The Playa de San Pedro de Alcántara is a quick 15-minute drive from Benahavís. On this beach you'll find the popular beach restaurant – Chiringuito Guayaba Beach. There are four other beaches within about 10 km of Benahavís, with the most popular being Saladillo Beach. Nearby, the Playa Guadalmina has Roman ruins if you like a little history with your sunshine.
Most of the beaches have chiringuitos where you can grab a cold beer and a bite to eat. Many have beach equipment rentals. If you want to go swimming and to lounge by the water but would prefer freshwater, there's the Puddle of Mozas right outside of Benahavís. This is a hiking trail that has several rock pools of assorted sizes and depths. The brave can leap off the nearby cliffs into the water.
Slightly further afield, an 18-minute drive from Benahavís, you will find Puerto Banús, where you can enjoy swimming or sunbathing on the beach. There's also great shopping, a variety of high-quality restaurants, and multiple sports facilities.
Is there good golfing in Benahavís?
When it comes to golfing, Benahavís provides an enormous choice. This village of 10,000 holds a surprising 12 of the 70 golf courses on the entire Costa del Sol. The golf courses that you will find in and around Benahavís offer a wide variety of terrains and skill levels. Many of them have been designed by internationally, award-winning designers. The Los Arqueros Golf and Country Club was the first course designed by golfing superstar Steve Ballesteros. Marbella Club Golf Resort was designed by Dave Thomas.
La Zagaleta, in addition to being a luxury, gated community, has two, residents-only, golf courses. One, the Old Course, was designed by Bradford Benz in 1991 and then redesigned by Marc Westenbourg in 2016. The New Course opened in 2005 and is considered more "dramatic and athletic" in style. The Montemayor Golf and Country Club, designed in 1989 by José Gancedo, has spectacular views of the surrounding nature and mountains from its position in a valley.
You can read more in our Benahavís Golf Club Mini-Guide.
Is Benahavís a good place to buy property?
The Costa del Sol is popular with tourists because of the beauty of the surroundings, the many nearby beaches, and its affordability. Its towns are also popular for homebuyers of both holiday and primary home properties. Benahavis provides a very good investment with steady appreciation of its property values typifying the town and the developments around it. It is an in-demand community.
Not only does Benahavís offer an abundance of activities for singles, couples, or families who want to lead an active lifestyle, close to nature. It also is a fantastic location in terms of amenities, shopping, and excellent schools. And there is easy access to larger city centres, such as Marbella and Malaga.
There are also a wide range of housing options in Benahavis. You can find quaint row houses in the old town, townhouses, and apartments in the various surrounding developments, and even grand villas with private pools, nestled into the hillsides. Benahavís, in other words, has all the entertainment possibilities of a resort but with the tranquillity and services of a vibrant, small community.
You can also get a sense of the range of properties for sale in Benahavís by looking at our Benahavís Property Listings.
Is Benahavís expensive?
Having some of the most exclusive developments in Spain, with some of the largest, most luxurious estates, Benahavís is listed as having some of the most expensive properties on the Costa del Sol. But that can be deceiving. Benahavís can be quite affordable as well. Certainly, you can find stunning Spanish villas and estates with private pools and tennis courts that sell for millions of euros. But you can also find a two-bedroom flat for less than €200,000 or a cute, 3-bedroom row house, right downtown, for under €300,000.
And even though the municipality has installed some of the finest, free-to-access sports facilities in the region, with a beautifully kept downtown space, it also boasts one of the lowest property tax rates in all of Spain. Combined with Andalusia's overall affordability in terms of food and services, the result is a community that delivers on amenities, infrastructure, and high community standards at affordable prices for any pocketbook.
Is Benahavís a good place to retire?
If you want to spend your retirement years enjoying well over 300 days of sunshine a year, with peace, beauty, and access to plenty of activities, Benahavís is the perfect retirement town. Not only is Benahavís both luxurious and affordable, its high proportion of expats – a third are British – means that services are available in English and other languages as well as Spanish. And you will meet a community of like-minded expats for shared activities and friendship.
If your dream of retirement includes playing lots of golf, you won't run out of options with Benahavís's 12 courses. If tennis is more to your taste, the town's public sports complex has courts for both tennis and padel (a cross between squash and tennis). Many of the private communities also have tennis and padel courts. Likewise, community swimming pools are plentiful, and are also standard in almost all the developments around the town.
Beyond that, Benahavís is very much a place that inspires lots of physical activity with its many options, including horseback riding at the Marbella Club and for residents of La Zagaleta, with their own private equine facility. If you prefer a different kind of riding, there are also cycling and motorcycle rental options for trail riding. Some of the rental services include private tour guides.
It wouldn't be retirement if there wasn't delicious food, and Benahavís has excellent and plentiful restaurants. It's also a short drive to the Mercado Municipal in Marbella, where you can get fresh, local fish and produce every day from 8:00-3:00.
You can check out our Open-Air Street Market Mini-Guide for more information.
In terms of healthcare, while there is no full-service hospital in Benahavís, there is a medical centre in town and a pharmacy. There are several hospitals within a 15-minute drive of Benahavís in nearby Marbella. Here are the contact numbers for Healthcare in Benahavís.
With so many amenities and activities, along with easily accessible airports that allow you to leave cloudy London and be relaxing in the Spanish sun within four hours.
Latest articles about Benahavis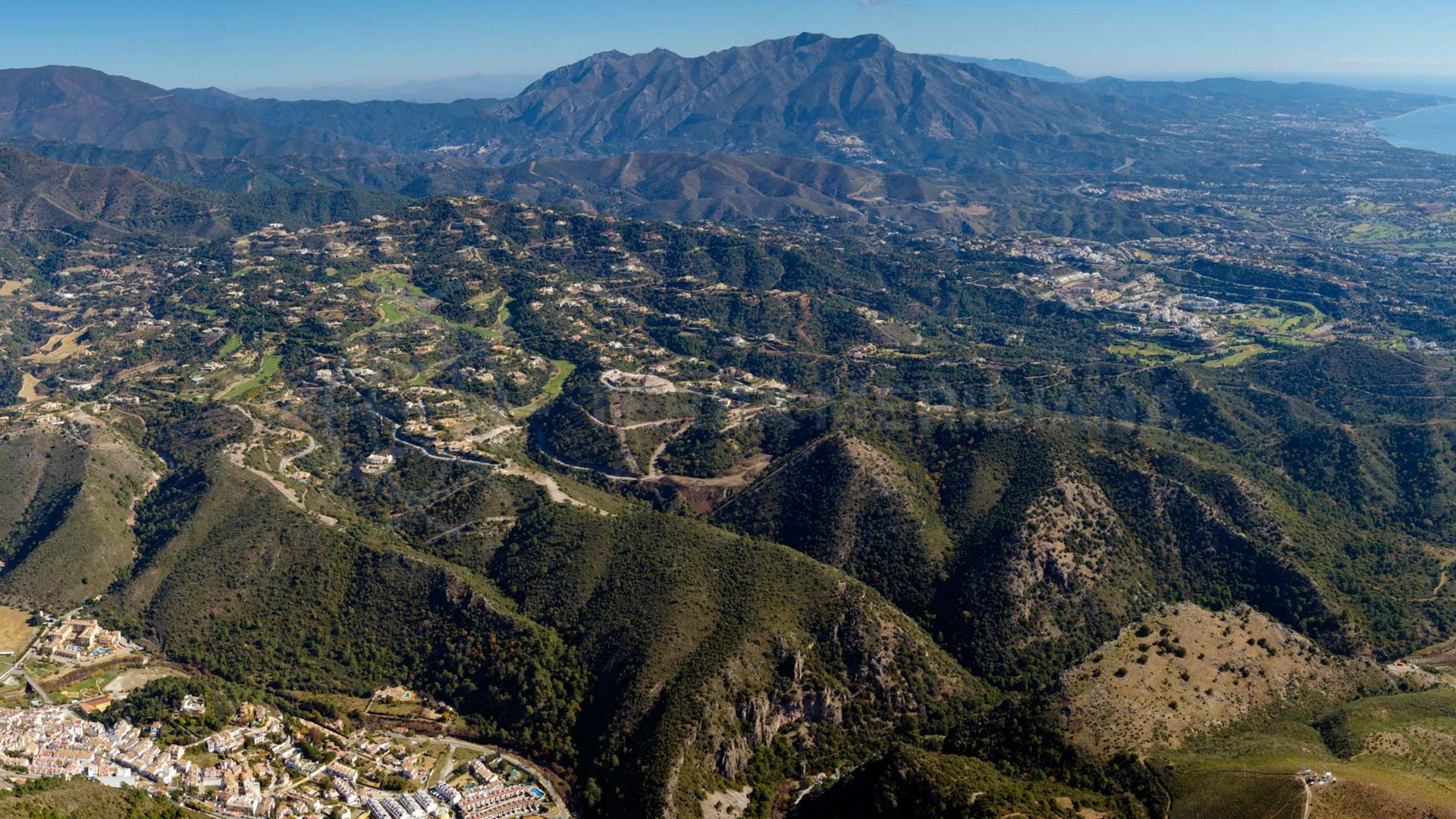 Latest articles about Benahavis