Nestled in the foothills of La Concha behind Marbella, at around 300 metres above sea level, Sierra Blanca is one of the Costa del Sol's most sought-after neighbourhoods.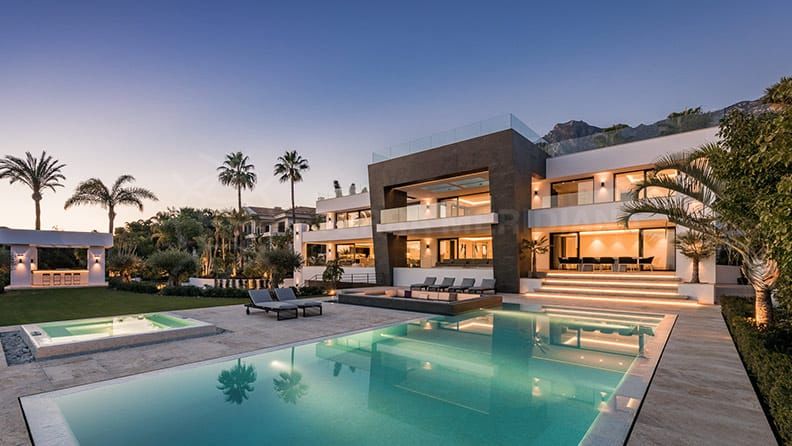 Made up of a mix of modern and traditional high-end villas, the area boasts stunning views over the city and along the coast, and benefits from the best of the local micro-climate thanks to its mountainside location.
Part of the municipality of Marbella, Sierra Blanca is located inland and to the north of The Golden Mile and the AP7 toll highway, forming a prosperous pocket that is bordered by the Arroyo de las Piedras, to the west, and the Arroyo Guadalpín to the east, just a short drive, or even a longer stroll, from the centre of Marbella and still conveniently close to Puerto Banús.
Sierra Blanca can be easily accessed from exit 182, coming from Malaga, on the AP7 toll road or via Avenida Don Jaime de Mora, which runs up from the N-340 coast road which starts near the Corte Inglés. Malaga-Costa del Sol International Airport is little more than half an hour's drive away, while Gibraltar's international airport is about an hour distant via the toll road.
While the area is well served by the amenities and services of both Marbella and Puerto Banús, Sierra Blanca is also home to one of the best private schools on the Costa del Sol, Swans International, has the closest golf course to the centre of Marbella, the par-3, 9-hole Monte Paraíso Golf, and, if you need a break from too much good living, is also where you can find the Marbella headquarters of the Buchinger Wilhelmi clinic.
Some facts about Sierra Blanca
This exclusive estate made up of luxurious villas set upon medium to large grounds occupies a combined area of 25,2 hectares. It takes its name from the mountain range that stretches out in either direction, with the towering La Concha Mountain – a symbol of Marbella – at its heart. Follow the road down to the Golden Mile, and you can be in Marbella town, Puerto Banús, its beaches or at the Marbella Club Hotel in a question of minutes, but also nearby is protected mountain scenery complete with hiking trails and cascading streams.
Although it is dominated by spacious villas in the €2 to €10 million range, there are also luxurious townhouses and apartments in Sierra Blanca, ranging between €500,000 and €1 million. It is an area that is particularly in vogue with British, German, Scandinavian, Dutch and Russian buyers, among them celebrities such as the famous music producer Simon Cowell, who love the privacy, setting, views and easy access of all of Marbella's amenities. The Golf Valley of Nueva Andalucía, for instance, is just five minutes away, with shopping, dining and leisure activities also on your doorstep.
Beautiful homes for sale in Sierra Blanca
In the main part of Sierra Blanca, including the adjacent villa suburb of Nagüeles and the ultra-exclusive gated villa enclave of Cascada de Camoján, we offer a prime collection of stylish villas for sale, luxurious apartments and some of the finest townhouses to be found anywhere on the Costa del Sol.
FREQUENTLY ASKED QUESTIONS
What is Sierra Blanca Like
The 25-hectare exclusive estate of Sierra Blanca is filled with large, luxurious villas, most with private gardens and swimming pools. It is spectacularly situated at 300 metres above sea level and overlooks Marbella and the Golden Mile.
Sierra Blanca is located at the base of the grand, shell-shaped mountain dubbed La Concha, which is a symbol of Marbella. This protects the community from high winds and the temperature extremes of summer and winter.
Sierra Blanca takes full advantage of everything the Costa del Sol has to offer.
Where is Sierra Blanca Located?
Sierra Blanca is just a 5-minute drive from downtown Marbella. That means easy access to the city's many shops and activities. It also places you within easy reach of the Costa del Sol's finest attractions. Drive east and reach Malaga's international airport in a bit over half an hour. From there, you are only a short hop away from many of Europe's major destinations. The bustling city of Malaga lies just beyond.
Drive west just a few minutes to arrive at the glamorous marina town of Puerto Banús. Picturesque Estepona sits only 25 minutes from your door.
Gibraltar, with its historic attractions and international airport, is only an hour away. Continue on roads west to discover the province of Cádiz. From here you can also take a ferry to Morocco, in North Africa.
Drive north into the Sierra Blanca mountains and immediately enter protected mountain scenery complete with hiking trails and cascading streams.
In 30 minutes, you will encounter the whitewashed mountaintop town of Istán. Drive further to reach the Parque Nacional Sierra de las Nieves.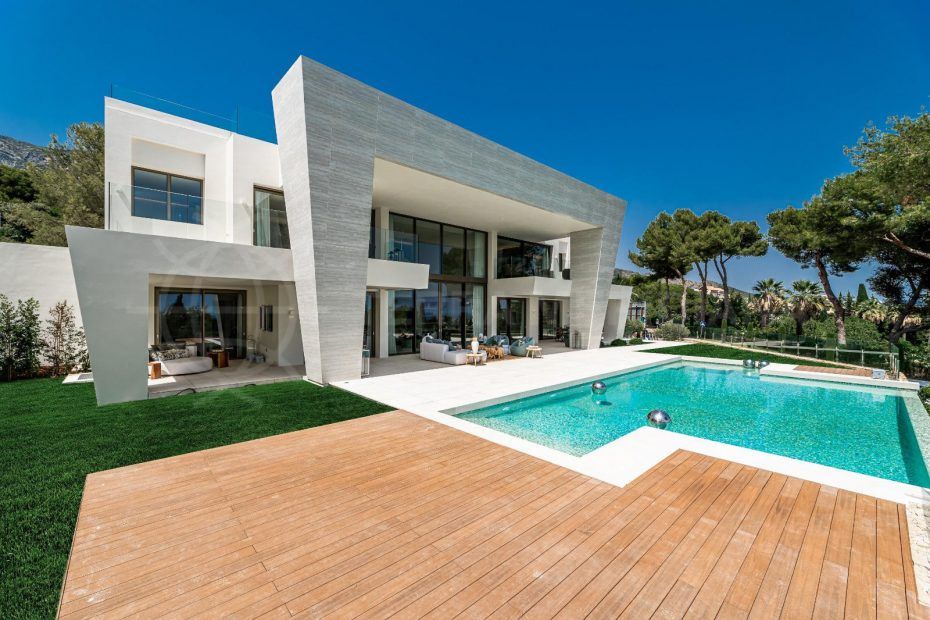 What is the history of Sierra Blanca?
The construction of luxury mansions in Sierra Blanca began in the early 1990s, but the real growth came in 1995.
Grid-like roads create Sierra Blanca's atmosphere of privacy and traditional Andalusian-style villas predominate, which create an aesthetically pleasing environment. For the early history of the wider region, see our Marbella Guide.
What schools and other education facilities are in Sierra Blanca?
Fortunately, this exclusive community is close to high-quality schools. Many parents choose Swann's International School in Marbella, whose primary and secondary schools lie just a few minutes away.
SIS offers a world-class, international baccalaureate level program, as well as British, GCSE or IGCSE courses. A range of excellent alternatives in public and fee-based schools are also only a few minutes away. Marbella offers numerous choices; see our Marbella School Guide.
Estepona, a short drive away, also offers excellent educational options, as described our Estepona School Guide.
Is Sierra Blanca a good place to buy property?
In a word: Yes.
Sierra Blanca attracts a lot of attention for its spectacular villas that sell in the €2 to €10 million range and above 20m in some cases. However, luxurious townhouses and apartments can also be found, selling between €500,000 and €1 million. Residents at apartment communities like Lagos de Sierra Blanca, El Alfar and Meisho Hills are paying members of the Sierra Blanca Community. Residents can enjoy all the amenities that Sierra Blanca has to offer.
Here, you can choose from a prime collection of the most stylish apartments and townhouses to be found anywhere on the Costa del Sol. Some 40% of owners make Sierra Blanca their permanent, year-round home. Others visit their luxury, weekend or vacation home throughout the year. Sierra Blanca is much in vogue with northern European buyers who cherish privacy, nature, grand views, and easy access to Marbella's amenities. The sea, golf, and exclusive living provide a popular and stable foundation of lasting value for Sierra Blanca.
Is Sierra Blanca a good place to live?
Sierra Blanca boasts of sophistication, tranquillity, and exclusivity within a beautiful environment. It grants a life in tune with the famous Marbella lifestyle. An island of serenity, Sierra Blanca has 24-hour protection, smart alarm systems, and entry controls, which guarantee a peaceful and secure atmosphere.
The community's position, nestled in the foothills of La Concha, offers excellent air quality.
The proximity of the high mountains gives Sierra Blanca its own microclimate. The peaks shelter it from strong winds and moderate the summer heat. The elevated position of Sierra Blanca allows its properties spectacular, panoramic views of the mountains to the north and the Mediterranean to the south. Sierra Blanca offers luxurious Andalusian architecture in an idyllic Mediterranean setting.
What could be better than an elegant home set in the heart of the Costa del Sol living with its Mediterranean high life, relaxed beaches, 5-star restaurants, and celebrity addresses?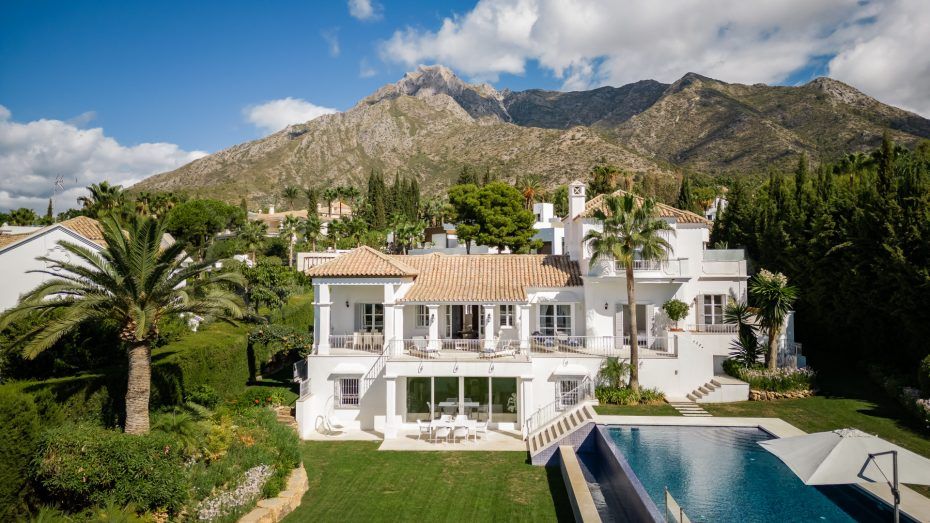 What is there to see and do in Sierra Blanca?
Sierra Blanca is a short distance away from numerous cultural, sport, and lifestyle activities. For the hiker, the mountains surrounding Sierra Blanca offer numerous trails for all levels of fitness. Equestrians or anyone eager to learn will find a wide range of horseback riding choices in nearby Estepona. For starters, the Costa del Sol School of Equestrian Art is one of Spain's biggest and best-known. Take riding lessons or participate in hacks and rides.
For the golfer, from Sierra Blanca, you will have access to some of the finest golf destinations in the Costa del Sol. These include la Zagaleta, Valderrama, Las Brisas, Sotogrande Real Club de Golf, La Quinta, and many more.
Nearby, you will find tennis and paddle clubs or academies. Enrol in courses at its schools for sailing, diving, and kitesurfing. Both Marbella and Estepona offer sports centres, and members-only health clubs. These present a wide range of sports for experts and beginners alike.
Of course, the beautiful beaches of the Costa del Sol beckon year-round with their sun and sand, swimming and snorkelling, beachside clubs, and charming chiringuitos and beachside restaurants.
What hospitals and other healthcare facilities are in Sierra Blanca?
Your luxury villa is only minutes from Marbella's excellent health care. There, you can find both private and state-funded options, and services in English and other European languages, as well as Spanish.
For residents,Costa del Sol Hospital off the main A7 coast road at Los Monteros is the region's major general hospital. The state-of-the-art facility makes it one of the best-equipped hospitals in Spain. Given the number of foreign patients in the region, volunteer interpreters are there to help anyone needing help with communication.
Marbella also has excellent private options. Hospital Quirón salud provides 24-hour emergency service, radiology, an intensive care ward, and physiotherapy and functional recovery units, among other services.Pharmacies can be found all over Marbella. Spanish pharmacies can diagnose common complaints and medicate them, which makes them an excellent resource for minor health concerns. Opening hours vary.
Check out the Marbella Health Guide for more information.
Is Sierra Blanca a good place to retire?
Sierra Blanca is known for natural surroundings, spacious lots offering privacy and security, Mediterranean architecture, and luxurious amenities.
Yet, in just a few minutes, you can reach the chic shops, marina, casino, movie theatres, and restaurants of Puerto Banús. You can also enjoy the vibrant culture of Marbella's historic and beautiful town centre.
Those seeking outdoor activities will find a wealth of options within easy reach, including golf, horse-riding, tennis, hiking, cycling, boating, and all that Marbella's endless beaches have to offer.
Thanks to its position at the heart of the Costa del Sol, Sierra Blanca is well connected to every important place on the Iberian Peninsula. It's also well connected to Europe and the world at large by car, train, or plane. Family and friends will find great bargains on flights to Málaga and Gibraltar, given the high volume of traffic to both international airports. If you choose to spend part of your year elsewhere, it is easy to rent your property using local rental agents, concierges, and cleaning services.
Sierra Blanca lies within quick reach of EU-level medical care in Marbella and Estepona. There, you can find pharmacies and clinics that offer convenient hours. The cost of living in southern Spain remains low compared to elsewhere in Europe and the US. And yet the standard of living remains high, with an added bonus of year-round sunshine.
Sierra Blanca provides a tranquil place from which to get the most of life, at a time in which you should be enjoying your freedom the most.
areas in Marbella Golden Mile
More about Sierra blanca, Marbella golden mile
More about Sierra blanca, Marbella golden mile