Garden of the Costa del Sol, the resort town of Estepona has almost everything you could ever wish for: over 20 kilometres of sandy coastline, lots of sunshine, a well-preserved historic centre, a busy marina, a host of local services, and great connections.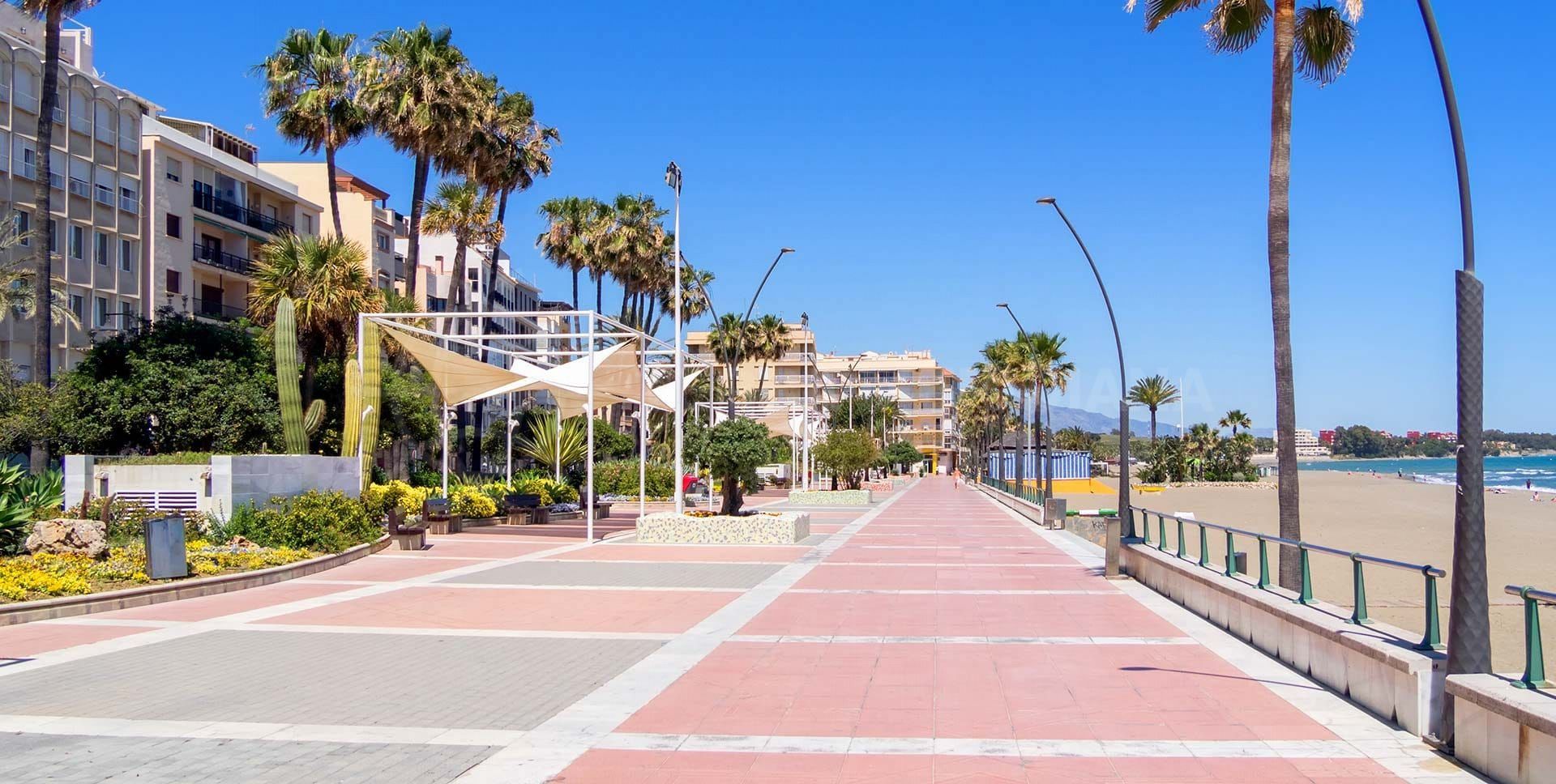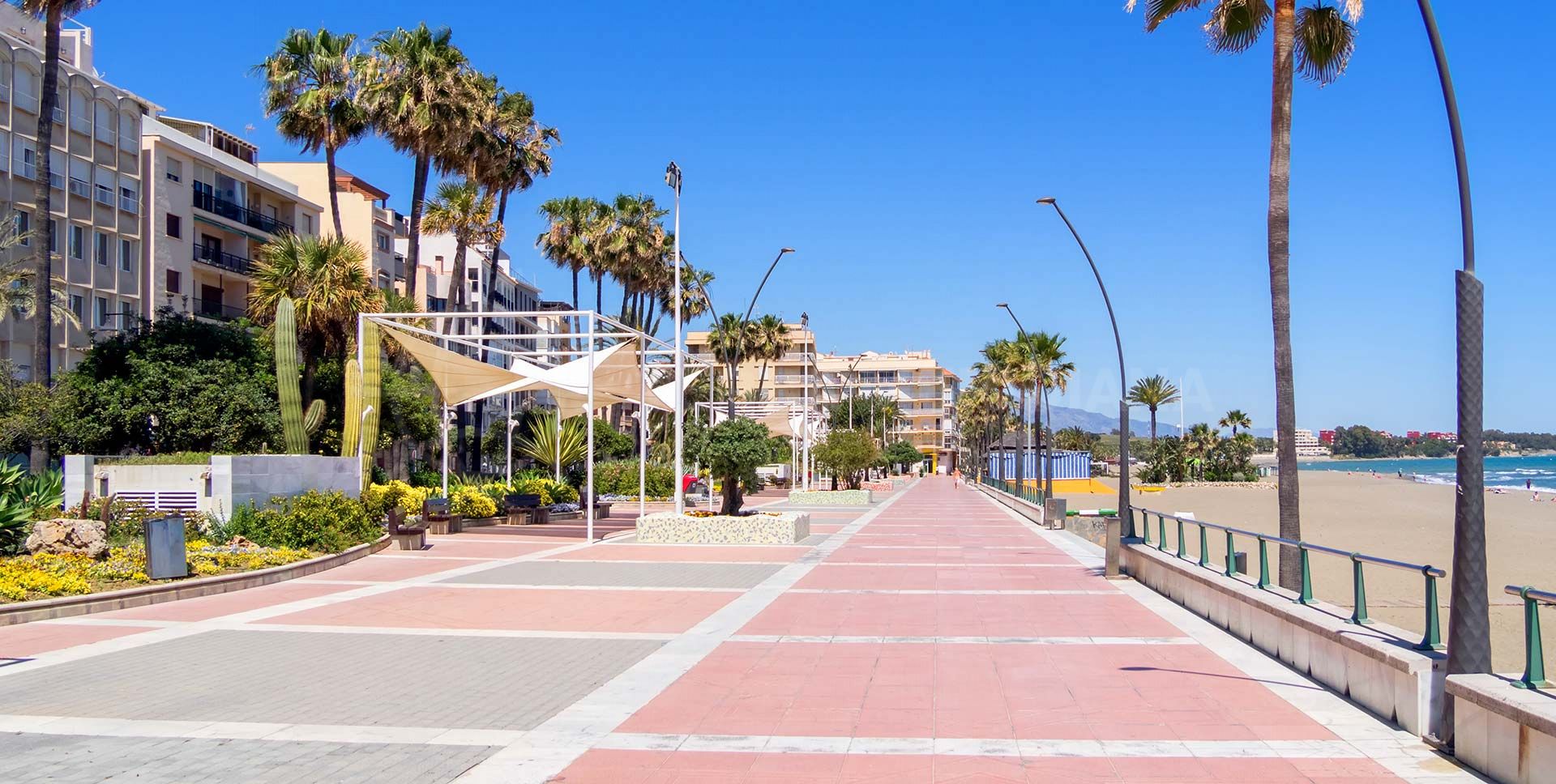 As the 'City of a Million Flowers,' Estepona is blossoming. Visionary investment has created a popular destination for quality year-round living. Explore its meandering pedestrian streets through its well-preserved historic centre. Stroll along its beachfront trails and through its lively port and marina. Along the way, savour stunning sea views from city restaurants and bars. Visit a museum, peruse local art, or just window shop. Offering a gracious and relaxed lifestyle, Estepona is a sure investment for homebuyers.
What is Estepona like?
Home to approximately 66,000 people, Estepona combines natural beauty, modern and traditional architecture, and a relaxed, friendly feel. It is filled with quality amenities and attractions to create a prized destination on the Costa del Sol. The town's municipality begins at the coast with 21 kilometres of sandy beaches washed by the Mediterranean. It then stretches inland through rolling hills and green valleys that rise toward the Sierra Bermeja mountains. A subtropical micro-climate means 325 days of sunshine every year. Its dry summers and mild winters are bathed in Andalusian light.
Estepona's rising popularity owes much to the city's emphasis on balance and beauty. This has been reflected in its ambitious urban renewal programme. Much of the city has been made free of cars. Pedestrians can once again take leisurely strolls along the waterfront and through the whitewashed streets of the Old Town.
Renovated plazas and other public spaces offer places to relax and enjoy new vistas. Dozens of celebrated murals adorn the town's buildings. The botanical garden is a sight with its beautiful glass domes. There is the old seaport with its vivid blue and white. It is set against the historic lighthouse and the ancient ruins of the Moorish San Luis Castle. Not to mention the footpaths that weave through palms along white sands and the shimmering sea.
Where is Estepona located?
Estepona sits at the southern end of the arc that forms the Costa del Sol. This is a famed stretch of sunny shore in southernmost Spain. It faces Morocco across the Mediterranean's Alboran Sea. The town and its municipal area are smartly situated within Málaga province in the autonomous community of Andalusia.
To the northeast lies Málaga city, one of the world's oldest cities and known as the "Capital of Culture" for its plethora of museums, galleries, and theatres. Further inland, the city of Granada with its historic Alhambra castle and alpine skiing. To the north is the Sierra Bermeja and the breathtaking gorges of Ronda.
And within an hour, you can reach the adventurous Caminito del Rey, and the caves of the Parque Nacional de las Nieves. A short drive to the east brings you to the luxurious enclave of Marbella. Here you will find high-end shopping at Puerto Banus and Michelin starred restaurants.
How do you get to Estepona?
Getting to and from Estepona is easy. The town is well situated, with easy access to domestic and international destinations by road, rail, and air. For air travellers, Málaga-Costa del Sol International Airport (AGP) is 80 kilometres east of Estepona, about 50 minutes by car. The Gibraltar International Airport (GIB) is an easy 45-minute drive west. Each airport is convenient for travel to and from the US, UK, and Europe, as well as for local hops within Spain.
By rail, go anywhere on the Iberian Peninsula from Málaga's newly renovated María Zambrano or Algeciras railway stations. Each is less than an hour away by car. Spain now has the largest number of high-speed trains in Europe. Take advantage of comfortable and fast journeys from Málaga to Seville, Granada, Madrid, Barcelona, or Valencia.
Local train lines connect the western Costa del Sol with the centre of Malaga. Planned local and high-speed lines will continue to improve this scenic mode of travel.
Buses are a must for the adventurous cyclist, hiker, nature lover or for fans of white washed mountain-top pueblos. Estepona's bus station sits just to the west of the town centre on Avenida del Litoral. Start with the L-77 to Casares, then see what lies beyond. You can reach all the towns that string along the Costa del Sol by bus. The L79 travels east to Marbella. TheM-240 goes west to La Linea, which will take you to Gibraltar. Both routes take about 80 minutes. You can also reach Málaga by way of the airport express operated by Avanza, whichruns 15 times a day.
Estepona and the entire Costa del Sol are serviced by modern highways, both toll and public, like the AP-7 and the scenic N-340 that follows the coastline. These will take you anywhere you want to go, surrounded by stunning mountains and Mediterranean scenery.
What is the history of Estepona?
Neanderthal cave dwellings near Estepona provide proof of human settlement since prehistoric times. The caves of Nerja, Benaojánand Ardales and the stone burial mounds of Antequerra are popular attractions year-round. Phoenician traders founded Málaga 2,800 years ago to trade with local Iberos, and the Greeks soon followed. The Carthaginians captured the region in the 6th century BCE to serve their own Mediterranean trade.
Next, Rome conquered Estepona in 218 BCE and held it for 800 years. Roman culture and the Latin language were a major influence on local culture. This laid the foundation for the Spanish culture and language that exists today. The Germanic Visigoths replaced the Romans in the 5th century CE.
Then, in 711, Muslim armies swept through. Moorish rule governed the region for over five centuries. During this time, the name Astabbuna or Al-extebunna—Estepona—appeared. The town began to take its current shape. You can see the Moorish imprint still visible today along the Old Town's narrow streets.
After their conquest in 1457, Estepona's Spanish rulers built a new church over the town's old mosque. The Castillo de San Luis was constructed to protect the town from Berber pirates from North Africa.
At the start of the 1900s, Estepona was home to fewer than 10,000 people. Most made a living from fishing and agriculture. Little changed until the 1960s when Spain's era of modern development began. Today, Estepona thrives as never before.
Is Estepona Expensive?
Estepona is considered one of the best property investments on the popular Costa del Sol. There, you will find a variety of properties at every price level.
Entry-level properties start at as little as €100,000. Average prices for homes vary across neighbourhoods, though all offer good value. Two- and three-bedroom apartments in Selwo, Costa Natura, and even the Old Town start at under €200,000. Similar flats with golf and beach access in Benamara-Atalaya average €250,000.
More expensive neighbourhoods like Las Mesas and Seghers, where new 2-bedroom apartments overlooking the sea and port start at  €320,000 and luxury villas in the Seghers region can reach 3m Euros. On the beachfront developments such as Doncella Beach, Los Granados del Mar, Alcazaba Beach, Torre Bermeja, Emare and Las Dunas for example can be as high as 9m euros for an apartment. High prices also reflect a high growth rate and year-round rental demand.
All of these developments offer amenities such as air conditioning, gated security, community pools and gymnasiums. Consider the factors that add value to your Estepona property. Real estate prices in Estepona consistently outpace the rest of Spain. Its proximity to pricy Marbella, where the rich and famous take their vacations, certainly helps.
Land and property taxes are cheaper here than in Marbella. And the municipality still has land available for development. This makes it easy to enter the market while also ensuring a solid, reliable return on investment.
According to livingcost.org, the average cost of living per person in Estepona is $1079 per person—25% cheaper than Madrid, 30% cheaper than Rome, 49% cheaper than Paris and a whopping 61% cheaper than London. It is even 25% cheaper than its more expensive neighbour Marbella. A fine bargain, considering that it offers many of the same amenities.
Is Estepona a Good Place to Retire?
Estepona offers the best of Costa del Sol living. Whether your idea of leisure involves golfing, trekking coastal or mountain trails, snorkelling, kicking back with a good book on the beach, or sharing laughs and Chardonnay with friends at a seaside chiringuito or world-class restaurant, Estepona makes it real. Its mix of old-world, Mediterranean charm and modern conveniences make it one of the most sought-after places to live in Spain. It has preserved its traditional feel and offers a tranquil space to enjoy all that life offers to retirees.
Estepona enjoys excellent air quality in addition to fine views. It ranks at the top of air quality indexes for Spain. Estepona is closely connected to Spain, Europe and the world by road, rail, and air. Affordable trains and buses can take you to nearly every town and city in Spain. For a jump further afield or for visiting family, Estepona lies close to two major airports. Given its high traffic volume, there are great bargains on flights out of Málaga's international airport. Many British citizens living in Estepona especially appreciate the town's proximity to Gibraltar and its international airport.
The cost of living in southern Spain remains low compared to elsewhere in Europe and the US, which is great news if you're on a fixed income. And yet the standard of living remains on par with its neighbours in developed countries with the bonus of year-round sunshine. In Estepona, you will have access to restaurants, museums, and shops. If you choose to spend part of your year elsewhere, it is easy to rent your property using local rental agents, concierges, and cleaning services.
Estepona offers reliable access to EU-level medical care, both in town, and in neighbouring towns and cities like Marbella and Málaga. Pharmacies abound, offering late hours and service in English. And did we say beaches? Estepona offers it all to those that are seeking the beach, the sun and an enjoyable lifestyle after retirement.
What is there to see and do in and around Estepona?
The Town Council has created thematic itineraries to help you explore the Old Town, including a sculpture route, mural route, and poetry route. 
Estepona has many museums:
The Plaza de las Flores with the Casa de Cultura.
MAD (Museo de Arte de la Diputación de Estepona).
At the town's iconic bullring, enjoy the Ethnographic Museum, Paleontological Museum, Museum of Image and Sound and Bullfighting Museum.
To understand the town's rich history, travel inland to visit the prehistoric necropolis of Corominas in San Isidro Labrador Park. Driveeast along the coast to Las Torres Roman villa. Or see the 21-metre-tall Punta Doncella lighthouse, built in 1861, at the end of the waterfront promenade.
Other activities in Estepona:
El Patio Flamenco association organises classes and frequent concerts around the town.
The Costa del Sol Equestrian Art School, one of the leading equestrian centres in Spain, offers both training and events.
The Selwo Aventura Estepona wildlife park gives visitors a rare chance to see and learn about a variety of African animals. Do not miss its 116-meter zipline, its trampolines and its suspension bridges.
The Orchidarium Estepona has a 17-foot waterfall that oversees the largest collection of orchids in Spain.
In summer, the town hosts an open-air cinema outdoors every Wednesday evening at the bullring. Nearby towns also offer outdoor cinema options.
The Felipe VI Auditorium has one of the biggest stages on the Costa del Sol and hosts theatre performances, concerts, forums, conventions, and exhibitions.
For those seeking new maritime adventure, you can try kite surfing, sailing or scuba diving. Hire a catamaran or charter a boat.
Hikers, cyclists, and horse riders will find numerous trails that ascend into the foothills and mountains of the Sierra Bermeja range.
The rugged vistas of San Isidro Labrador Park make it a popular destination for family picnics.
If you prefer a more exhilarating way to experience the mountains, try renting an open-air buggy from Buggy Tours.
Shopping
Estepona offers wonderful shopping options. There is a covered market on weekday mornings, a town market on Wednesdays selling fruit and vegetables, and a tourist market in the marina on a Sunday morning.
There is also a flea market in the bullring on Sunday. The town has several specialised boutiques including a health food shop and at least two good charity shops. Art exhibitions are often held at the Casa de la Cultura.
Estepona's up-market Mercado Gourmet de San Luis offers fine foods such as oysters, jamon Iberico, and dedicates an area to Japanese cuisine. The building has been transformed into a gourmet space with restaurants, cocktail and craft beer, a café, a winery, and a relaxing terrace.
You can find fresh, local produce at the Wednesday market, as well as a variety of nuts, olives, and dried fruits. There are also basic items such as cheap socks and shoes.
The Sunday market, near the port, is designed for tourists and sells souvenirs, counterfeit bags, sunglasses, jewelry, clothes, and shoes.
Early every morning (6:00 am) there is a wholesale fish market at the port. A wide variety of fresh fish is available although the general public can't purchase the fish on show, the fresh fish can later be found in local markets, supermarkets such as Carrefour and restaurants.
Restaurants in Estepona
Cuisine is varied in Estepona, with Mexican, vegetarian, seafood and traditional Spanish all served. There are also Indian, Chinese, Japanese and fish and chip shops a short drive away.
The port area, a 15-minute walk from town, is an animated spot full of cafes, restaurants, and ice cream bars. At night, the area comes alive with locals – follow them from spot to spot as they try out each bar's happy hour. There are also nightclubs worth a visit.
Bank Holidays in Estepona

Spain, as a predominantly Catholic country, recognises saint days. Each town and municipality haveits own day to celebrate. For Estepona, these are the days of San Isidro Labrador and the Virgen del Carmen.
San Isidro is the patron saint of farmers and the countryside. The festival to honour him is celebrated on the 15th of May. The streets are laid with palms while processions of horses, oxen, donkeys, and bulls, as well as religious floats, pass by to the tune of marching bands. Later in the day, locals and tourists alike enjoy the numerous temporary bars erected throughout the town centre.
The Virgen del Carmen is the patron saint of fishers. Her holiday takes place on the 16th of July. A large statue of the Virgin is carried along the Paseo Marítimo and then placed in a boat. The statue visits each fishing vessel and blesses them.
Estepona's main festival, or Feria, takes place at the beginning of July. It is a huge partyat which the whole town comes together to celebrate. Temporary bars open outside tavernas and cafés, music blares and everyone has a great time. In the two main squares, Plaza de Huevo and Plaza de las Flores, large stalls sell traditional Andalusianfood, and many people wear traditional Spanish dress. In the evening, the Recinto Feria is packed with people enjoying the fair ground. This feria is not to be missed.
Semana Santa, or Easter week, is another momentous time in Estepona. Each day for five days (except Saturday), processions leave the Santa Maria de los Remedios church. Groups of bearers carry the floats, or pasos, often accompanied by a brass band. Each day's procession offers crowds its own distinct flavour and music.
What are the beaches like in Estepona?
Estepona has 17 different beaches along a 21-kilometre stretch of the Mediterranean Sea. All offer a peaceful atmosphere, hard to find in neighbouring Costa del Sol destinations.
The town's main beach, Playa La Rada, runs for 2.6 kilometre along the PaseoMarítimo (seafront promenade). Public bathrooms and showers, play areas, parking and disabled facilities serve beachgoers year-round. Lifeguards stand watch throughout the high season.
Some of Estepona's best restaurants and bars overlook the beach, while down on the sand, chiringuitos, or beach bars, offer food, drinks, and sun lounges.
To the west, 'El Cristo'presents a small, tranquil haven and one of the town's more beautiful chiringuitos. To the east, those who prefer a pebbled beach will enjoy the expansive "Punta de la Plata."
Find out more about Estepona's beaches in our beach guide.
What sports can you play in Estepona?
Estepona is a wonderful place to play and learn golf. The town's seven golf courses include:
two nine-hole courses, El Campanario and La Resina;
a par-3, 18-hole round at Estepona Golf; and
18-hole championship standard courses at nearby clubs like Atalaya Golf and Country Club, Azata, El Paraíso Golf Club and Valle Romano.
Most golf courses have clubhouse facilities, driving ranges, pro shops, and golf schools to teach players of all ages.
Equestrians or anyone eager to learn will find a wide range of horseback riding choices in Estepona. For starters, the Costa del Sol School of Equestrian Art is one of Spain's biggest and best-known. Take riding lessons or participate in hacks and rides.
If you own a horse or pony, you can stable them at Horse Ride Andalucía, Marbella Horses, or Ranch Siestas Los Rubios. The range of sporting facilities in Estepona continues to grow. Join one of the town's tennis and paddle clubs or academies. Enrol in courses at its schools for sailing, diving, and kitesurfing. Estepona's many municipal sports centres and members-only health clubs present a wide range of sports for experts and beginners alike.
What schools and other education facilities are in Estepona?
Estepona has schools to meet your child's educational needs. Choose from an excellent selection of public and fee-based schools. Students follow either the Spanish, British or American curriculum to learn in a Spanish, English or fully bilingual environment. Meanwhile, they can gain exposure to additional languages such as French, German, Russian or Mandarin.
Estepona's 14 public schools teach classes from kindergarten to pre-University level, known as bachillerato. However, if you prefer fee-based alternatives, you have excellent options to consider. Excellent preschools include the Spanish-language María Montes Escuela Infantil and English-speaking Seghers Garden Nursery School.
International School Estepona follows the Montessori system in teaching its younger classes. Queens British Grammar School and Mayfair Academy both provide early, primary, and secondary education in English up to Advanced or A-levels, in accordance with the British National Curriculum.
Both the Atalaya Colegio Internacional and Colegio San José offer bilingual education in Spanish and English. Both offer students the chance to pursue abachillerato or Spanish high school diploma or an International Baccalaureate (IB) level.
The Atlas American School of Málaga, located in the Selwo Hills area of Estepona, offers a US curriculum from kindergarten to twelfth grade (K1–G12). This enables students to earn a full American high school education.
Read more in our Estepona schools guide.
What hospitals and other healthcare facilities are in Estepona?
Estepona has several public-sector healthcare facilities, including the Hospital de Alta Resolución de Estepona, two health centres, a doctors' surgery, a dialysis centre and a community mental health unit. The hospital has an outpatient department and an accident and emergency unit, as well as specialised clinics for gynaecology, urology, and internal medicine.
If you have private health insurance or would prefer to see a doctor privately, there are two full-service private hospital centres – Cenyt Hospital in the town centre and Hospiten Estepona, located on the New Golden Mile – that provide excellent care.
Two medical centres – Centro Médico Estepona and Centro Médico Mar –offer a range of outpatient services. Pharmacies can be found all over Estepona.
Spanish pharmacies can diagnose common complaints and medicate them, which makes them an excellent resource for minor health concerns. Opening hours vary. Here is a list of Estepona pharmacies.
Estepona areas: Estepona Old Town
Estepona's Old Town (Casco Antiguo) is a compact maze of pedestrian streets and squares lined with traditional whitewashed houses. Over the last decade, the Old Town filled with flowers, trees, and plants, thanks to the Town Council's 'Garden of the Costa del Sol' initiative.
The oldest part of Estepona is El Barrio de La Villa, where you can see Roman, Moorish, and medieval landmarks, like the remains of the Castillo de San Luis castle, the clocktower in the Plaza del Reloj, and the Casa del Aljibe, which houses the town's archaeological museum. The Old Town is home to many of Estepona's restaurants, tapas bars, local shops, well-known retail stores and services, such as banks.
Estepona areas: Estepona Marina and Port
Estepona's marina and fishing port lies east of the Old Town, between the beaches of Playa de la Rada and Playa de Cristo. Properties there enjoy fine views of the Mediterranean. There, you can take in the beauty of the boats from the nearby bars, cafés, international restaurants, and clubs that spring to life daily, especially in summer.
For residents, the marina also offers a supermarket, pharmacy, and a business and Internet centre, in addition to a popular outdoor market on Sundays. The town hall lies across the Avenida del Carmen. Next to it, the bullring houses many of the town's museums.
Genuine marina lovers may want to consider Seghers, which offers studios, one, and two-bed apartments to the east, modern townhouses to the west, and villas inland. The area is home to the Babylon sports and social club and Estepona's municipal police station.
Estepona areas: New Golden Mile
The New Golden Mile is the name given to the stretch of coastline that runs between Estepona and San Pedro Alcantára in Marbella, encompassing land on both sides of the N340 coastal road.
Home to some of Estepona's most luxurious urbanisations, the area is popular with permanent residents and holiday home buyers who want easy access to the beach and local services. Many of the hillside properties enjoy views of the Mediterranean Sea, Gibraltar and, on a clear day, the coast of North Africa.
Casasola is one of the best addresses in Estepona. Located on the beach side of the N340 road, it is within easy reach of the town centre, Puerto Banús and Marbella. Its choice of properties includes high-end apartments in exclusive developments, semi-detached townhouses, and large single-family villas, many of which have sea views. A small number of plots are still available for those who wish to design and develop their own home.
Estepona areas: Estepona East
East of the town centre lie some of the most sought-after residential neighbourhoods in Estepona, including El Paraíso, Atalaya, Los Reales, Reinoso and Selwo. Close to the town centre, upmarket El Paraíso stretches from the coast across the coastal road north to the inland El Paraiso Golf Club, designed by golf legend Gary Player. Many of the apartments, townhouses, and villas tuck into its greenspace, while to the east lies the fashionable Arroyo de Dos Hermanas.
The residential area of Atalaya stretches from the A7 coast road up to the AP-7 toll highway. Home to the Atalaya Golf and Country Club and Atalaya Colegio Internacional, it houses apartments, townhouses, and single-family homes, with sizeable green areas.
Named for the peak that dominates Estepona, Los Reales offers more rural living at the base of the Puerto de PeñasBlancas range, close to the Sierra Bermeja mountains. Villas and country homes sit on large plots with stunning views. Its secluded feel will make you forget that you are still close to town and all its local services and amenities.
Above the N340 coastal road lies Reinoso, whose smaller cottages, country villas and traditional estates (fincas) lie on spacious plots above the beach. Its rustic feel is popular with horse riders, hikers, ramblers, and mountain bikers. So are the trails that lead to tranquil valleys and natural pools.
On the hillside east of the town, Selwo is a fast-growing neighbourhood. Best-known for the Selwo Aventura Estepona wildlife park, it is home to apartment complexes and villas on large plots. Many of the properties have impressive views over the surrounding countryside to the Mediterranean Sea.
Estepona areas: Estepona West
Stretching along the Mediterranean coast and inland, Estepona West is one of the most up-and-coming parts of the Costa del Sol. It offers luxurious developments that share the coastline with resort hotels. Inland are villas, townhouses, and apartments, overlooking the golf courses at Finca Cortesín and Estepona Golf.
On the highly sought-after frontline beach at Estepona West are some of the most outstanding new urbanisations anywhere on the coast, with luxurious new-build properties available. The area is well served with restaurants, cafés, shops, beach clubs, while the town centre is just a short drive away.
Latest articles about Estepona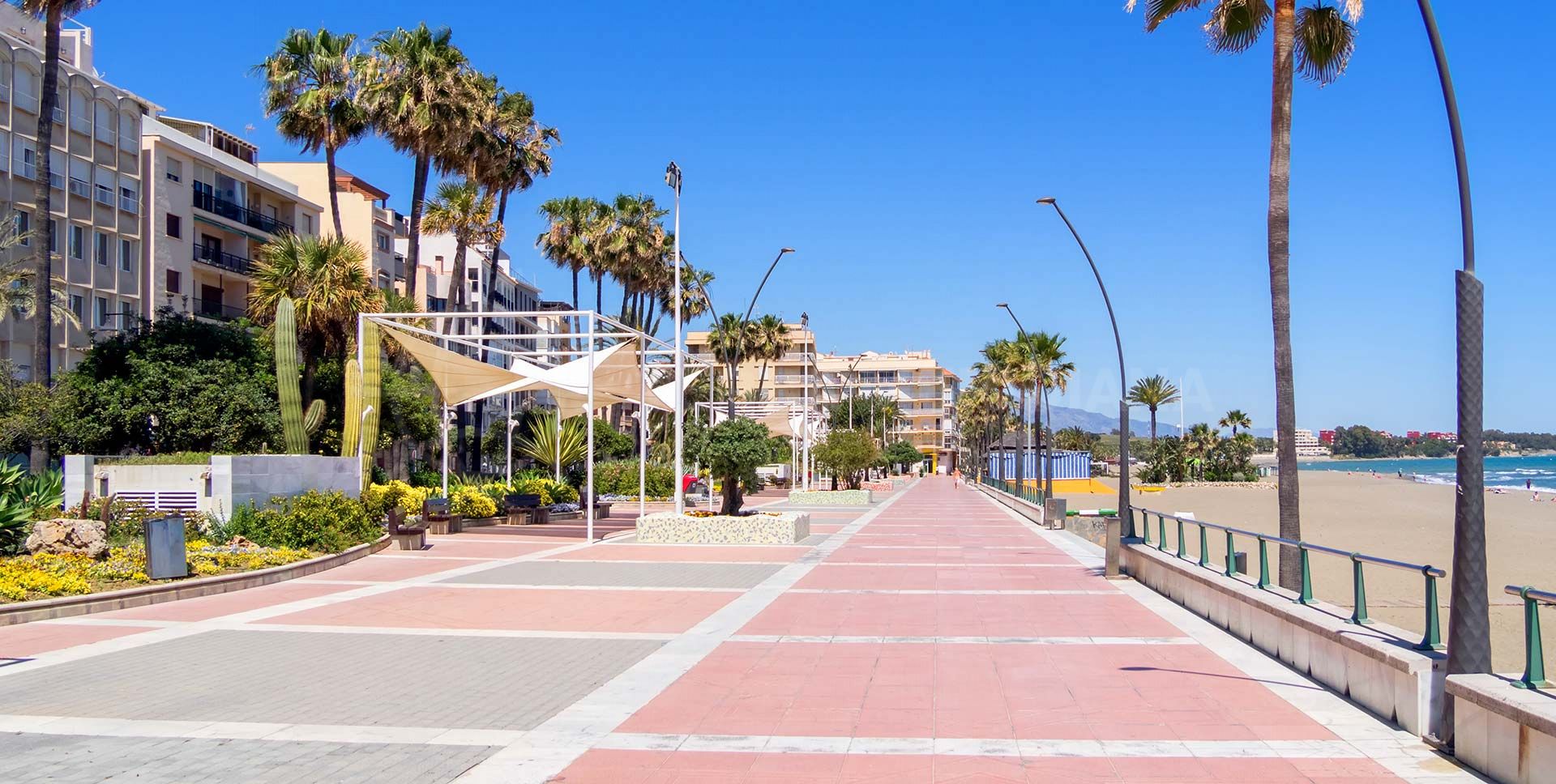 Latest articles about Estepona