Scaling Marbella's very own mountain, La Concha
High above the hustle and bustle of Marbella and San Pedro,  La Concha Mountain stands proud as the famous landmark that towers over this part of the Costa del Sol. A visual delight that plays a vital role in Marbella's benevolent micro-cilmate, La Concha's summit is also the endpoint of a pleasant three-hour hike that is highly recommended to confident walkers during autumn, winter or spring.
At 1,215 metres above sea level, La Concha – which means 'shell' in Spanish but is actually an impressive mass of limestone – marks the western point of the imposing Sierra Blanca mountain range that is impossible to miss for anyone driving along the A-7 coastal road.
A rocky path partially covered in 'pinsapos', a rare pine tree discovered in 1837, the route is varied and thanks to its views is probably one of the most pleasant treks in Andalucía. If you enjoy hiking, are steady on your feet and happy with heights, take an afternoon to scale La Concha and enjoy impressively panoramic vistas of Gibraltar, northern Africa and inland Spain on the way up.
The walk sets off from the Refugio de Juanar refuge, on the road from Marbella to the inland village of Ojén, and takes you through a pleasant pine forest before continuing along the bottom of a valley carpeted with olive trees towards the Cruz de Juanar peak. Here the route heads off to the north, taking hikers through another pine forest with a fern-covered floor before beginning its steady ascent. La Concha is clearly signposted.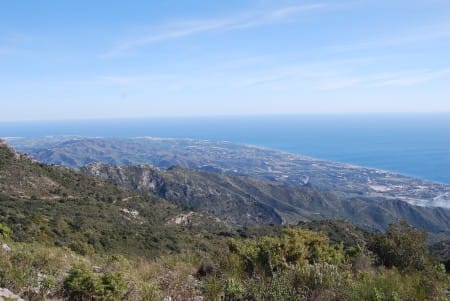 Eventually the trail thins out to a rocky, sandy path, which leads along the crest of a ridge. It is here where the fantastic views start to open up. To the south, the Costa del Sol can be seen with the blue sea beyond, with the rock of Gibraltar and Tarifa towards the south-west and – on a clear day – the North African coast rising up across a broad stretch of Mediterranean Sea.
From here you continue in a westerly direction along a comfortable trail, with stunning views all the way. A short descent is followed by a steep ascent along the El Salto del Lobo (Wolf's Jump) cliff with sheer drops to the north. It's at this point that the path becomes a little trickier. Walking poles – and if you didn't bring those, your hands – will come in handy as the route zigzags upwards then drops sharply down. Care should be taken to keep your balance on this section, especially if it is windy.
The final part of this impressive hike is once again on more level terrain, following a south-westerly direction. Marbella and its coastline comes into view once more and as you head west again, you'll see the Istán reservoir, which as far as the walk's views are concerned, is the real icing on the cake.
Ascent: 2-3 hours
Round trip: 5 hours
Difficulty: Medium to hard
Originally published in February 2013, updated by Adam Neale in August 2018