Playground of the conspicuously wealthy and the obvious wannabe, the world-famous marina development of Puerto Banús is home to some of the Costa del Sol's most chic boutiques, liveliest nightlife, and top-dollar restaurants.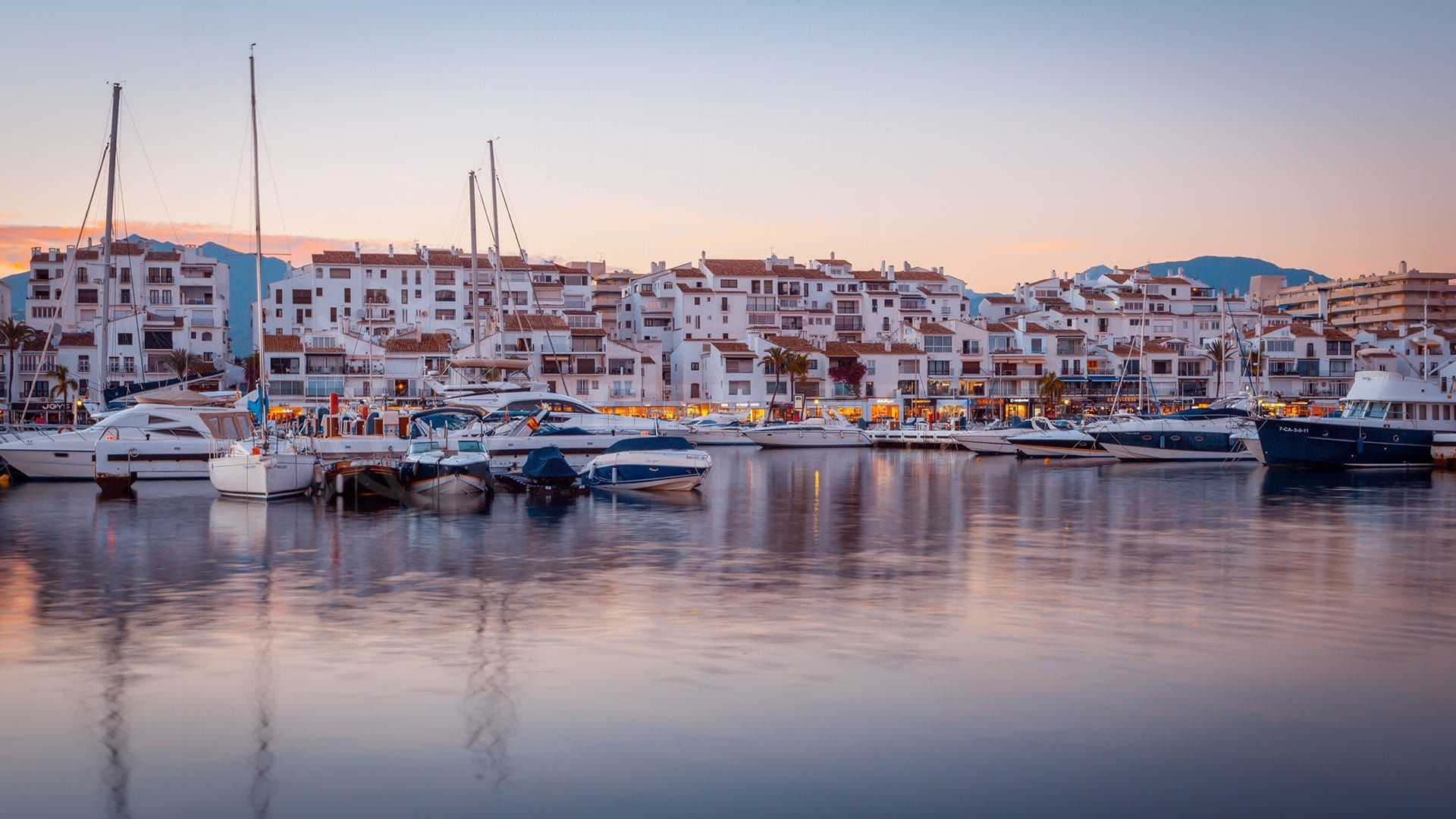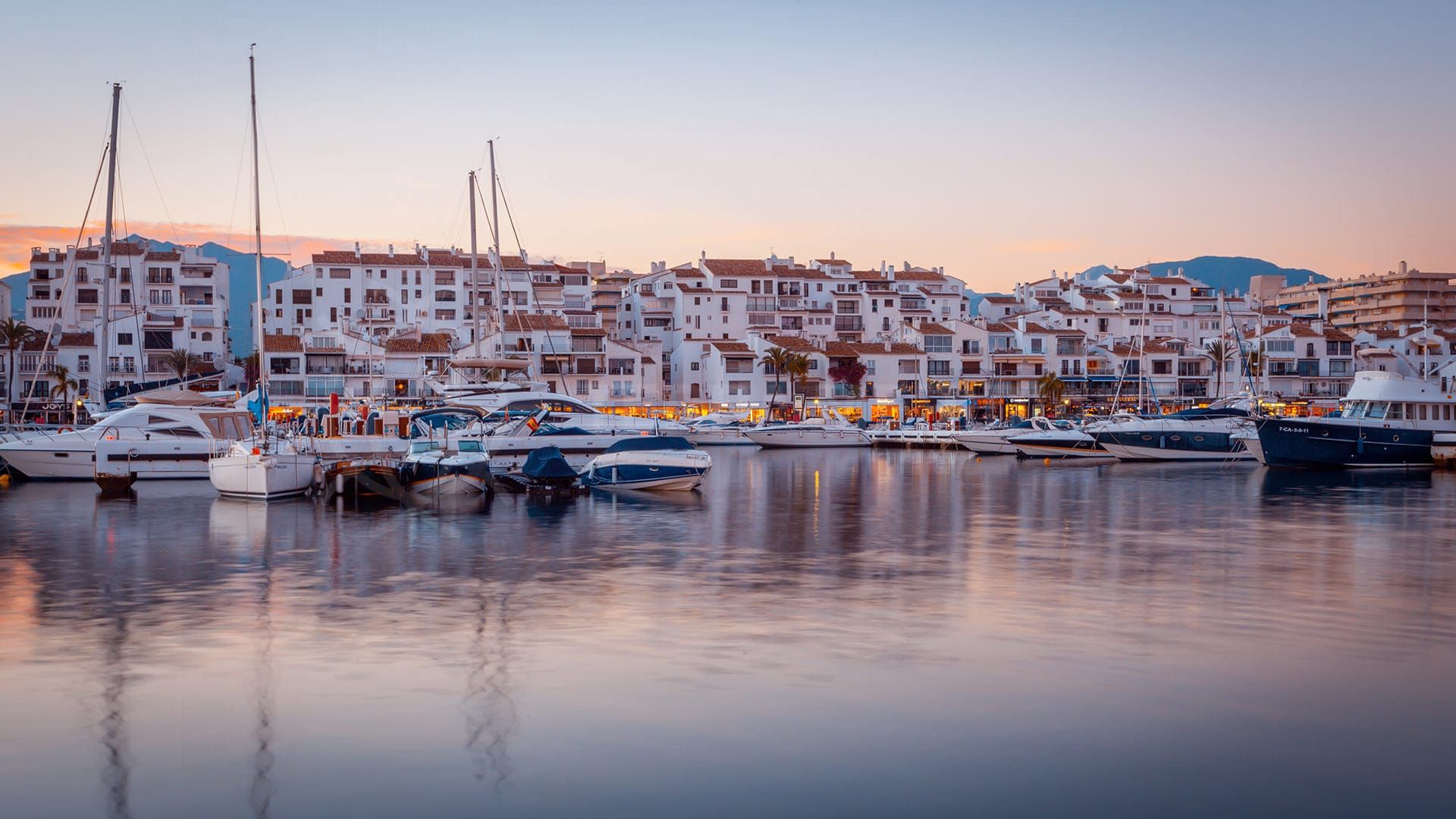 Since its grand opening in 1970, Puerto Banús has been synonymous with the high life on the Costa del Sol. Everyone who was anyone at the time, from Spain's former King Juan Carlos and Queen Sofia to the Aga Khan and Princess Grace of Monaco, and from Hugh Hefner to Roman Polanski, was in attendance to feast on caviar, drink champagne and listen to the youthful pop sensation, Julio Iglesias.
Designed by Russian architect Noldi Schreck and developed by Spanish contractor José Banús, after whom it was named, the look of Puerto Banús may have been inspired by Mediterranean coastal villages, but its feel is much more global melting pot. Conceived as a luxurious marina where the well-heeled could sail up in their yachts and shop 'til they dropped, it remains the flagship development that put Marbella on the map worldwide.
Just six kilometres along the coast from the centre of Marbella and about sixty kilometres southwest of the provincial capital city of Malaga and its international airport, Málaga-Costa del Sol, Puerto Banús lies on the beach side of the N340/A7 highway. It is located directly to the south of Nueva Andalucía, better known as Andalusia's Golf Valley, which was also developed by José Banús in the late 1960s and 1970s.
Protected by the coastal mountain range that is crowned by Marbella's iconic La Concha peak, Puerto Banús is bordered by the Río Verde to the northeast, the Mediterranean Sea to the south, and the Avenida José Banús to the southwest. Sharing the same enviable microclimate as Marbella, it enjoys well over 300 days of sunshine a year and average year-round temperatures of between 18-20ºC.
Frequently Asked Questions:
What is Puerto Banús like?
Puerto Banús was once dubbed the Monte Carlo of Spain. The popular pleasure harbour is known for its cosmopolitan life, glitz and glamour, and perfect year-round weather.
Puerto Banús boasts a large marina, luxury boutiques, top sport facilities, quality restaurants, and an exciting nightlife. The golf is also hard to beat. It's also a regular haunt of the rich and famous, drawn to all of the above. If you want to know just who you might spot, you can read our article about celebrity hunting on the Costa del Sol. No wonder it attracts around five million visitors every year.
It is also true to say Puerto Banús has two faces, during the day, in the morning in particular it is a pleasant place to spend some time, for example to enjoy a breakfast in the marina watching the luxury yachts. At night it becomes a different place entirely, particularly after midnight in the second line of the marina.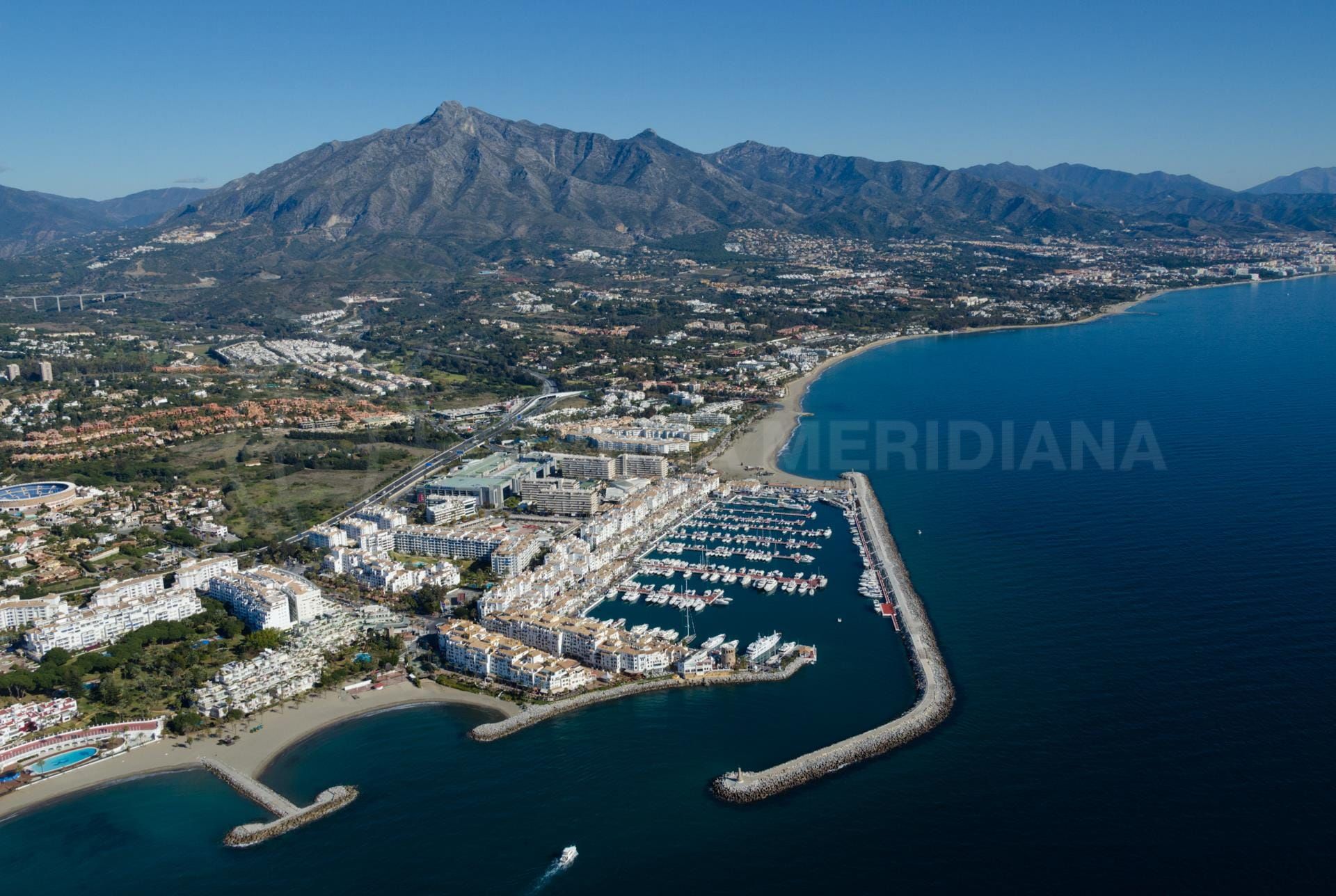 What is the history of Puerto Banús?
Puerto Banús was the brainchild of José Banús. In the 1960s, the entrepreneur envisioned a luxury marina for Marbella. It was by then already a fast-growing jet-set magnet. Together with Noldi Schreck and Macos Sainz, architects of the Marbella Club Hotel, Banús developed a Mediterranean architectural style that blended local tradition with modern sensibilities.
They proposed a glamorous marina that had the quaint feel of an Andalusian fishing village. Puerto Banús officially opened the apartments and service areas in May 1970. The lavish launch ceremony was attended by many celebrities, including film director Roman Polanski, Playboy founder Hugh Hefner, and Prince Rainier and Princess Grace of Monaco. A young Julio Iglesias sang for the 1,700 guests.
A rush of businesses, tourists, and residents quickly followed. The marina immediately became a natural extension of Marbella. This attracted more of the jet-set crowd. Meanwhile, José Banús went on to become the largest developer of residential tourism complexes on the Costa del Sol. Today, the picturesque port town has become a draw for people who appreciate the beauty and the privacy that the area offers. The marina harbours some 900 boats. This includes super yachts belonging to some the world's wealthiest people. To find out more, you can read our Short History of Puerto Banús.
Is Puerto Banús a place to invest or retire?
Finding a good investment in Puerto Banús is easy. Residencial complexes include Los Granados, Oasis de Banús, Laguna de Banús, Malibu, Playa del Duque, Playa Rocío, and La Alcazaba. Together they present a wide variety of apartments, duplexes, and penthouses to choose from.
They all offer the opportunity to relax in safeguarded communities adorned with tropical gardens, swimming pools, and much, much more.  All of these communities lie just a short walk away from the marina or beach. Just a little further east lie the Marbella Club Hotel and Puente Romano hotels and beach clubs. To see what's available in this exclusive and luxurious community, check out our regularly updated property listings for Puerto Banús. The big advantage of investing in Puerto Banús is the potential for a healthy rental yield since the location is one of the few on the Costa del Sol that attracts tourists in high numbers all year round.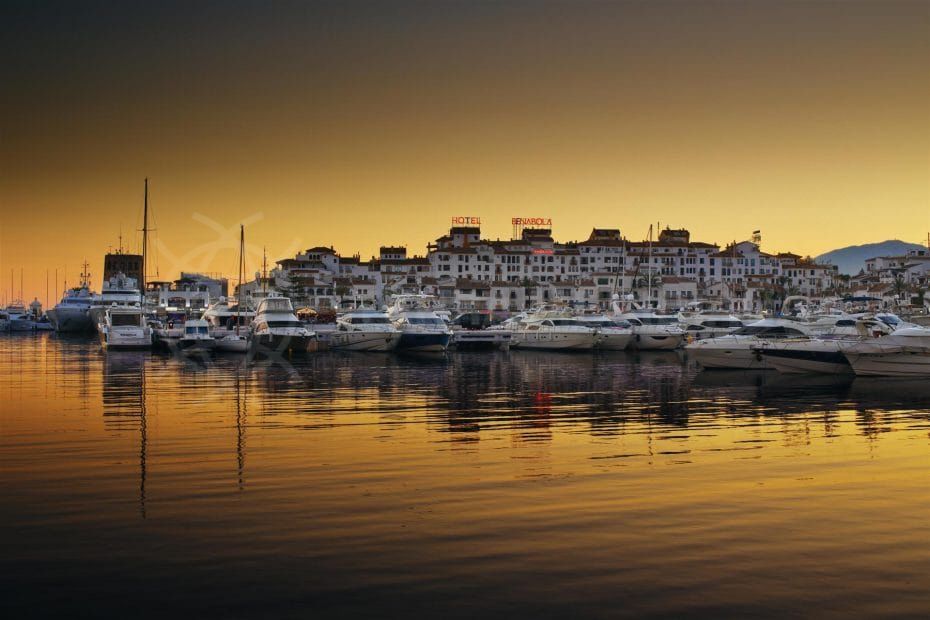 Where is Puerto Banús located?
Part of Marbella, Puerto Banús lies in Málaga province at the heart of the Costa del Sol. This places you in the middle of a great variety of things to do and see. International airports lie less than an hour away in Málaga and Gibraltar. Spain's well-developed rail network keeps the country's cities within easy reach. And roads connect you to everything that makes Andalucía so beautiful and exciting. Yachters, like the Romans of yore, have the western Mediterranean in their grasp.
What is there to do in Puerto Banus?
Puerto Banús boasts the best of every kind of amentity. For sun and surf there's a large, excellent marina, along beaches, and nearby beach clubs. To enjoy the finer things, check out the luxury boutiques for shopping, exciting nightlife, and the high-quality restaurants that will please the most discerning foodie. Looking for physical activity away from the beach? You have your pick of world-renowned golf courses nearby, along with top-rated sport facilities. Puerto Banús is also just a short drive away from many of the most popular locations in Andalusia: Granada (3 hours), Gibraltar (1 hour), Málaga (1 hour), Cadiz (3 hours), Sevilla (3-4 hours), Cordoba (3-4 hours), and of course Morocco (there are quick ferry crossings from Algeciras, which lies about an hour's drive away).
Restaurants in Puerto Banus
Puerto Banús packs lots of restaurants into a small space. Here, global chains line up alongside local favourites, serving myriad international and Spanish cuisines. In the morning, visit a local cafe bar or the bustling Starbucks. For a memorable Spanish meal, visit Los Bandidos, with its tradition of relaxed, elegant dining. The restaurant serves both classic and innovative cuisine using seasonal Spanish produce and fine wines. La Sala by the Sea provides cuisine in a unique beach setting. It attracts a well-heeled crowd for drinks, dining, and lounging in the sun.
Or visit Naga Thai Restaurant, which offers traditional cuisine with a modern Asian touch. For over a decade, chef Prasar Jansong has been preparing a warm welcome for the town's Thai food fans.
Goyo Full Taste Banús is a branch of Marbella's top caterer, delicatessen, and patisserie. It provides delicious food, including signature tapas, and drinks to eat in or take away.
Imagine if Pablo had preferred pizza and pasta to canvas and paint. At Pizzeria Picasso find works of art on a plate in Puerto Banús' favourite Italian restaurant.
Or visit Jack's Smokehouse for authentic American diner-style cuisine and cocktails. Jack's is a favourite for steaks, salads, ribs, Tex–Mex food, and foot-long hot dogs.
Bars in Puerto Banus
You're sure to find a place just your style in Puerto Banús. Any time of the day and night, tipple a glass of fine wine, knock down a refreshing beer, or savour an exotic cocktail.
The streets are packed with popular bars that attract many new arrivals, by land and by sea. The Sinatra Bar is one of the oldest and best-known bars in Puerto Banús. It's a great place to start a night out on the town. It's an even better place to savour a drink and watch the world go by. Or swim, dance, and drink at Ocean Club Marbella at the heart of Puerto Banús' party culture. The superb international restaurant and restorative spa together makes the club a class act.

Sports and leisure in Puerto Banus
There's more to the town than its world-famous marina. Puerto Banús also has Marbella's only cinema for foreign-language films.  The Puerto José Banús marina has 915 berths for vessels up to 50 metres long and a depth of 3–7 metres. Services include workshops, a dry dock, a fuel station, and 24h security. Glow Beauty Puerto Banús is the premier place to regenerate your inner luminescence.
Red Dog Cinema is the only place in Marbella to see movies in their original (subtitled in Spanish) on one of its seven digital screens.
Hotels and tourism in Puerto Banus
Marbella Tourist Office is the official tourist information office, open all day Monday to Friday and on Saturday mornings year-round. They provide visitors and residents with all the details about what is going on in Marbella and its environs.
Meliá Marbella Banús is a four-star hotel with 200 rooms and suites. It offers three swimming pools (one for adults-only), a pool club, two restaurants, and a lounge bar. Convenient access to local attractions and the beach. Or visit the Occidental Puerto Banús, a three-star hotel with 424 studio apartments, rooms and suites. It also has two swimming pools, spa, tennis court, restaurant, poolside bar, and kids' services. Close to Casino Marbella and the beach Occidental is a popular choice for holidays in Puerto
Banús.
areas in Marbella - puerto banus
More about Marbella - puerto banus