Marbella Property Guide
If you are looking for a property in Marbella, be it as a holiday home or a permanent residence, it is important to know the different areas that make up this beautiful coastal resort town and offer such a wide variety of settings, property types and lifestyles. This guide highlights the most important residential zones of Marbella.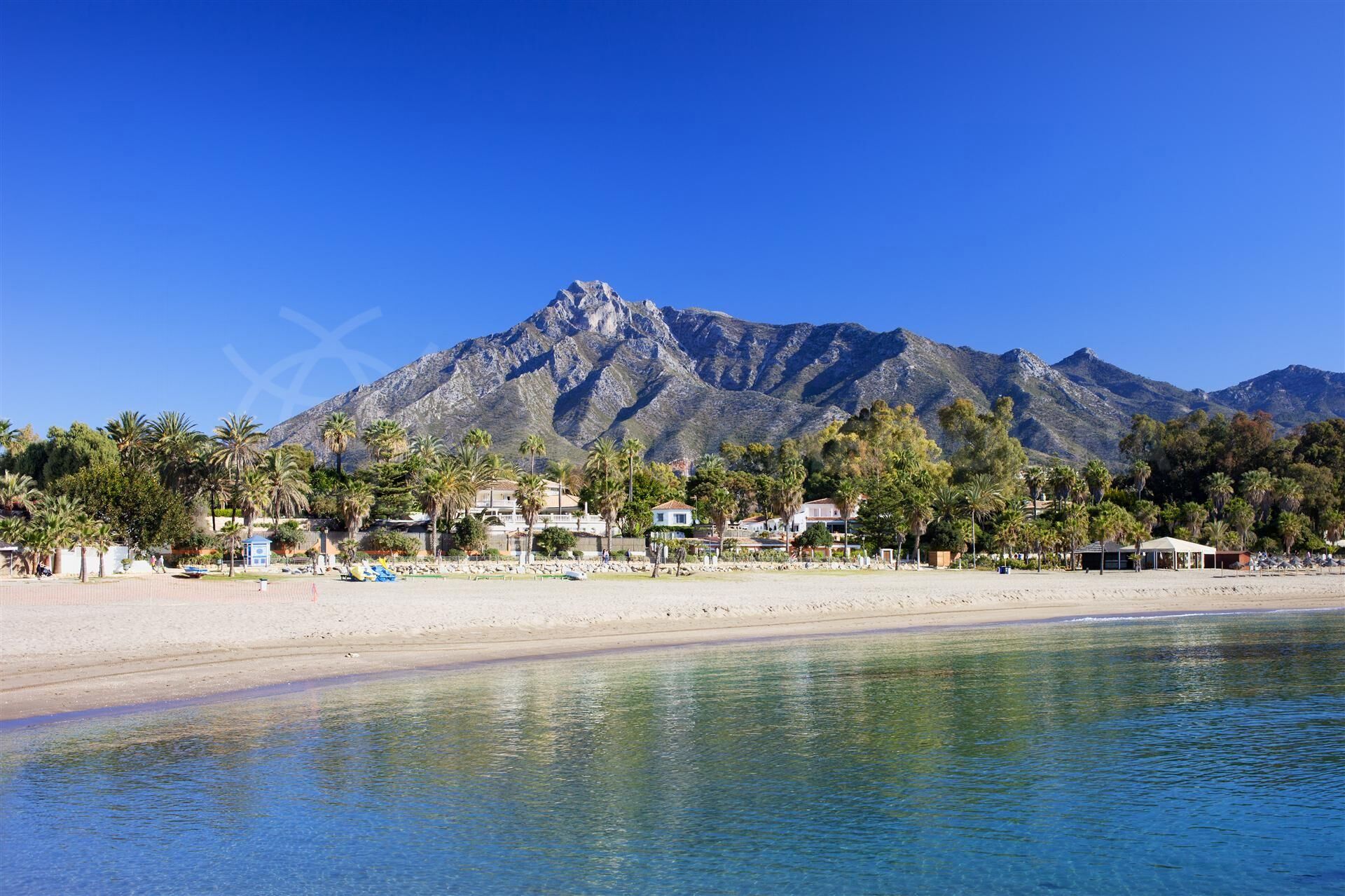 Central Marbella
At the heart of the greater area known as Marbella is the downtown zone whose beaches and the shops, restaurants and cafés flanking the main Ricardo Soriano avenue, are a popular reference point for locals and visitors alike. It is mostly a Spanish area, with the town apartments of the centre becoming luxury holiday homes the closer you get to the beach. The two areas here that are sought after by foreign buyers are the Old Town, where you will find charming Andalusian style apartments and townhouses that are either renovated or offer restoration opportunities, and the exclusive zone of luxurious beachside apartments close to where the Golden Mile begins. Property on offer here includes: beachside holiday apartments, town centre homes, and Old Town townhouses and apartments for renovation.
Golden Mile, Marbella
Essentially an extension of the Marbella Town, this is an upmarket area within walking distance of both beaches and Marbella's town centre. On the far side of the Golden Mile you will find a mix of luxury villas set on sizeable private plots, exclusive gated apartment complexes and charming developments such as La Trinidad and Altos de Puente Romano. From their slightly raised positions they overlook the prime collection of beachside Golden Mile penthouse complexes such as Marina Puente Romano and the millionaire's row of private villa estates right up on the beach. This is not only one of the best addresses in Marbella, but also the one that commands the highest prices per square metre. Property on offer here includes: luxury beachside apartments, exclusive gated complexes and extensive private mansions.
Sierra Blanca, Marbella
Following the slope up from the sea to the base of La Concha Mountain you come to Nagüeles, a well-established villa suburb between the Golden Mile and Sierra Blanca. One of the original residential areas, its villas are set on medium-sized plots and you will often see renovations under way as this area has a large stock of generally older villas. A little further uphill, Sierra Blanca is a largely gated community with predominantly large, luxurious villas set on spacious private plots. The few apartment and townhouse complexes in Sierra Blanca, such as Mansion Club, are highly exclusive, with Cascada de Camoján, a gated community neighbour to Sierra Blanca, offering larger plots and often larger homes with beautiful views. This part of Sierra Blanca is also home to many of its most beautiful villas, as well as the exclusive Imara apartment complex. Property on offer here includes: independent villas with views and exclusive gated communities of apartments.
Puerto Banús, Marbella
At the western end of Marbella's Golden Mile is the glamorous marina of Puerto Banús. Popular above all for its shopping, dining and nightlife, it is also home to luxury apartment complexes within walking distance of beach clubs and all local amenities. This is very much a beachside property location focusing on proximity to the lively vibe of the port, though on its western extension, near El Embrujo, the area becomes more residential and leafy in character, with attractive beachside apartment complexes set in tropical gardens and a smaller collection of villas. Property on offer here includes: modern apartments in the heart of the marina, frontline port apartments overlooking super-yachts and elegant residential complexes on the outskirts.
Nueva Andalucía, Marbella
Nueva Andalucía begins across the coastal road from Puerto Banús and extends into a broad, verdant valley that offers sea, mountain and golf views. It is known as the Golf Valley of the Costa del Golf (Costa del Sol) because the area is dominated by the three famous golf courses of Aloha, Las Brisas and Los Naranjos, each surrounded by a residential zone of the same name. These three suburbs offer a good mix of attractive mid to high end apartment complexes, some townhouse urbanisations and luxury villas on medium-sized plots. This is very much a leafy family-oriented area with a strong focus on golf. Magna Marbella and La Cerquilla occupy higher positions from which they offer privacy, views and luxury in the form of apartments and villas respectively. On the higher ground near Turtle Lake are a mix of apartments and villas, while the areas closer to the Casino and Puerto Banús are mostly made up of holiday apartments.Property on offer here includes: golf complexes with holiday apartments and townhouses, both modern and established villas in leafy streets and holiday apartments closer to Puerto Banús.
Marbella West – Guadalmina
With the lively little town of San Pedro Alcántara as its local reference point, Guadalmina is the westernmost extension of Marbella, and divided into two distinct parts. Guadalmina Alta lays on the north-side of the coastal road. Here you will find attractive apartments and medium-sized villas following the course, while Guadalmina Baja extends from the road to the beach. With the exception of a few apartment and luxury townhouse complexes, this is an exclusive, peaceful villa suburb mostly made up of large, luxurious villas on large private grounds. Property on offer here includes: large villas and frontline golf apartments.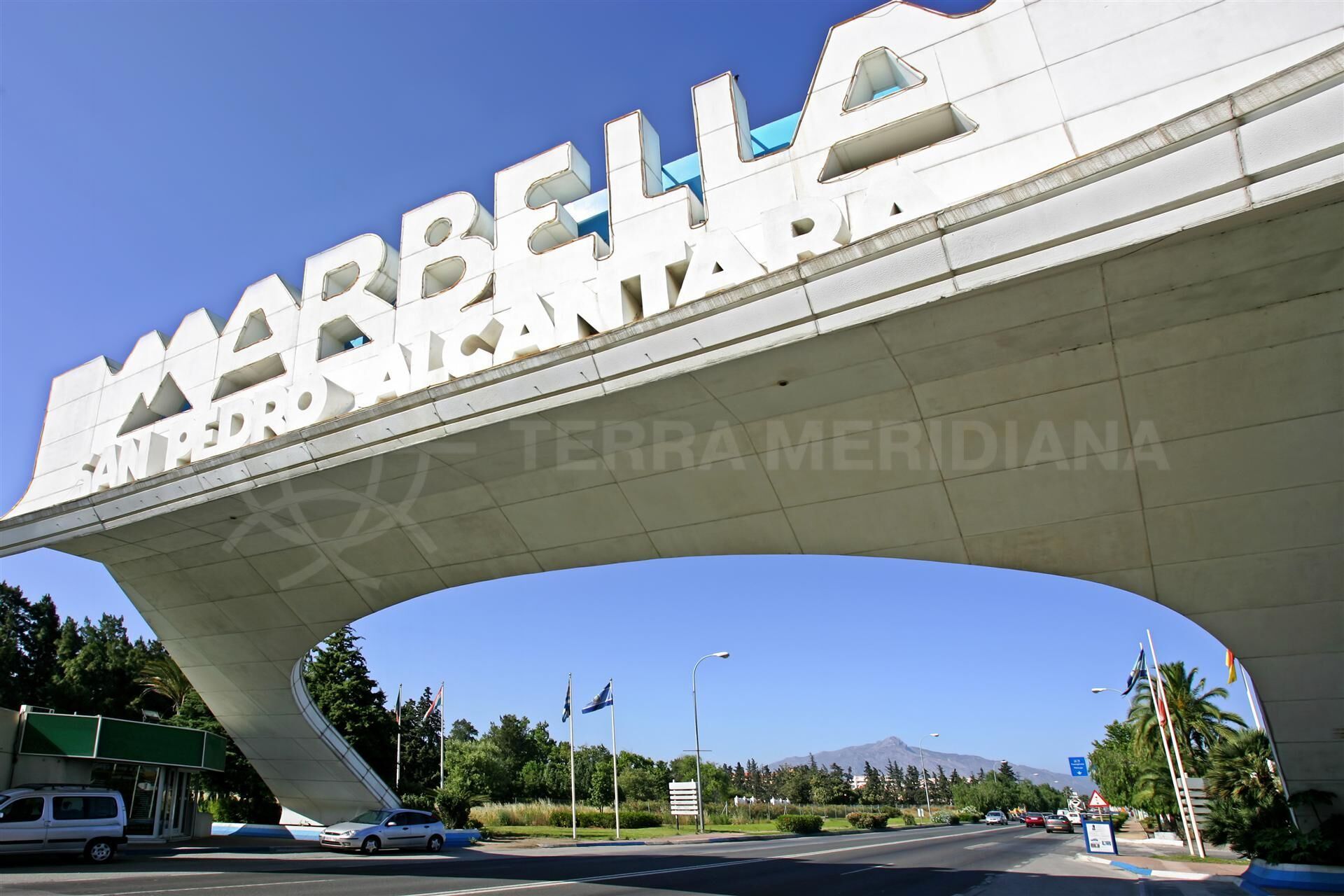 Marbella East
Marbella East starts at Río Real, a very private residential area of great natural beauty set upon the Río Real Golf Course. It offers a mix of luxury apartments and townhouses, with a scattering of villas and ranks as one of the most exclusive zones east of Marbella. On the other side of the road is Bahía de Marbella, a peaceful beachside area of luxury apartments and villas located close to the Marbella Rugby Club. It flows on into the top address in Marbella East, Los Monteros, where in addition to some luxury apartment complexes you will mostly find peaceful streets lined with villas. It is also one of the few parts of Marbella where you will find large frontline beach villas.
The northern side of the coastal road is home to a series of golf courses located close to the Costa del Sol Hospital. The residential areas include Santa Clara – mostly home to mid-level villas – with El Rosario an older suburb of smaller villas that is extending westwards and northwards into more undulating territory. Further eastwards are other established areas such as Las Chapas, Hacienda las Chapas, El Chaparral and Carib Playa whose streets of villas, apartments and holiday villages combine a leafy residential feel with a summer holiday atmosphere. As in El Rosario, some of the villas here are older and being renovated.
The main point of reference in Marbella East is Elviria, an expansive residential area that flows outwards from the shopping and dining hub of its commercial centre. The older beachside area contains holiday apartments, townhouses and smaller sized villas, while the more newly developed hillside extension features attractively styled apartments and luxury private villas close to golf. The luxury apartments of Elviria Hills boast their own 9-hole golf course and clubhouse, while further east Cabopino, Calahonda and Riviera offer a more medium-priced environment dominated by holiday apartments, townhouses and a smaller selection of more economical villas before you reach the municipal boundaries of Marbella. Property on offer here includes: holiday apartments near the beach, modern and renovation villas and frontline golf properties.