One of Europe's best-known and most glamorous destinations, Marbella has an excellent year-round climate, well-developed tourism infrastructure, and a mature and developed property market, both for purchase and rental, among national and foreign clients.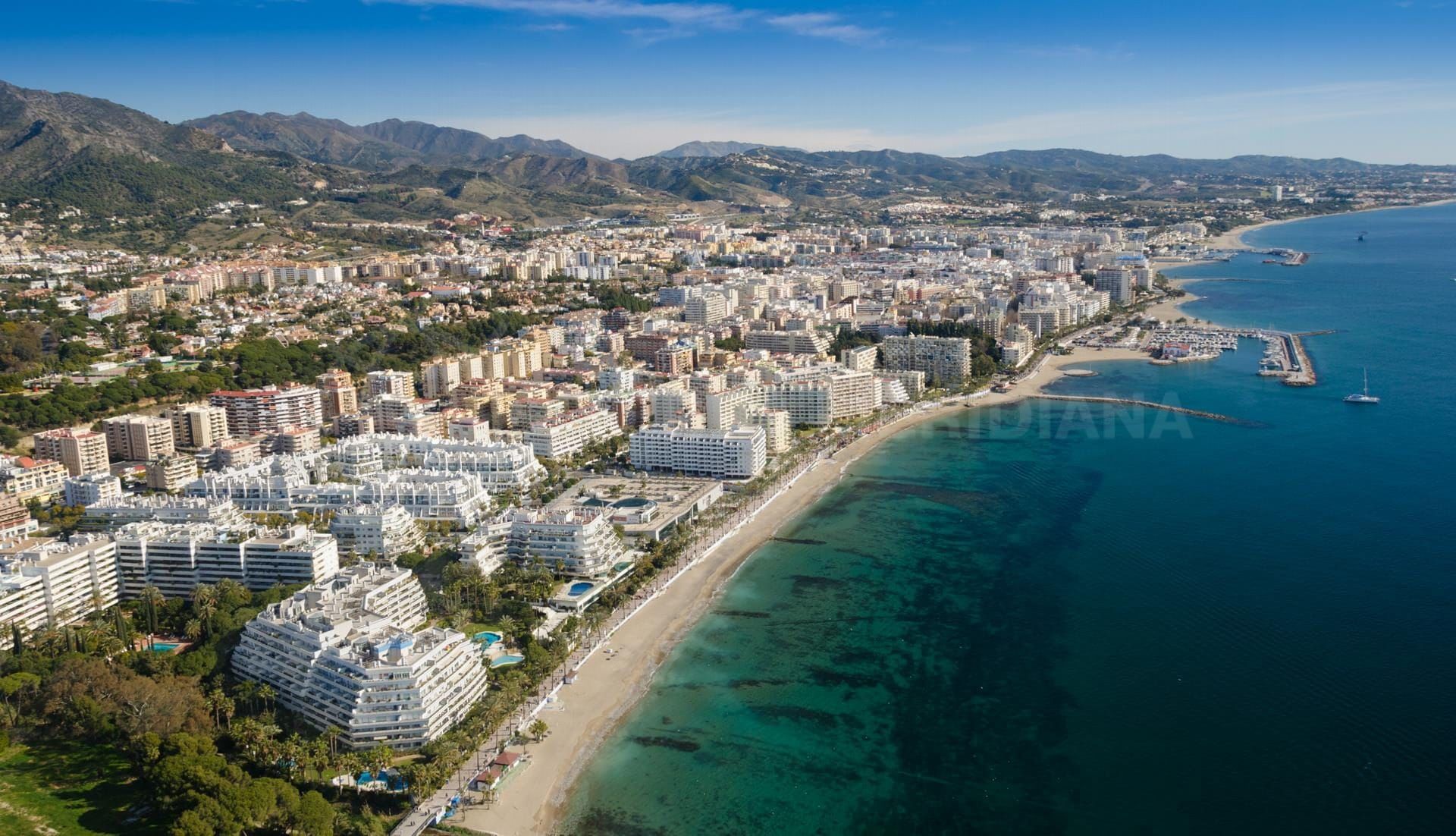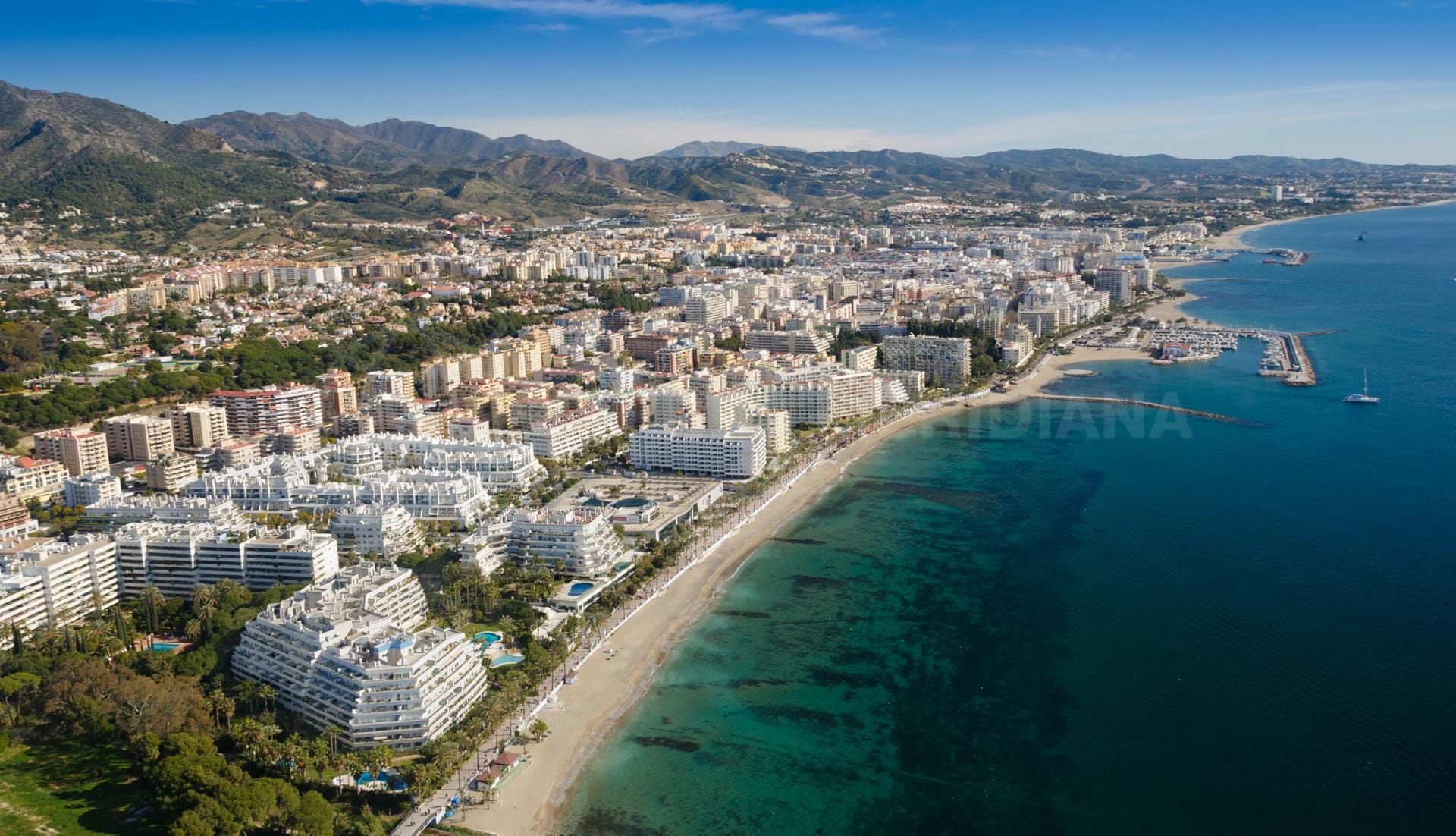 The municipality of Marbella is home to nearly 150,000 people, centered in and around the coastal towns of San Pedro de Alcántara and Marbella itself, as well as in the areas of Nueva Andalucía and Marbella East.
Lying to the east of Estepona and west of Mijas, and bordering the villages of Benahavís, Istán, and Ojén inland, Marbella covers an area of close to 117 square kilometres, including 29 kilometers of Mediterranean coastline and reaching an altitude of more than 1,200 metres at the summit of La Concha, its iconic peak.
The city of Marbella is 57 kilometres from the provincial capital, Malaga, and is connected via the A7 highway and AP7 toll road. Malaga's Pablo Ruíz Picasso International Airport (AGP) is just 45 kilometres away.
If you are looking for a property in Marbella, be it as a holiday home or a permanent residence, it is important to know the different areas that make up this beautiful coastal resort town and offer such a wide variety of settings, property types and lifestyles. This guide highlights the most important residential zones of Marbella.
Frequently Asked Questions
Internationally famous as the embodiment of luxury, glamor and a beautiful climate, Marbella is one of the most popular cities on Spain's Costa del Sol for tourists and expats alike, and for good reason. It has 28km of beaches, as well as a dizzying array of services, shopping, sports facilities and luxuries.
Situated in and around Marbella there are four sports marinas, 21 golf courses, and a dozen tennis clubs, as well as top tier restaurants, shopping and spas. It would be hard to find a more stunning or relaxing locale in the south of Europe. All this, along with a well-developed property market, both for sales and rentals, make it very popular with both Spanish and international clients. We want to help you navigate Marbella with the information you need so that you can decide if it's the right place for you.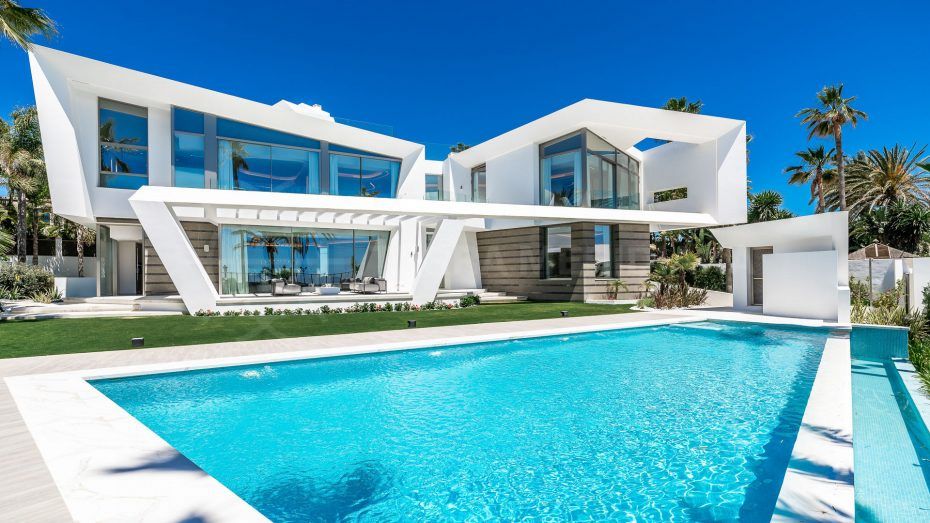 What is Marbella like?
The municipality of Marbella is home to nearly 150,000 people, centered in and around the coastal towns of San Pedro de Alcántara and Marbella itself, as well as in the areas of Nueva Andalucía and Marbella East. Marbella has managed to keep its traditional flavor as a Spanish village, despite its development as a luxury tourism and expat hotspot. It has a quaint old town dating from the 15th century, with orange trees, white houses and public plazas. Even older elements remain, such as a wall from a Moorish castle, which itself incorporates columns from the Roman period. But even the newer developments, most notably Puerto Banús, one of the largest entertainment complexes in the Costa del Sol, have retained the city's character as a Spanish "white village"; so-called for the white-washed houses and style of architecture. Although the old town, or casco antiguo, is located 10km from Puerto Banus, one can easily walk between the two using the wooden boardwalk that connects them along the seaside. It is the longest boardwalk in all of Spain.
Marbella enjoys its own microclimate as a result of the ocean in front of it and the Sierra Blanca mountain range behind it. It has mild winters and hot (but not stifling) summers, with calm seas and rarely more than pleasant ocean breezes. The moderating effect of the Mediterranean means that the summer heat averages below 30C, even in July and August, while the coldest months of winter only drop to a daytime average of 16-17C. It receives a whopping 320 days of sunshine and only 45 days of rain, making it a verdant, tropical paradise. With such spectacular year-round weather, it's perhaps no surprise that Marbella boasts an incredible variety of sports and recreation facilities. There are golf courses, tennis courts, diving classes, paddleboard, hiking, boating opportunities, hiking and more.
Where is Marbella located?
Jewel of the Costa del Sol, the city of Marbella is 57 kilometres west of the provincial capital, Malaga, and is connected via the A7 highway and AP7 toll road. Malaga's Pablo Ruíz Picasso International Airport (AGP) is just 45 kilometres away. Marbella lies to the east of Estepona and west of Mijas, and bordering the villages of Benahavís, Istán, and Ojén inland. Marbella covers an area of close to 117 square kilometres, including 28 kilometers of Mediterranean coastline. It reaches an altitude of more than 1,200 metres at the summit of La Concha, its iconic peak. Hikers can walk from the Plaza de los Naranjos, the center of old Marbella, to the peak of La Concha in just over two hours, as it is less than 10km away.
Getting to Marbella from Malaga airport is very simple. It's either a short drive of about 40 minutes, if you have a car, or you can take the taxi or a bus direct from the airport. A taxi will cost you a flat fee of approx €60-80, while a bus will only run you between €8- €10, depending on the time of day.  If you are going to drive, take note that the toll for the AP7 will cost you about €8. The A7 is free but is high volume and can suffer from heavy traffic, depending on the time of day that you're traveling. There is also a more scenic inland route, away from the Mediterranean and the traffic of the coastal highway, along the A357-A355, but this will take about 15 minutes longer than the coastal route. However you choose to get to Marbella it is a simple and straightforward trip. You can get from rainy London to the beach in sunny Marbella in four hours.
What is the history of Marbella?
A settlement has existed on the site of what is now Marbella since Paleolithic times, with many archaeologists believing that it was a Phoenician settlement as long ago as the 8th century BC. It was then conquered and settled by the Romans in 1600 BC, who named it Salduba, or Salt City. Remains of the Roman settlement can still be seen around Marbella, including the Roman baths, the Villa Romana de Rio Verde and the 3rd century paleochristian Basilica de San Pedro. In the 6th century Spain was conquered by Moors arriving from Africa, bringing Islamic rule, which lasted for almost 900 hundred years. They renamed the town Marbil-la (possibly derived from its original Iberian name) and built a fortress to protect it from pirates attacking from the sea and from other Christian and Moorish kingdoms. The evidence of that time is still visible in the remains of the fort, which incorporates Roman columns, scavenged from older buildings by the Moors, and other buildings.
Marbella was captured in 1485 by the Catholic Monarchs, Ferdinand and Isabel, and the defeated caliph, Mohamed Abuenza, was forced to hand over the keys to the city. The old Muslim Medina was destroyed and replaced with the Plaza de los Naranjos in the years following. That plaza still remains today in the old town (casco antiguo) in the center of Marbella. Following the Peninsular War with the French under Napoleon (1808-1814), Marbella became the center of Spanish steel production, at one point producing 75 percent of all Spanish steel. Ultimately, the development of northern industry supplanted Marbella, leading to the collapse of the local steel industry. The small city continued as an agricultural center and fishing village until the 1940s, when tourism and luxury living became increasingly central to Marbella. Luxury villas were built and Prince Alfonso de Hohenlohe, after his Rolls Royce broke down in town, became enchanted of Marbella and built the iconic Marbella Club hotel. Soon movie stars, royalty, the ultra-wealthy, even Arab sheikhs such as the King of Saudi Arabia, were flocking to Marbella.
In May 1970 an entertainment complex was opened on the waterfront named after the architect, José Banús, called the Puerto Banús. The design was meant to replicate the style of a traditional Spanish white village. It also contains a statue of a rhinoceros by the famous Spanish surrealist, Salvador Dalí, one of many Dali statues in Marbella. The Puerto Banús receives almost 5 million visitors each year and is the site of a marina with some of the world's largest yachts.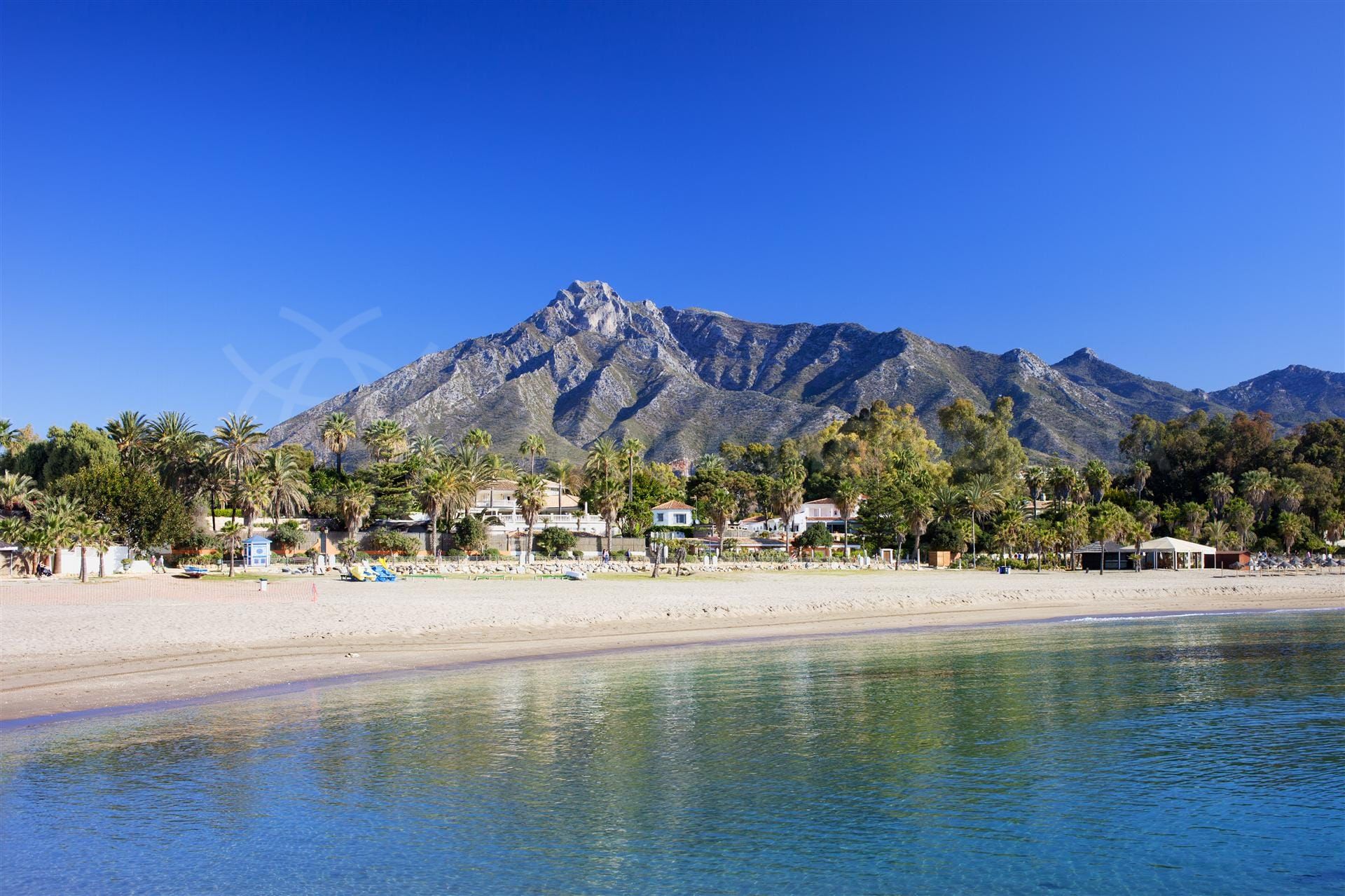 What is there to do in Marbella?
Considered the "jewel in the crown" of the Costa del Sol, Marbella is surprisingly cosmopolitan for a small city. Its popularity means it has well-developed infrastructure that offers a ton of activities for both tourists and long-term residents. There will literally never be a shortage of delights for your eyes, ears, and taste buds. Nor a shortage of activities for you to maintain and enjoy a healthy lifestyle. Besides the beaches, perhaps the best place to start in Marbella is the Plaza de los Naranjos (Plaza of the Orange Trees), which is the centre of the old town and the location of the 16th century town hall. Originally, this square was the medina of the Moorish city, which was demolished and rebuilt after the "Reconquista" of Ferdinand and Isabel.
Besides the town hall there is also the Ermita de Santiago here, a former mosque that was converted into a church. It is the oldest religious building in the city, built in the 15th century. There is something magical about the traditional, white-washed buildings and the dark green leaves of the orange trees. There are also restaurant patios here to sit and enjoy the sights and people.
From this plaza you can explore the entire old town (casco antiguo), with its narrow, winding streets, typical of Moorish influence, and white-washed houses, decorated with colourful ceramic plates and flowers. There's also plenty of opportunities to enjoy bars, restaurants and more. There are a number of museums and galleries in Marbella, including the Ralli Museum, which boasts the largest collection of Latin American art in all of Europe. There is also the Museum of Contemporary Spanish Engraving, set in the 16th century building that was once the residential palace of the town's mayor, then a children's hospital. It boasts a collection of 4,000 works, including by Picasso, Miró, Tapies, and Chillida, amongst others.
If you're a history buff, Marbella is a place rich with history and opportunities to explore. You can find the ruins of the Roman villa on the Rio Verde, with its spectacular mosaic tile floors. Or visit the paleochristian Basilica de Vega del Mar, which houses the ruins of the original church and necropolis that stood there from the 3rd to the 7th century CE. In the old town, you can also see the ruins of the original Moorish castle that was built to defend the city.
Marbella has a number of festivals throughout the year, from traditional Spanish and Andalusian festivals such as Semana Santa in April, with its religious processions, and the Noche de San Juan in June, in which effigies are burned at night on the beach. Marbella also has a number of contemporary art and cultural festival, including its own film festival, an art festival and a design festival, and even an alternative music and culture festival in July called Arte Sano. If you're a foodie, you're in luck. Marbella is paradise for lovers of good food. It boasts 4 Michelin star restaurants, a wide range of different cuisines, incredible bakeries and cafes, and even some hidden gems that you can find while wandering the town. You can enjoy glamorous evening dining or casual beachfront tapas and beers, and everything in between. It's guaranteed that your taste buds will never be bored. For more information see our Marbella Culture Guide.
What are the beaches like in Marbella?
Of course, Marbella is first and foremost a Mediterranean beach town and this is what draws many people. You are guaranteed to not be disappointed with the 23 beaches covering almost 28km of coastline. Not only are the beaches beautiful but they are also clean, having been awarded more blue flags than any other beaches in Andalucia. All the beaches have waterfront restaurants, known as chiringuitos, where you can get an ice cold beer and a tapas in the summer. Many have plentiful opportunities for water activities and equipment rental, from diving, to jetskis, paddle boarding and windsurfing rentals and lessons. On most beaches you can also rent umbrellas and loungers. The city also provides lifeguards along the main beaches during high seasons, as well as public bathrooms, showers, play areas and parking. You can literally pick the beach that most suits your taste or try out different ones depending on your mood. Check out our Marbella Beach Guide.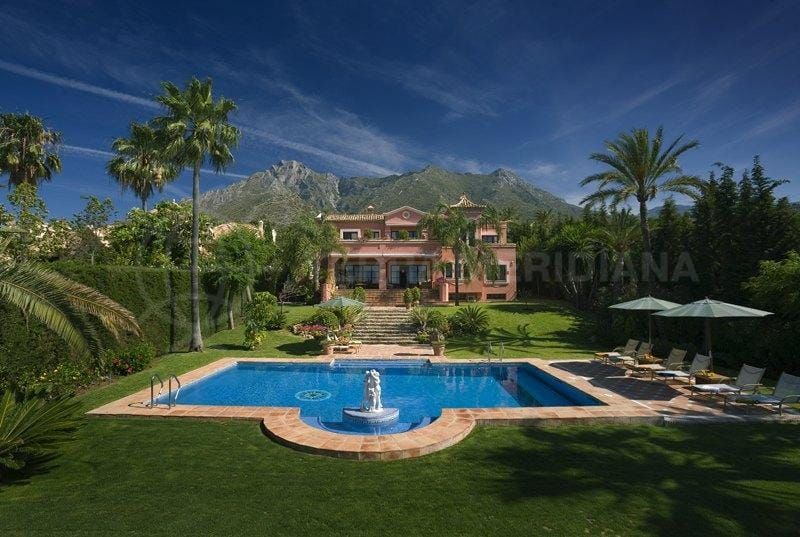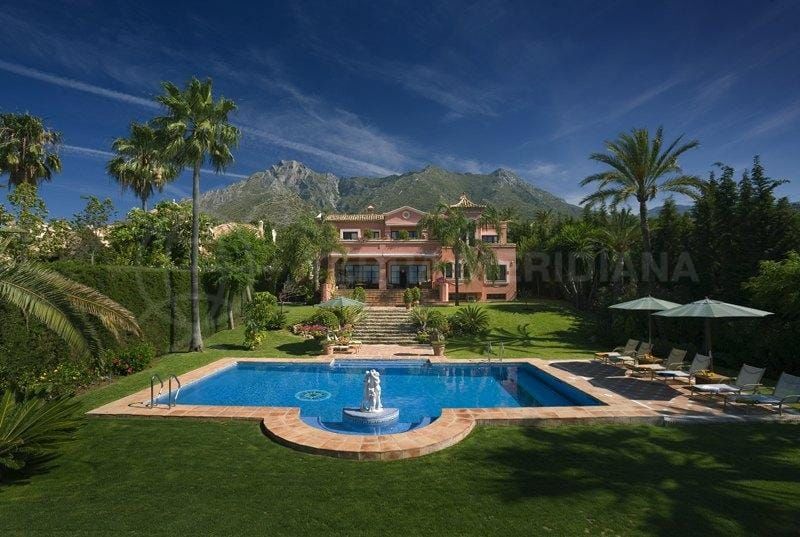 Is Marbella a good place to buy property?
The Costa del Sol is one of the most popular places on the planet for tourists. It has stunning, clean beaches, beautiful year-round sunny weather, and the high-quality, well-established infrastructure means that there are tons of things to do. But it's not just a tourist destination, it is also a popular place to buy second and even primary homes. Marbella always appears near the top of the list of best places to buy – and with good reason. Marbella has perhaps the best microclimate on the Costa del Sol, neither too hot in the summer, nor cold in the winter, and with 320 days of sunshine, it's hard to beat it if you're looking for a Mediterranean paradise. In addition, from a strictly investment point of view, it is a real winner.
Marbella has seen property values grow by over 50% since 2012. Even through the difficult days following the 2007 property crash that hit Spain very hard, Marbella remained a vibrant market. It also offers a wide range of prices for every buyer. Certainly, Marbella is known for high end luxury villas, with movie stars, foreign royalty and the uber wealthy. But it is actually more affordable than you would think. A modern, 3-bedroom townhouse in Marbella can be had for under 500,000€, which is less than half the price of what you would pay for the same in rainy London. And the purchase price of a newly built home in a gated community will include a garage, air conditioning, and ensuite bathrooms. As well, these local developments often including a community pool, gymnasium and security. Not only does this mean you can have an incredible, luxurious and affordable holiday in one of the most beautiful destinations in the Costa del Sol of Spain every year, you are also purchasing real income potential. The popularity of Marbella as a holiday destination means that homeowners can generate substantial monthly income from their property, with returns on the price of their property between 3.5-10% per year. Now your money is making more than sitting in a bank and you get a great holiday destination in a second home. Talk about win-win! See out Marbella Property Guide for more information.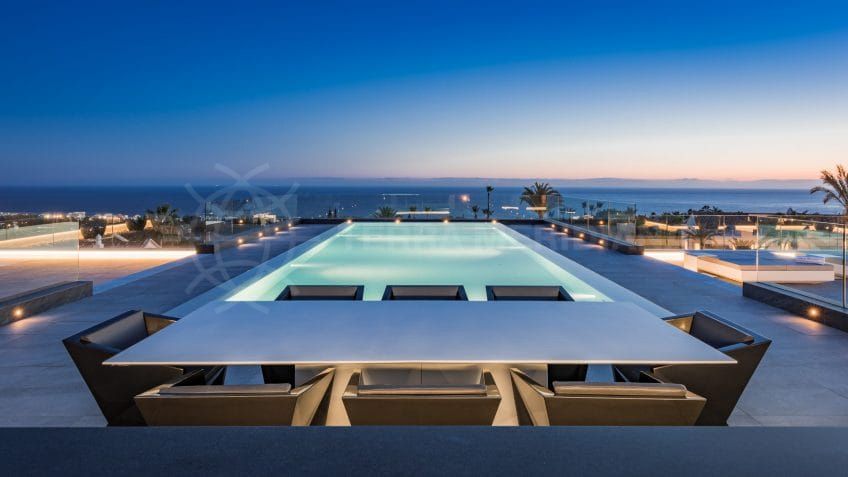 Is Marbella a good place to live?
Marbella is marvellous for holidaying, for sun, for beaches, for golf and boating, but can you actually live in Marbella? The answer is a resounding YES! Both for families and for retirees. Marbella is the jewel of the Costa del Sol for a reason and the first thing about living in Marbella is that you will enjoy excellent weather year-round, with mild winters and summers that aren't overly hot. Besides all the other benefits of such an incredible microclimate, it means that there are always things to do outdoors whether you have a family with young children, or you're retired and ready to just enjoy a stress-free life.
It's no surprise then that, besides the 23 beaches on 28km of oceanfront, Marbella has 21 of the finest golf clubs nearby, plus a dozen tennis clubs, marinas for boating, access to diving, jet skis, windsurfing and other water sports. And if you don't know how to sail or dive or windsurf, there's no shortage of high quality schools where you can learn that skill you've always wanted.
Inland, there an enormous number of well-developed hiking trails through the nearby wilderness, including with views from the stunning Sierra Blanca mountains nearby. There's even mountain top skiing in the Sierra Nevada just a two-hour drive away. The pace of life in Marbella is also a big selling point to living here, for families and retirees. Things are generally slower, especially in the off-season between October and April, and locals place a high value on spending time with friends and family. Who can say no to a more relaxed pace of life? Part of that comes from the fact that it is cheaper than living in any of the major cities in Europe. Marbella is almost 50% cheaper than the cost of living, including rent, in London! It's 39% cheaper than Paris and 23% cheaper than Berlin. According to Expatistan, the average cost of living in Marbella is €1538 for a single person, including rent, and €3089 for a family of four. A family of four in London can expect to need over €5600 per month!
Living in Marbella means you can work less and play more and, if you're retired, your pension goes a lot farther, even as you get to enjoy the sunny climate of the Costa del Sol. If you're a family with children, thinking about schools is going to be top of your mind, so it's worth noting that Marbella has a well-developed infrastructure of both high quality private and state-funded schools. Sending your children to state-funded schools is a great way for the kids to learn Spanish quickly. But if you have concerns about your child struggling with the language, especially if they are older, then a private school might be a better choice. The private schools are generally English or bilingual and can run the gamut of different types of learning styles to suit your personal tastes. See our Marbella Schools Guide for more information.
Like the education system, Marbella has a well-developed healthcare infrastructure, both public and private. High quality private health insurance is accessible at reasonable prices and will guarantee you have access to service in English as well as rapid access to the treatment and services that you need. See our Marbella Health Guide for more information. And, when you want to go back to London, or Berlin or the USA to visit family – or have them visit you – there's a major international airport just 40 minutes away in Málaga. There's also a thriving expat community in Marbella of over 40,000 people, who have been through the process of moving to a foreign country and can help you get adjusted and make this beautiful city by the water your home. Take some Spanish classes and you can expand your circle of friends beyond the expat community and even join some local clubs to get involved in more activities. All of these elements combined together – the cost, the lifestyle, the services, the climate, the convenience and the community – mean that Marbella is a top choice for year-round living.
Is Marbella expensive?
Marbella is famous as a playground of oil sheikhs, movie stars, and the globetrotting, super wealthy. However,  it turns out that Marbella is actually cheaper than most major cities in Europe – by a lot! According to Expatistan, Marbella is 12% cheaper than Rome, 35% cheaper than Paris and a whopping 47% cheaper than London.  If you just want to rent your housing costs will be 64% cheaper than London, 65% cheaper than Paris, and a massive 75% cheaper than New York City. Concretely, that means that the estimated cost of living for a family of four, including housing, is €3,107. For one person it would be a mere €1,563. That's a good deal for the "jewel of the Costa del Sol", with 320 days of sunshine and daytime temperatures that, on average, never fall below 16C in winter's coldest months.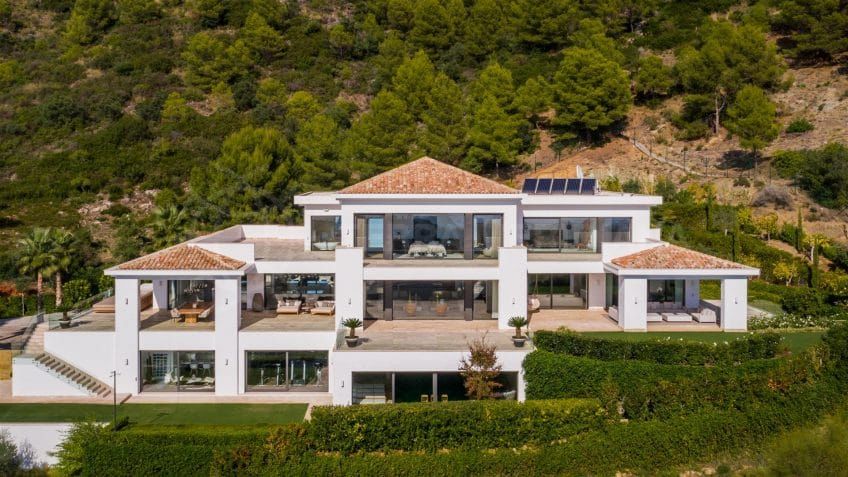 Is Marbella safe?
It's like the plot of a George Clooney or classic Steve McQueen heist film – sun, glamor, very wealthy people… and jewel heists. If there's a lot of money, there must be a lot of crime. Except that there's not. Compared to major cities like London, New York, Paris, or even Barcelona, Marbella has a low crime rate. With a rating of 39 on Numbeo, a site that compares living conditions in various cities, Marbella does quite well. Of course, during high tourist season, as with any tourist destination you should be careful in popular areas with your wallet. You may also see people selling recreational drugs to tourists in the club district but the incidence of home invasions, car break-ins and muggings is rated as low.
Is Marbella a good place to retire?
What if you could spend your retirement years in a town with 320 days of sun every year, next to the warm waters of the Mediterranean on the Costa del Sol? Imagine living in a town with a high quality of living at a low cost (almost 50% cheaper than London!), with dozens of golf and tennis clubs to fit every budget, excellent public transport and world-class healthcare services. That dream is possible and that town is Marbella on the Costa del Sol in Andalusia, Spain.It offers not only excellent weather, luxury, and plentiful outdoor activities at affordable prices, it also has the perfect mix of old-world charm and new-world conveniences.
You can start your day with breakfast on a patio in the 16th century square of the old town, the Plaza de los Naranjos. Finish your coffee or tea and then zip over to Puerto Banús, the top entertainment complex on the Costa del Sol, to enjoy the cosmopolitan shopping experience, people watching or just checking out the super-yachts parked in the local marina. Or perhaps just stroll down to one of the 23 beaches on the 28 km of coastline that lie in front of Marbella.
Later, you can eat at one of the world class, and surprisingly affordable, restaurants, chatting with local friends or other expats. If gourmet is on your mind, there are 4 Michelin star restaurants in Marbella to choose from. But even if not, Marbella has hundreds of high quality restaurants with everything from locally caught seafood to cuisines from around the world. It's an idyllic place to spend your retirement years with all the conveniences of a cosmopolitan city in a small-town package, including an international airport just 40 minutes away in Malaga. With all that Marbella has to offer, including stunning mountain and seaside vistas, why would you choose anywhere else?