Sierra Blanca Property, a country club on the edge of Marbella
Set among the characteristic umbrella pines at the foot of Marbella's La Concha Mountain is Sierra Blanca, an exclusive gated residential area with the elegance and feel of a country club.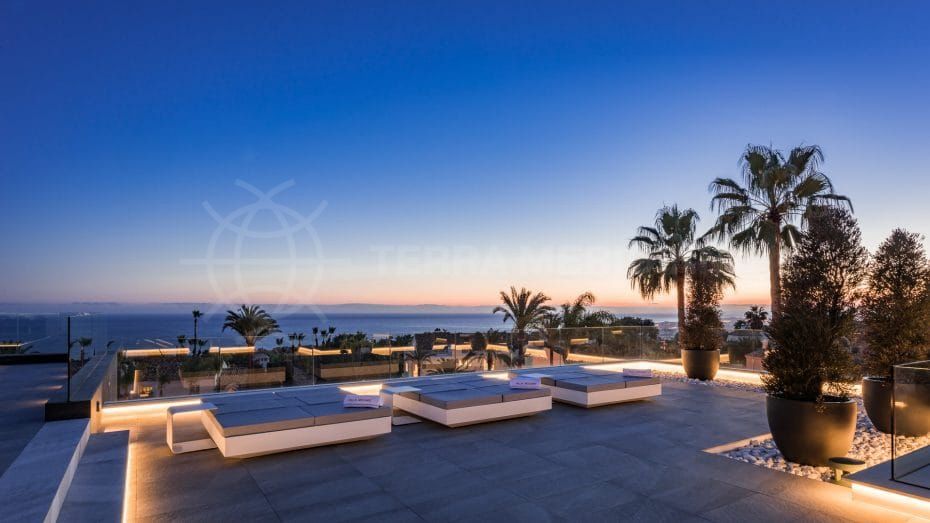 There is no golf club that threads its way through Sierra Blanca, but this also means that it is one of Marbella's most private and peaceful areas, with little passing traffic on its streets. As a result, Sierra Blanca's leafy suburbs are peaceful, secure and private—its large, luxurious villas and deluxe apartment and townhouse complexes enveloped by lush gardens.
Sierra Blanca property is known for its refinement, space, Mediterranean styling and luxurious amenities such as home cinemas, private bodega wine cellars, outdoor and indoor swimming pools with cabana bars, barbecue areas, lush gardens and in some cases even indoor gyms and spas complete with sauna, steam baths, hot tubs, showers and changing areas. Some of the villas for sale in Sierra Blanca dazzle buyers with facilities that feel more like those of a luxury resort hotel than a private home, but that is the Marbella way.
Indeed, the luxury villas in Sierra Blanca are designed to make the most of the privileged Marbella climate and lifestyle, which includes outdoor living. Sport, exercise, socialising and al fresco dining all form part of this, and though they can vary greatly in orientation, size, architectural style, configuration, amenities and price, Sierra Blanca property caters to this uniquely pleasant way of life like no other – combining luxury and space with privacy, security and views just as it blends proximity to protected nature and hiking trails with being just a few minutes from Marbella town and Puerto Banús.
Everything is at your fingertips, yet your Sierra Blanca villa is a private domain with the world at its feet. Within Sierra Blanca, the gated community of Cascáda de Camoján represents the crème de la crème, with stunning private villas, while the adjacent suburb of Nagüeles offers excellent opportunities to acquire a renovated villa in a top location or the option to refurbish one yourself.
By Adam Neale | Featured Properties | March 30th, 2020
Related Posts
Villas in Sierra Blanca, Marbella