Elviria is the unofficial 'capital' of the eastern part of Marbella, where you will find not only luxury beachside villas and frontline golf apartments, but also an excellent concentration of restaurants, cafés, shops, facilities and, of course, sandy beaches.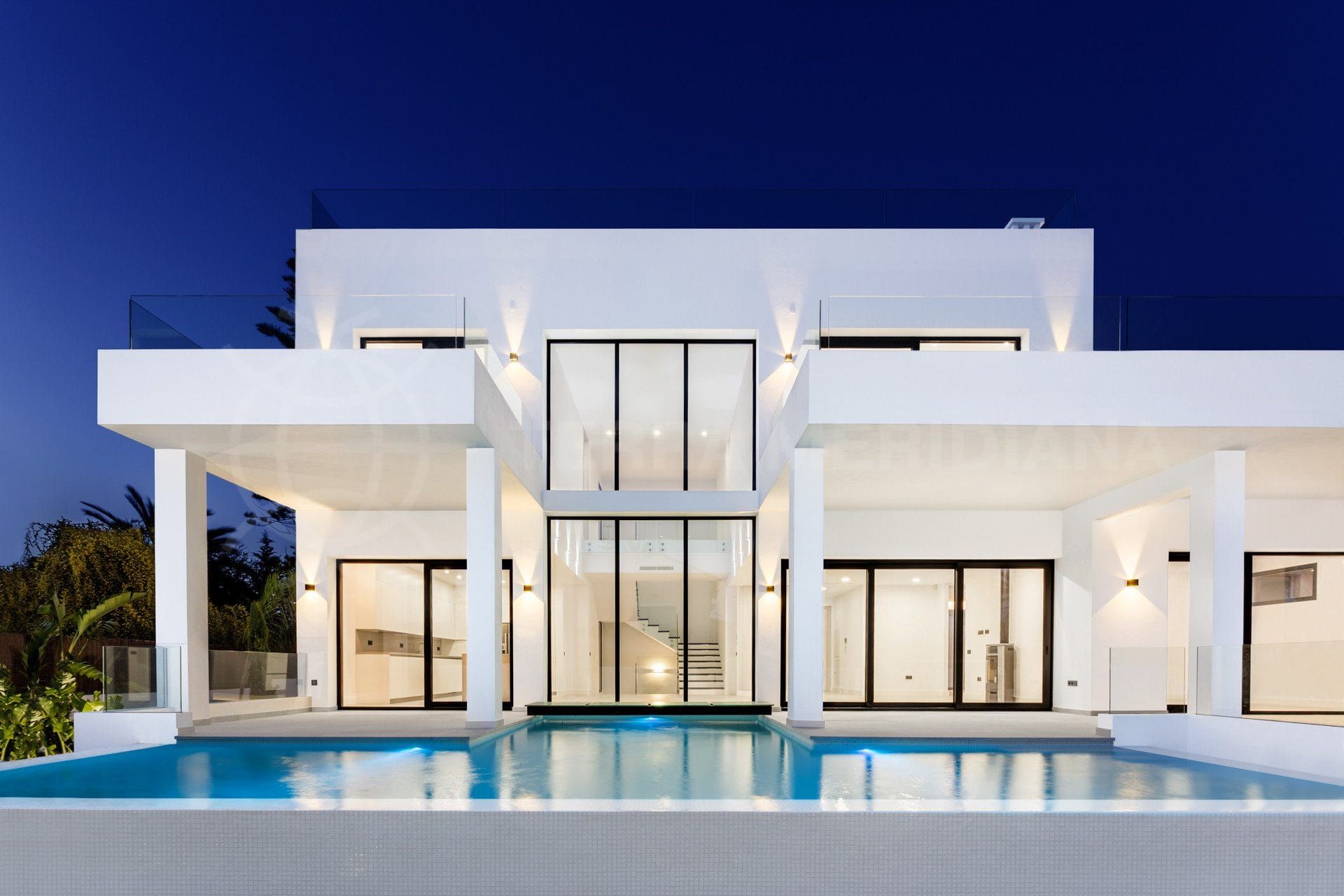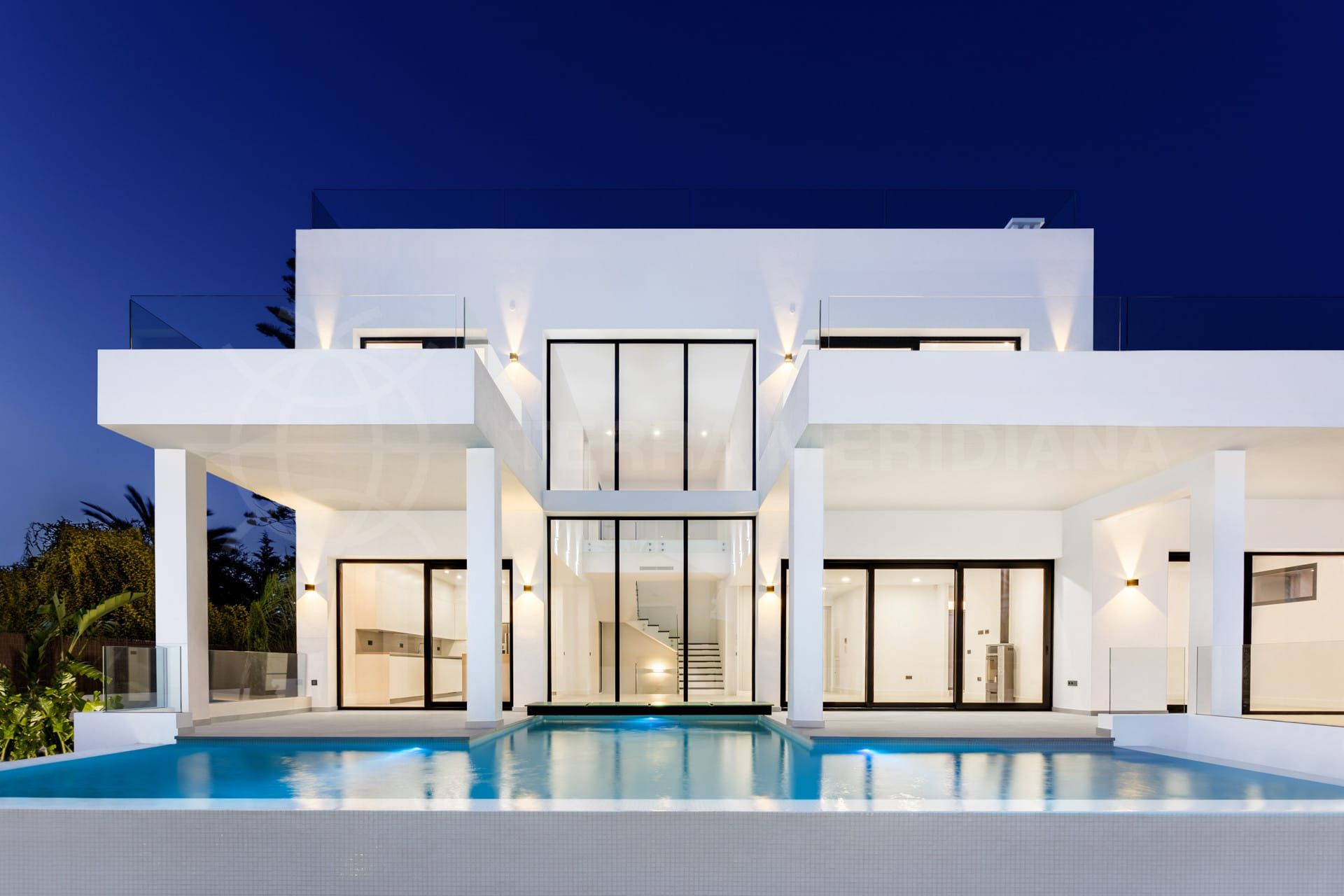 Situated about ten minutes' drive east of Marbella town, Elviria is an attractive residential and resort area that stretches from the sea up through pine groves and golf courses to the hilly base of the coastal mountain range. Each of these distinct areas has its own charm, properties, amenities and lifestyle to offer, but the starting point and social hub of Elviria is the commercial centre bordering the main A-7 road.
Central Elviria
Here you will find two adjacent centres that offer a great choice of restaurants, tapas bars, cafés, shops, banks and also a Supersol supermarket. The cuisine on offer includes Spanish classics, trendy Italian eateries and Asian fusion, but also British favourites, American-style snack bars, Belgian and French brasseries, and more specialised establishments including even a Korean restaurant. It is a popular area with families but also favoured among retirees and those who love a blend of style, comfort and being close to nature.
It is also in this immediate area that you'll find the Aventura Amazonia adventure park for children complete with zip lines and obstacle courses. Set within the coastal pine for which this area is known, the park is close to the Hotel Roc Marbella Park, the Alanda Club Marbella, Marriott's Marbella Beach Resort and the Don Carlos Leisure Resort & Spa. The latter is one of the classic five-star luxury hotels of Marbella and in addition to spa and sports facilities has the famous Nikki Beach as its glamorous beachside club.
Elviria Hills
Tennis, gym, yoga and of course hiking, biking and horse riding in the nearby hills are other sports options, while the nearest of many golf courses to choose from include the pretty Santa María Golf Club, the nine-hole Greenlife Golf in Elviria Hills, which is also home to the Michelin-star El Lago restaurant, renowned above all for a gourmet menu inspired by local Andalusian cooking traditions and ingredients and fabulous wine list. The upper part of Elviria is where the terrain begins to rise gently, offering frontline golf apartments and villas with fantastic sea and mountain views.
Here, among the cooling, soothing pine trees you will find peaceful residential areas dominated mostly by some of the most attractive villas for sale in Elviria but also dotted with luxury apartment complexes such as Elviria Hills. It is an area suited both to holiday home owners and people who wish to spend all or most of the year in the Spanish sun, with an excellent choice of schools, shops and professional services with a ten-minute range.
Beachside Elviria
For those who enjoy the atmosphere of an Andalusian village the area just to the west of the main commercial centre offers an attractive place to enjoy some typical café society, search for an authentic Spanish restaurant or bar, or listen to the chiming of the local church bells, but one of the most popular parts of Elviria is not surprisingly its seaside section. Here, along long stretches of sand, are scattered a fine collection of chiringuito beach bars, traditional fish restaurants, fine dining options such as the Beach House and also trendy beach clubs such as Nikki Beach and Estrella del Mar. Elviria's shoreline is characterised by a generous covering of protected coastal umbrella pine, dotted among which are mostly attractive apartment complexes surrounded by subtropical gardens, and also smaller collections of private beachfront villas set within peaceful streets within a short stroll of the sea.
More about Elviria, Marbella East
Latest articles about Elviria
More about Elviria, Marbella East