One of the main residential zones on the east side of Marbella, El Rosario is a gated community that offers space, views and tranquillity at just five minutes from Marbella town centre.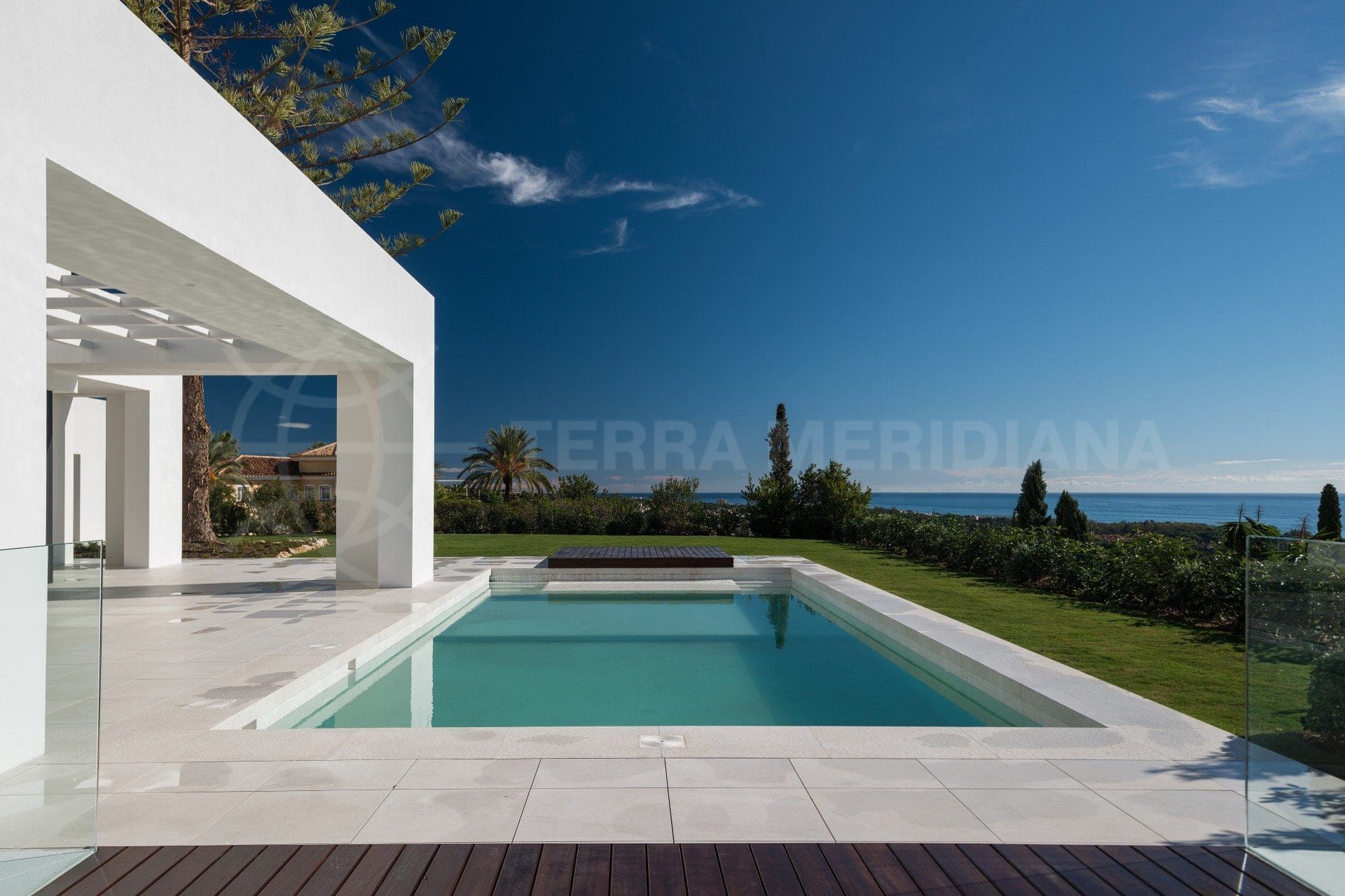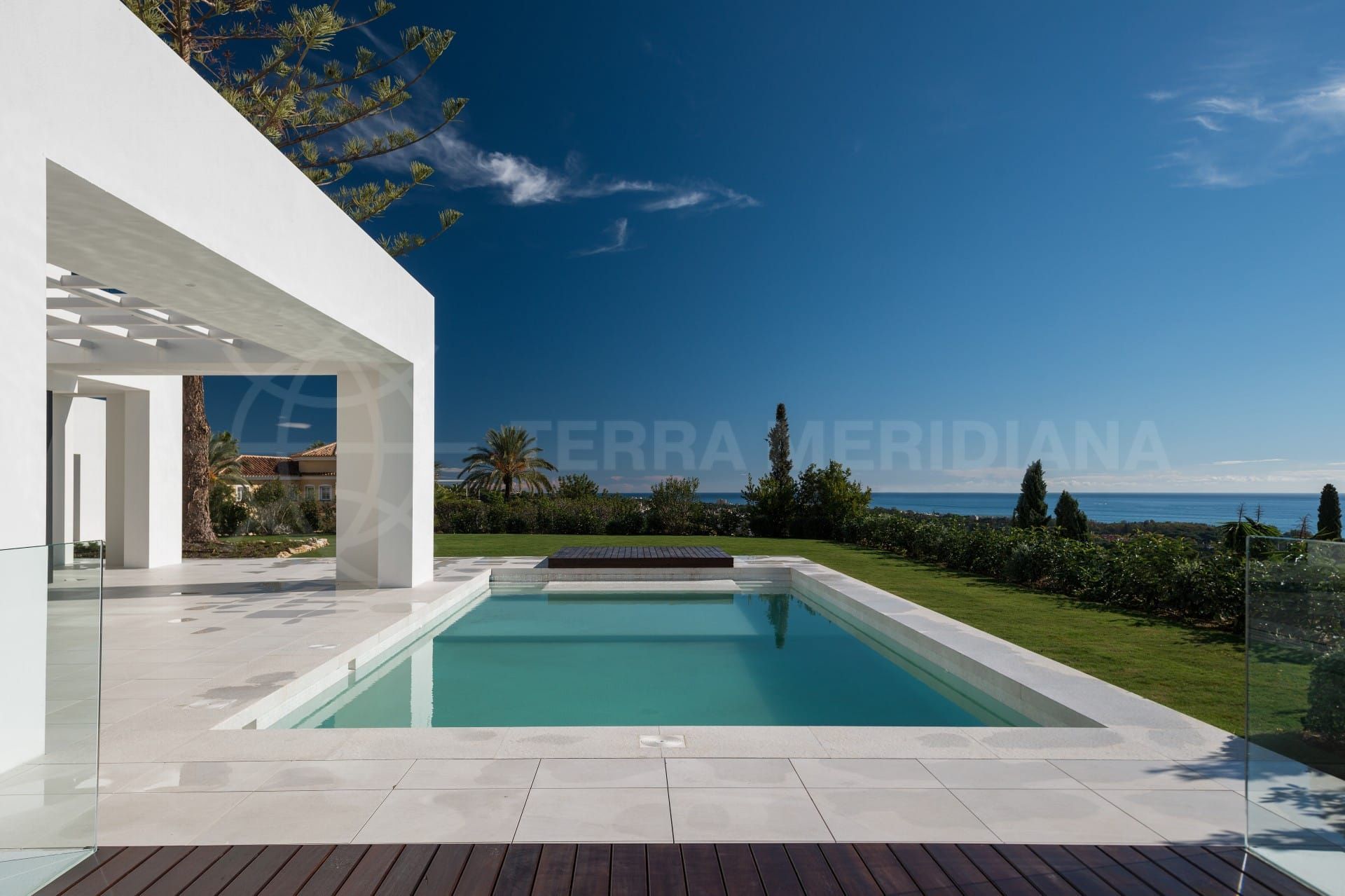 In fact, you can be in Puerto Banús in ten minutes, at the La Cañada shopping mall in five minutes and at the Malaga International Airport in 45 minutes, with the regional capital city of Málaga and all its cultural, shopping and dining attractions just five minutes further.
From Marbella, El Rosario is easily reached by the A-7 coastal highway, which links on from the circular road connecting the western and eastern parts of greater Marbella. For all this ease of transport connectivity El Rosario is a residential area known for its peaceful, leafy streets lined predominantly with villas that span the range from compact and cosy to large and imposing.
El Rosario properties
Most typically, El Rosario villas tend to be medium sized homes set on plots that slope just enough to ensure great views across the coastal plain, the Mediterranean Sea, golf courses and even the mountain ranges just behind. Among the villas there is a wide choice of sizes, features, architectural styles and orientations, including also newly renovated homes with the latest styling and interiors, and older properties that offer scope for restoration and investment potential.
The area, however, is also home to a good choice of townhouses and apartments, most of which are set in attractive urbanisations with subtropical gardens and large swimming pools on the beach side of the road in Las Chapas. The views from their elevated perspectives are even more impressive, especially in the case of the rooftop penthouses, whose often large terraces can come with panoramic vistas of the entire coastal area, mountains and sea – sometimes seen in a single view.
Residential areas
Set between Los Monteros and Elviria, El Rosario forms the heart of a residential zone that borders the long green fairways of the elegant Marbella Golf & Country Club on the west (designed by Robert Trent Jones Sr), the toll motorway on the north and smaller residential areas to its east and south.
Here too, you will find mostly small to medium sized villas in a variety of styles that include the option of modern and renovation homes, as well as a choice of townhouses and especially apartments in or near frontline beach locations.
Amenities
El Rosario itself has a small commercial centre that includes a Supersol supermarket, German bakery and café, as well as several smaller shops, cafes and charming restaurants right on your doorstep. Also within the area are banks, pharmacies, professional services and schools, including the bilingual Colegio Las Chapas, the Colegio Alborán and the English International College – all within a few minutes of your front door.
There are smaller, private clinics and dental practices scattered across the surrounding area, but also within a five-minute reach is the public Hospital Costa del Sol, the main medical centre in the region. A Lidl supermarket and more restaurants, shops and cafes are to be found alongside the coastal road where El Rosario and Loma de Las Palmas meet, while the beachside area – just a few minutes stroll from the shops of El Rosario – features not only long sandy expanses and dunes that ranks among the best beaches in Marbella, but also a great choice of beach clubs, chiringuito beach bars and excellent fish and seafood restaurants.
As for sport, El Rosario is home to the Royal Tennis Club Marbella, which with its first class restaurant, club facilities, courts and coaching is among the best of its kind on the Costa del Sol. Apart from water sports at the nearby Cabopino and Marbella marinas, golf is the main activity, and right on your doorstep are the Marbella Golf & Country Club, Santa Clara Golf Marbella Río Real Golf, Greenlife Golf and the Santa María Golf Club, as well as a first-class range of gyms, yoga centres and fitness groups. Together, they make El Rosario the peaceful, safe yet also centrally located residential area so sought after by families.
More about El Rosario, Marbella East
Latest articles about El Rosario
More about El Rosario, Marbella East