One of the main residential zones on the east side of Marbella, El Rosario is a gated community that offers space, views and tranquillity at just five minutes from Marbella town centre.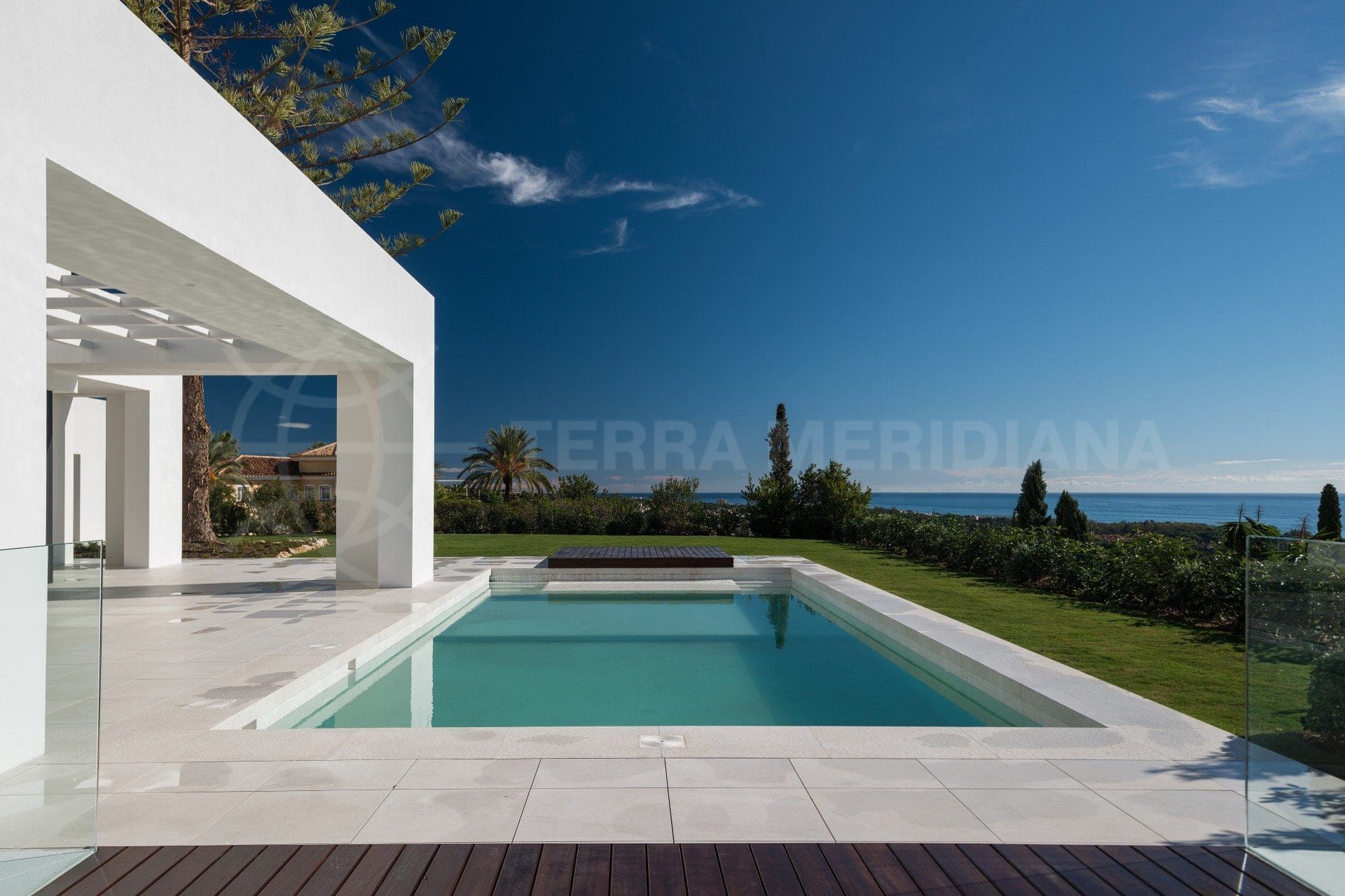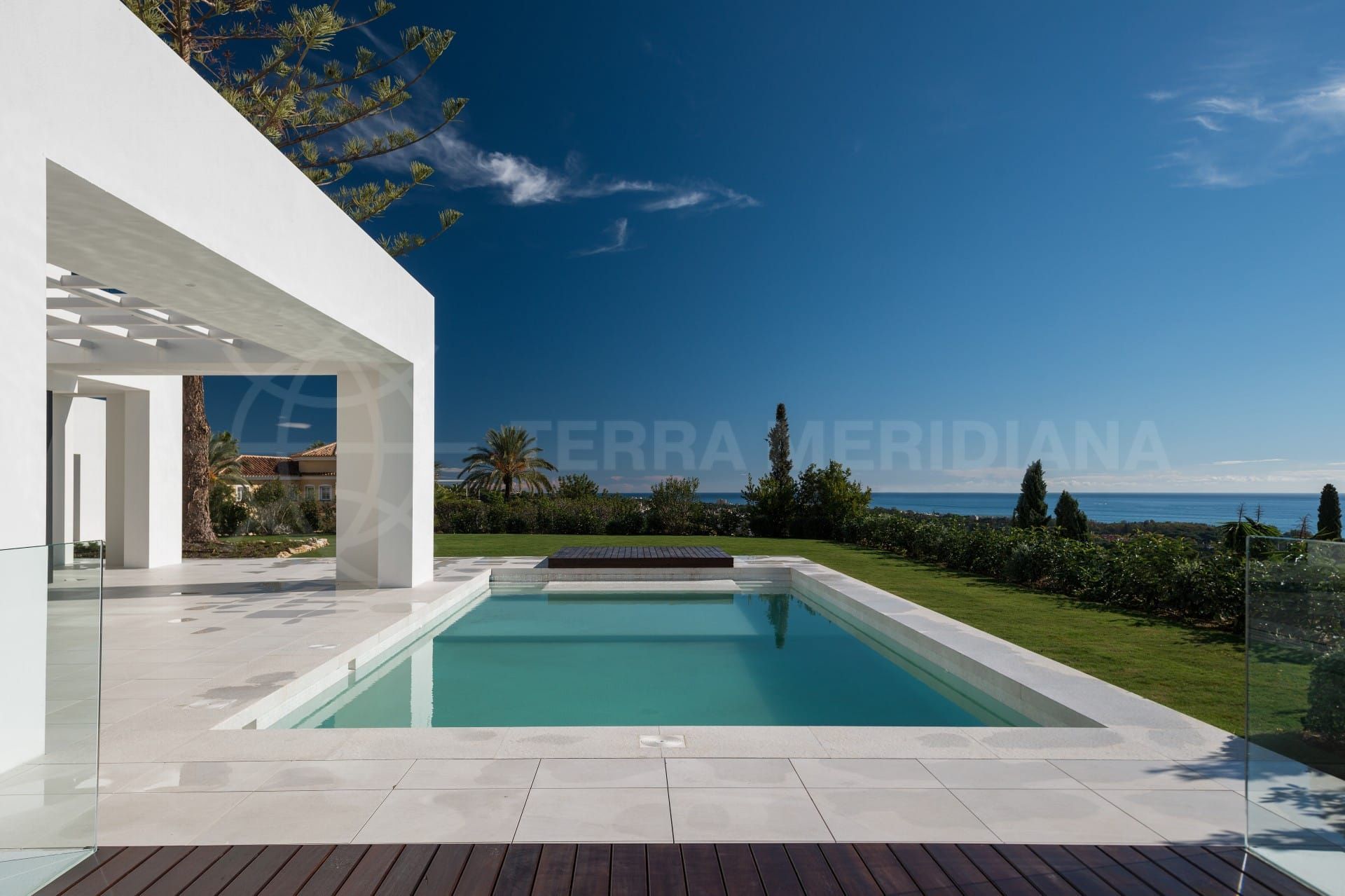 In fact, you can be in Puerto Banús in ten minutes, at the La Cañada shopping mall in five minutes and at the Malaga International Airport in 45 minutes, with the regional capital city of Málaga and all its cultural, shopping and dining attractions just five minutes further.
From Marbella, El Rosario is easily reached by the A-7 coastal highway, which links on from the circular road connecting the western and eastern parts of greater Marbella. For all this ease of transport connectivity El Rosario is a residential area known for its peaceful, leafy streets lined predominantly with villas that span the range from compact and cosy to large and imposing.
El Rosario properties
Most typically, El Rosario villas tend to be medium sized homes set on plots that slope just enough to ensure great views across the coastal plain, the Mediterranean Sea, golf courses and even the mountain ranges just behind. Among the villas there is a wide choice of sizes, features, architectural styles and orientations, including also newly renovated homes with the latest styling and interiors, and older properties that offer scope for restoration and investment potential.
The area, however, is also home to a good choice of townhouses and apartments, most of which are set in attractive urbanisations with subtropical gardens and large swimming pools on the beach side of the road in Las Chapas. The views from their elevated perspectives are even more impressive, especially in the case of the rooftop penthouses, whose often large terraces can come with panoramic vistas of the entire coastal area, mountains and sea – sometimes seen in a single view.
Residential areas
Set between Los Monteros and Elviria, El Rosario forms the heart of a residential zone that borders the long green fairways of the elegant Marbella Golf & Country Club on the west (designed by Robert Trent Jones Sr), the toll motorway on the north and smaller residential areas to its east and south.
Here too, you will find mostly small to medium sized villas in a variety of styles that include the option of modern and renovation homes, as well as a choice of townhouses and especially apartments in or near frontline beach locations.
Amenities
El Rosario itself has a small commercial centre that includes a Supersol supermarket, German bakery and café, as well as several smaller shops, cafes and charming restaurants right on your doorstep. Also within the area are banks, pharmacies, professional services and schools, including the bilingual Colegio Las Chapas, the Colegio Alborán and the English International College – all within a few minutes of your front door.
There are smaller, private clinics and dental practices scattered across the surrounding area, but also within a five-minute reach is the public Hospital Costa del Sol, the main medical centre in the region. A Lidl supermarket and more restaurants, shops and cafes are to be found alongside the coastal road where El Rosario and Loma de Las Palmas meet, while the beachside area – just a few minutes stroll from the shops of El Rosario – features not only long sandy expanses and dunes that ranks among the best beaches in Marbella, but also a great choice of beach clubs, chiringuito beach bars and excellent fish and seafood restaurants.
As for sport, El Rosario is home to the Royal Tennis Club Marbella, which with its first class restaurant, club facilities, courts and coaching is among the best of its kind on the Costa del Sol. Apart from water sports at the nearby Cabopino and Marbella marinas, golf is the main activity, and right on your doorstep are the Marbella Golf & Country Club, Santa Clara Golf Marbella Río Real Golf, Greenlife Golf and the Santa María Golf Club, as well as a first-class range of gyms, yoga centres and fitness groups. Together, they make El Rosario the peaceful, safe yet also centrally located residential area so sought after by families.
Frequently Asked Questions
El Rosario, a luxurious beach-adjacent neighbourhood is located just minutes from downtown Marbella on the Costa del Sol. It offers 320 days of sun per year and mild to warm weather. This prime location offers its residents beauty, tranquillity and an escape from the hustle and bustle of city life.
What is El Rosario?
El Rosario is a gated neighbourhood located five minutes to the eastof Marbella. Marbella is known as "the jewel of the Costa del Sol" for its luxurious amenities, popularity with celebrities, and incredible beaches. The neighbourhood of El Rosario is characterized by its lush landscaping, quiet streets, and luxurious villas. You will find mostly single-family type homes and some townhouses here but, south of the N340 highway, close to the beach in Las Chapas, there are apartments as well. Over the years, El Rosario has grown into a popular and well-established community. It has a reputation for its high-quality lifestyle, top-notch amenities, and beautiful surroundings. The area is home to several excellent restaurants, shopping, parks, and sports facilities, making it an ideal place for families, retirees, and anyone who values a high standard of living.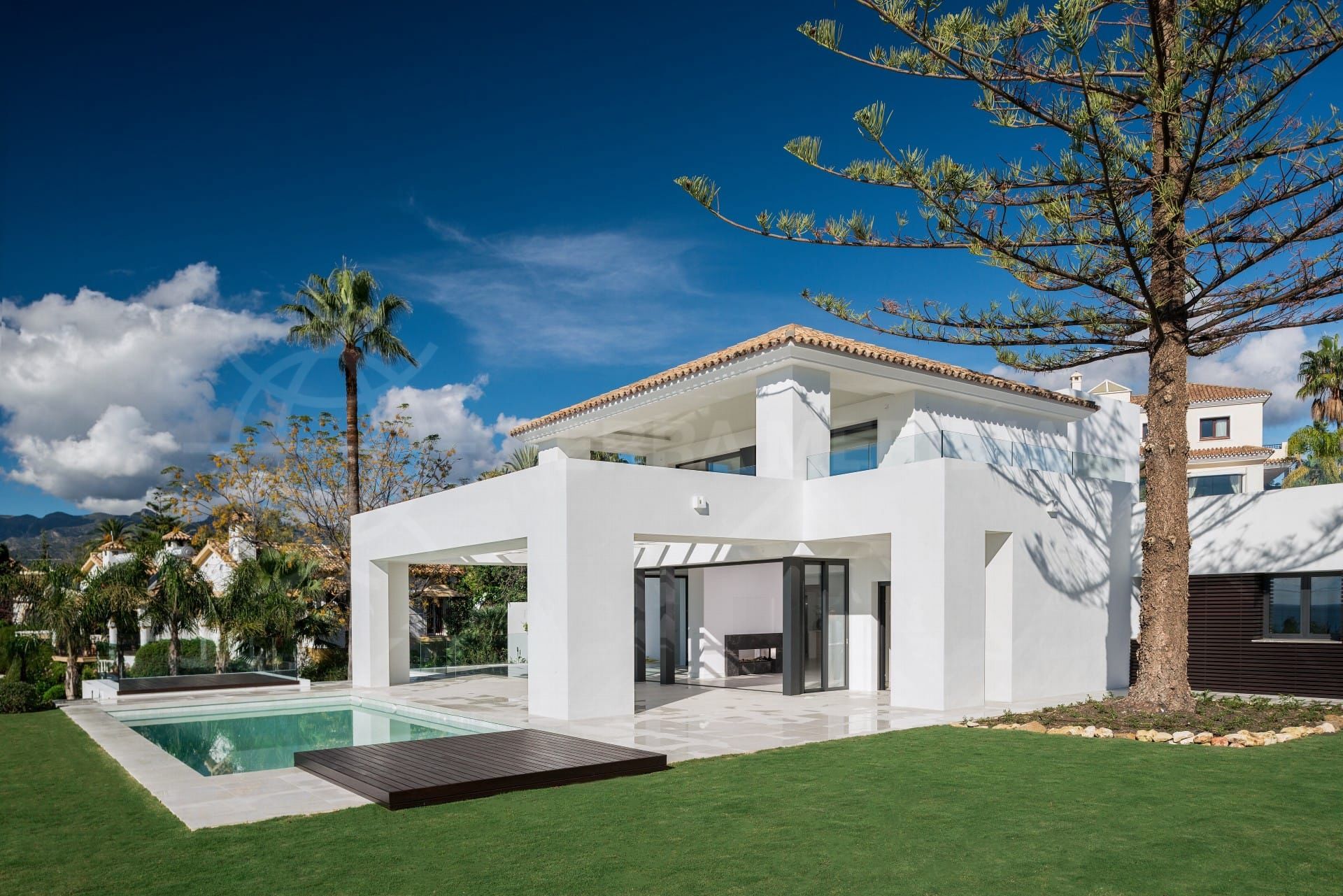 Where is El Rosario located?
El Rosario is located on the Costa del Sol in Marbella, just 45km from Malaga airport. By car or taxi it takes less than an hour by the A-7/AP-7. There are many easy options for getting to Marbella from the Malaga airport or from further afield, including an hourly shuttle bus from the airport, train to Fuengirola (33 mins from Marbella), or by car. El Rosario itself is located about 6 kilometres east of Marbella's city centre, and it is easily reached along the A-7 or N340 highways.
El Rosario is also conveniently located nearby many popular attractions, such as Puerto Banús, famous for its luxury marina and designer shops. There is also Marbella Old Town, where you can explore cobblestone streets and take in the local culture. El Rosario is also only a short drive away from a number of excellent, clean beaches, making it an ideal destination for those who want to enjoy a beach holiday on the Costa del Sol. For more detailed information on getting to Marbella, please see our Marbella Location Guide.
Is there public transportation available in El Rosario?
There is public transportation available in Marbella. The most common mode of public transportation is the bus, which is operated by the company Avanza. The bus network in Marbella is relatively extensive and connects the city centre with the surrounding neighbourhoods and towns, including El Rosario. There are bus schedules posted online at the Avanza bus company website. In addition, there are also taxi services available throughout the city. Car rental is also an option for those who want to explore the area at their own pace.
What types of properties are there in El Rosario?
El Rosario consists of a wide mix of residential properties, including luxurious villas, townhouses and apartments. The predominant type of home, however, is villas. These are typically set on plots that slope just enough to ensure great views of the Mediterranean, nearby golf courses and even the mountains.
Many homes have their own parking spaces or private gardens. Some apartment developments offer access to communal pools.Other, single-family houses and villas, come with private swimming pools and landscaped gardens. The more high-end villas in the area feature luxurious amenities such as swimming pools, tennis courts, and landscaped gardens.
El Rosario is known for its peaceful environment and proximity to the beach, which makes it a desirable location for those seeking a tranquil and upscale lifestyle in Marbella.

What are the property prices in El Rosario?
Property prices in El Rosario vary widely depending on the size of the property and its features. Smaller one-bedroom apartments typically start around €200,000 while large villas with pools can cost upwards of €6-10 million. In terms of bedrooms, you can expect to find properties ranging from one-bedroom apartments to five-bedroom villas. Most properties in the area are stand-alone buildings, although there are townhouses and apartments available too, primarily south of the N340 highway.
Does El Rosario have security?
El Rosario is considered a safe and secure area. To the south of the N340 highway the community is largely made up of apartments close to the beach. These have their own security systems for entry and around their properties. North of the highway is where you will find houses and the larger, luxury estates and villas. This area is gated for added security.
Is there shopping in El Rosario?
You will find no shortage of shops, services and activities in and around El Rosario for your everyday needs. In addition, being so close to Marbella means that there are tons of options close by for shopping, sports and more. Within the area are several amenities, including supermarkets, banks, and pharmacies. There's also a number of restaurants, bars, and cafes. Close to the N340 highway, on the north side, there is a Carrefour supermarket. Just south of it there is a gourmet Scandinavian market, Norrlands. This caters to the substantial Scandi population. Next door in the community of Elviria you will find a shopping mall, the Centro Commercial Elviria. Here you will find a Mercadona supermarket, as well as plenty of shops of different types.
For some of the local shopping options in Marbella, read our Guide to Shopping in Marbella. For more general information about the many lifestyle enhancing services in and around El Rosario, check out our Lifestyle Guide to Marbella East.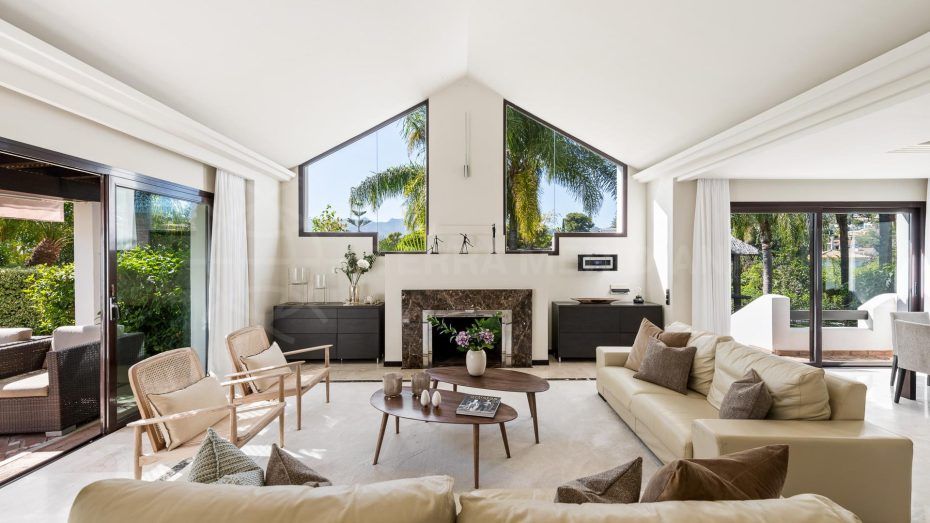 What opportunities for sports are there in El Rosario?
For those who enjoy sports and recreation, there are several tennis clubs and two golf courses in the area, as well as a number of gyms and fitness centres. The beach is also within walking distance to the apartments south of the N340 highway. This provides plenty of opportunities for swimming, sunbathing, and water sports. For more information on the golfing options in the area, check out our Marbella Golf Course Guide.
Are there good restaurants around El Rosario?
Marbella in general is a haven for foodies, offering a level of quality and international variety that is the envy of much larger cities. As a result, there are many good restaurants near El Rosario. If high-end gourmet is your preference, the nearest Michelin starred restaurant to El Rosario is Skina. Located in the heart of Marbella's historic old town, it is about a 15-minute drive away. A one-Michelin-star restaurant, Skinaoffers creative, modern cuisine with a focus on local and seasonal ingredients.
Some of the other top restaurants near El Rosario are:
El Lago – This restaurant offers fine dining with a focus on Mediterranean cuisine. Their menu features locally sourced ingredients and creative dishes that showcase the best of Andalusian cuisine. Contact details: Avenida Marco Polo, 29604, Marbella, Málaga, Spain. Phone: +34 952 83 23 71.
Messina – Messina is also a one-Michelin-star restaurant that offers a unique blend of Spanish and Italian cuisine. Their menu features a variety of dishes, from traditional tapas to more complex and creative dishes. Contact details: Av. Severo Ochoa, 12, 29603 Marbella, Málaga, Spain. Phone: +34 952 86 62 09.
Restaurante Da Sergio (Miguel y Maria)–A popular and highly rated, beachfront restaurant serving Mediterranean and Italian cuisine. Casual in atmosphere, there's even bands on Saturday evenings, beginning at 5pm. Contact details: Av.Andasol, s/n, 29604 Marbella, Málaga, Spain. Phone: +34 951 310279.
All of these restaurants are located within a few minutes drive from El Rosario, and each one offers a unique dining experience with excellent food and service.
What kind of culture can I find in El Rosario?
There is plenty of culture in El Rosario, which is able to take advantage of being next door to Marbella. There is, for instance, the Marbella International Film Festival in October. More traditionally, you will find the Feria de San Bernabé, which takes place in Marbella in early June. There are also museums and galleries within Marbella. For more detail on the cultural opportunities, see our Culture in Marbella Guide.
Are there beaches near El Rosario?
Anywhere in the Marbella area is a beach paradise, with tons of options every preference. El Rosario is home to some of the best beaches in Marbella.
Three of the closest beaches near El Rosario are:
Playa de las Chapas: Located just to the east of El Rosario, Playa de las Chapas is a long, wide stretch of sandy beach that is popular with both locals and tourists.
Playa del Rosario: A beach lovers paradise.It has showers, changing rooms and other facilities. Not as busy as some of the other better-known beaches, such as Cabopino.
Playa Real de Zaragoza: An idyllic beach perfect for a day of water sports and sun. There are facilities such as showers and reprieve from the summer heat, making it an ideal spot to relax. For more beach options, see our Marbella Beach Guide.
What is it like to live in El Rosario?
Living in El Rosario is an ideal option for both families and retirees alike. The beautiful beaches, warm climate, and close proximity to Marbella make it a great area for primary or secondary/vacation homes. For families, there are several excellent schools located nearby. The neighbourhood also offers plenty of recreational activities such as parks, playgrounds and sports facilities. You can read more about the different educational options by checking out our Guide to Schools in Marbella.
Retirees can enjoy a relaxed lifestyle with plenty of nearby amenities such as shops, restaurants, and other services. There are also nearby medical services, which can be an important consideration for both families and retirees alike.
For more info, read out Healthcare in Marbella Guide.
El Rosario has easy access to larger cities like Malaga and Granada for those looking to explore further afield. And if El Rosario is your winter home, you can get from rainy, grey London to the beach in sunny El Rosario in four hours.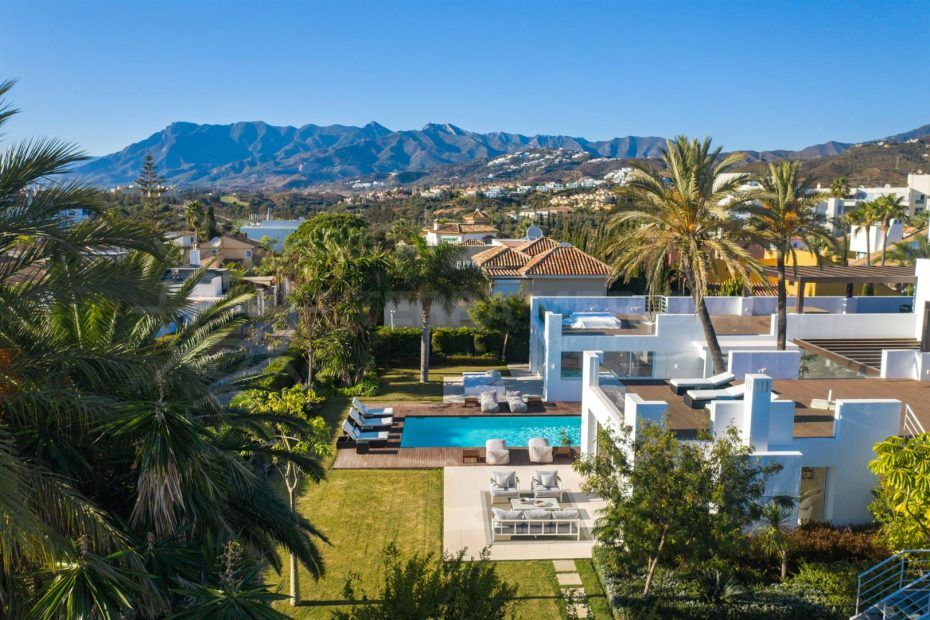 Is El Rosario a good real estate investment?
El Rosario is a great real estate investment for a number of reasons. Most importantly, the area offers a high quality of life. It has beautiful natural surroundings and a range of amenities and services. This makes it an attractive location for both primary and secondary/vacation homes. Additionally, Marbella has a strong real estate market, with consistently high demand for properties in the area. The value of investing in property in Marbella is also bolstered by the city's reputation as a luxury travel destination.The robust tourism industry helps to drive property values. To see some of the options of neighbourhoods to make a home purchase in Marbella, check out our Guide to the Best Areas to Buy in Marbella.
Can I rent my property in El Rosario?
It is generally permitted to rent out your property in El Rosario to tourists when you are not there. However, it is important to note that local regulations may vary, and it is always advisable to consult with a qualified legal professional to ensure that you are in compliance with all relevant laws and regulations. For instance, if you want to rent out your property on a platform such as Airbnb or VRBO, you must have a license from the regional government of Andalusia. To get a license you must meet certain criteria. Renting without a license – yes, the authorities do check – can net you a hefty fine.
The price range for vacation rental properties in El Rosario can vary widely depending on factors such as the size and location of the property, as well as the time of year and length of stay. However, typical prices for rental properties in the area range from around €700 to €5,000+ per week.
How can I buy a home in El Rosario?
Buying a house can be an intimidating process, but with professional help it doesn't have to be. If you're looking to buy a home in El Rosario or in Marbella more generally, then Terra Meridiana can provide make the process as painless as possible. We are experienced professionals, with decades of experience in the Costa del Sol real estate market, especially in the Marbella and Estepona areas.We put the needs of our clients first. Using professional and honest advice, they will make sure that your house buying journey is as smooth as possible. So why not get in touch today and let Terra Meridiana help you find your ideal house?
You can find a selection of homes in Marbella East, including El Rosario on our Marbella East property listings page.
More about El Rosario, Marbella East
More about El Rosario, Marbella East