Bahía de Marbella, just east of the downtown area, is a peaceful beachside residential area known for having the best beaches and dunes in Marbella.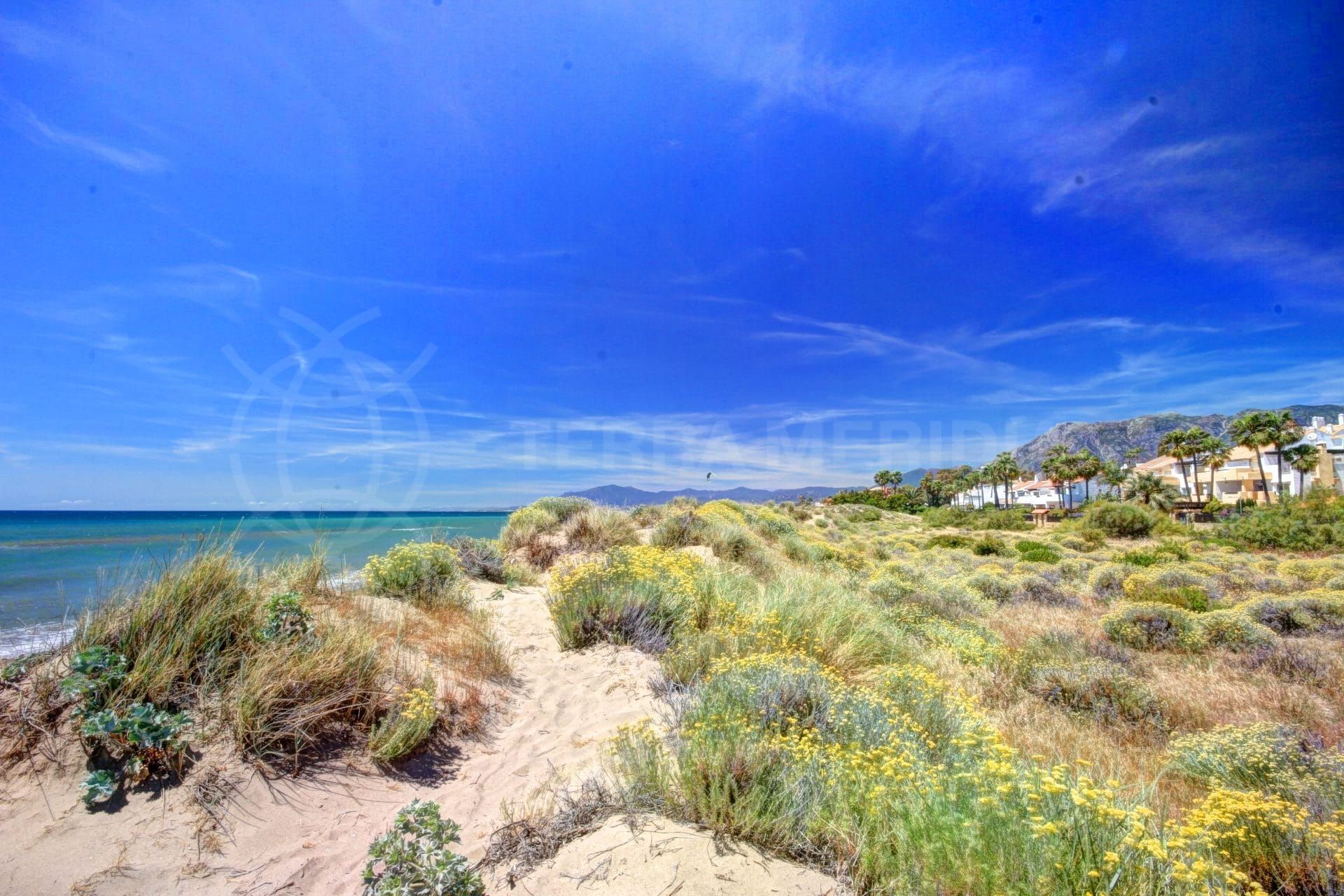 Situated just east of Marbella town, Bahia de Marbella is an attractive seaside residential area that borders some of the finest sandy beaches and dunes on the Costa del Sol.
In addition to enjoying a beautiful location by the beach, Bahia de Marbella also enjoys a highly convenient setting close to all amenities. The centre of Marbella is just a five-minute drive away, bringing shops, restaurants, cafés, nightlife and professional services within easy reach, yet right on your doorstep there is a fantastic choice of beach bars, seafood restaurants, elegant beach clubs and also the restaurants and spa of the Los Monteros Hotel.
Setting and amenities
Located just across the coastal road are three excellent golf courses – Río Real, Santa Clara and the Marbella Golf Club, with many more to choose from in a ten-minute range. This also applies to racquet clubs and schools, yet within Bahia de Marbella residents enjoy seclusion, peace and open sea views. This gated urbanisation of luxury apartments, townhouses and villas offers a sense of seclusion in spite of being so close to everything. Designed with lots of space yet also cohesion, it feels part of a true community.
Opposite the coastal road is the Hospital Costa del Sol – the main hospital in the region – while the Trocadero Marbella Rugby Club is a sports club popular with families. The club is named after the nearby popular Trocadero Arena beach club and restaurant along with the La Cabane Beach Club of the five-star deluxe Hotel Los Monteros Spa & Golf Resort. Along the several kilometres of scenic sandy shoreline you will find plenty of lovely spots to sunbathe, as well as famous local eateries such as Restaurante El Mangalete and Palm Beach.
Gardens and views
As it was created with a master plan, Bahia de Marbella is a consolidated residential area with a varied yet cohesive feel about it. The roads are broad and laid out well, linking a suburb marked by attractive Marbella beachside apartments, villas and townhouses set in lush subtropical gardens with large swimming pools. As a result, properties in Bahia de Marbella typically enjoy both lovely sea and gardens views, cosseted in a setting of greenery and the blues of the Mediterranean and the Marbella sky.
The architectural styles, colour tones, sizes, orientation and character of the properties vary, providing a great variety of property in Bahia de Marbella. Step outside of its tranquil, leafy streets, which have little passing traffic, and it's an easy stroll down to a wide expanse of beach that leads through undulating dunes to La Cabane in an easterly direction and Trocadero en route to Marbella and its charming little fishing harbour. The views from here across the Bay of Marbella are mesmerising as they take in the full sweep of the coastline down to Gibraltar. This is especially true at dusk, when the sun sets behind 'The Rock' and Marbella's lights begin to sparkle.
Bahia de Marbella properties
Though it is an established area that also offers some properties with renovation and investment potential, Bahia de Marbella is above all home to contemporary houses between ten and fifteen years old. Many feature a very high standard of finishing, with quality materials such as marble, wood and attractive detailing, yet there are also modern Bahia de Marbella properties for sale. The latter naturally offer all the latest technology, style and conveniences, and the full range of homes available here includes compact apartments, spacious family townhouses, large penthouses with panoramic terraces and villas in a range of sizes and styles.
For peaceful, private living in a fantastic, convenient beachside location close to nature and all amenities, Bahia de Marbella is a top choice in Marbella.
More about Bahia de Marbella, Marbella East
Latest articles about Bahia de Marbella
More about Bahia de Marbella, Marbella East