The marina at Sotogrande: high standing facilities for yachters set in one of the most exclusive resorts of the Andalusian coast
The high standard one might expect of all things connected to Sotogrande is perfectly obvious in its marina. The best mooring and related services, outstanding restaurants and shops, and possibly the best school for sailing and other marine activities in Spain are all here to distinguish this marina from others in the Malaga and Cadiz provinces.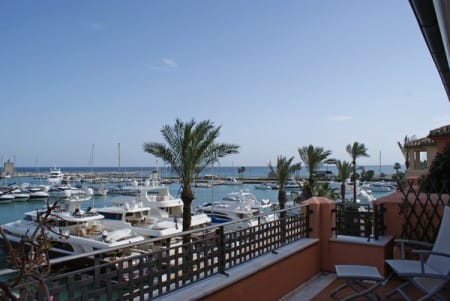 It is worth mentioning that the marina is one of Sotogrande's most sought-after residential neighbourhoods, especially since five new islands have been built that offer individual moorings for home owners. For more information on this and Sotogrande as a whole –including on its world-class golf courses– please refer our special articles on the topic.
The port is considered one of the best yachting ports in the Mediterranean. It features 545 moorings for yachts between eight and 100 metres in length, of which a quarter are for rent, affording good access all-year long for occasional visitors.
Services at the marina include general and meteorological information at the port office (directed by José Cano Infantes), showers, parking, water and electricity connections, ice machines, a laundry service, TV connections, a mail service, a dry dock, repair divers, workshops, fuel, and all manner of yachting equipment. There are even a Webcam watch service, an onsite gymnasium, and a heliport which not too many other marinas offer. For those among you who will need to know these technical details, the entrance is eighty-metres wide and four-metres deep, while the minimum depth in the rest of the port is three metres.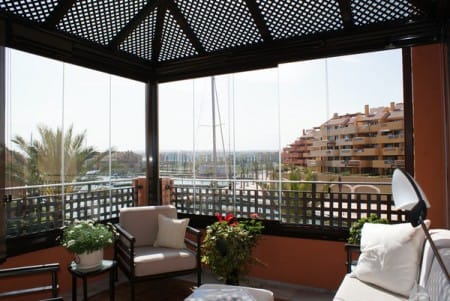 As in the rest of Sotogrande, the variety of activities is impressive at the marina: you can charter a yacht or sailboat as well as rent a variety of vessels including jet skis. Perhaps the nicest part of the port is the prestigious Real Club Marítimo de Sotogrande (Sotogrande Royal Sailing Club). Although regattas had been held for many years before, the facilities of the Real Club Marítimo de Sotogrande were finally built at the beginning of the nineties. This marked the beginning of light-sailing teaching activities–eventually growing to today's 500 students per year and offering courses for children and adults alike that include not only all the modalities of sailing but also parallel activities such as skin diving.
The club has also become famous for holding of high-level regattas including national and Andalusia-wide catamaran and Hobie Cat races and some world-wide events such as the 1997 Worldwide Hobie Cat 16 race, which saw participation from 40 countries and perfect wind conditions. The first Spanish Cup for cruisers was also held here in 2000, and the RCMS has now organized 10 Spanish Cups. The club boasts 480 members today and aims to continue to promote sailing in the area of Sotogrande.
By Adam Neale | Property News | January 14th, 2013
Related Posts
Related Properties