Guide to buying property in Sotogrande
Sotogrande is the residential resort situated at the western end of the Costa del Sol and enjoys the cachet of being an exclusive area for people with taste. It is famed for its golf courses that include Valderrama, its polo fields and its elegant marina and beautiful beaches, but its residents also love the fact that Sotogrande is a friendly community with a village feel, made up of different nationalities all living in harmony.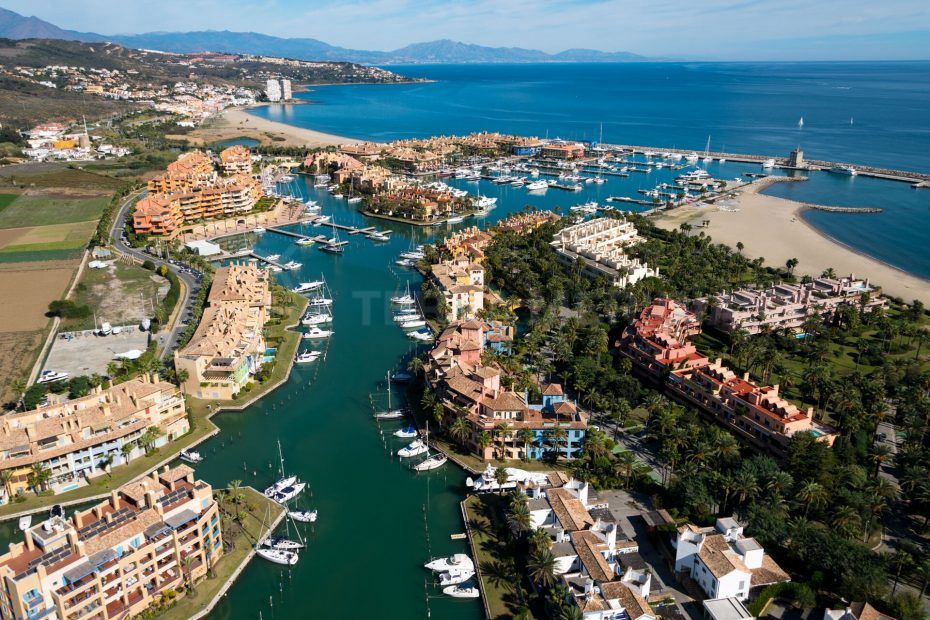 Sotogrande properties
The beauty of buying a residence in Sotogrande is that it has something for everyone. There are stylish penthouses overlooking the marina, Venetian style waterfront apartments lining the route to the Guadiaro River, golf apartments and townhouses with communal pools, and then there are the villas for which Sotogrande is famous. These range from single level properties to larger family sized homes and, of course, the elite multi-million euro mansions. With so much choice, we would advise buyers to consider the following points when thinking about buying in Sotogrande.
Select a location
What do you need to make your life in Sotogrande fit in with your established lifestyle and work or travel requirements? Make a list of the things that are important to you. For example:
Do you need to have regular, easy access to an airport (Gibraltar is closest) or the motorway for access to the rest of the Costa del Sol?

What facilities do you need, e.g. schools, shops, healthcare?

What type of social and leisure environment do you want? Do you want to be frontline golf, or near a tennis/padel club? Do you like to be close to restaurants and to the beach or marina?
What is your style?
It is always a huge help to real estate agents when a buyer comes in with a very precise brief detailing what they are looking for. This prevents us wasting clients' time by taking them to properties that are completely unsuitable. We'd therefore advise buyers to make a list covering the following:
The minimum and maximum number of bedrooms and bathrooms

Preferred orientation, i.e. south or west facing, sea or mountain views

Architectural style – modern or contemporary Spanish for example. Sotogrande has such a diversity of architectural styles that buyers usually find exactly what they require. 

How much privacy and space do you want? 
Setting your budget
It is vital that every buyer knows their budget and how much room they have to manoeuvre with it. You will also need to factor in the fees attached to property purchases in Spain, which may be quite different to your home country. Down payments or deposits are usually 10% of purchase price and purchase costs can range from 8% to 14% of the purchase price. Buyers also need to consider monthly and annual expenditures on maintenance, insurance, property taxes, community charges and utilities. 
It is also advisable that when you start viewing properties, you know exactly how quickly you can access your finances for the purchase, while having pre-approval for a mortgage, if needed, can accelerate the timescale for completing on the property and moving in. 
Browse Sotogrande properties 
We'd like to suggest that you browse through the luxury Sotogrande properties on our website to get an idea of the range of styles and locations on offer. For example, you may be inspired by a superb Andalusian townhouse in Sotogrande Alto, which is the mountain side of the urbanisation and the location of the prestigious La Reserva Golf Club. Or, perhaps you are a yachting enthusiast who would enjoy a luxury apartment with views of the marina. We have elegant villas close to the El Rio polo fields and breathtaking contemporary villas for sale near a famous golf course. 
Sotogrande offers an exceptional range of property styles and a world-class lifestyle to the discerning buyer. Cosmopolitan and chic, but also close to the natural beauty of the hinterland and the perfect location for the sports enthusiast, Sotogrande is a unique residential destination.
Latest articles about Sotogrande