Property in Bahía de Marbella, Marbella East
Bahía de Marbella offers plenty of choice in terms of residential properties
Are you ready to take advantage of the exceptional offers on the market today and invest in a time-tested Costa del Sol neighbourhood presenting clear advantages in terms of convenience and luxury? One place that could meet your needs is Urbanización Bahía de Marbella, situated just east of Marbella and west of Los Monteros, between the N340 and the beach, which is walking distance from any of the residences here.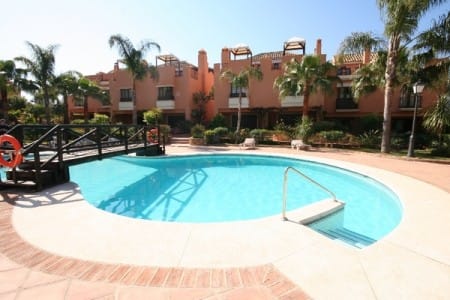 The optimally central location of the "urbanización" is key to its appeal. From here, we are five minutes away from the La Cañada shopping centre, the Marbella town centre, and three important golf courses, Golf Rio Real, Santa Clara Golf, and Marbella Golf. It doesn't take much longer to reach Hospital Costa del Sol, Puerto Banús, Estepona, and Manilva. For their part, the Malaga Airport and–in the other direction–Sotogrande or Gibraltar are only about half an hour's drive away. Other nearby amenities include the English International School and the Cabopino marina.
Apart from sea, golf, and luxury living pleasures, there are many natural marvels in the interior of the region, including Ojen and the Sierra Blanca, the Sierra Bermeja above Estepona, roman baths at La Hedionda in Manilva, the natural pools of "La Nutria" (The Otter) on the Río del Padrón near Estepona, the white villages of the Serranía de Ronda and Valle del Libar… and the list goes on, with all these attractions being ideal for daytrips with friends or your family.
In terms of properties, the offer is varied: there are apartment complexes such as Gran Bahía de Marbella or Las Arenas, offering security patrols, luxury appliance fitted kitchens, terraces or private gardens, and communal gardens. Detached villas and townhouses are also available in the complex to suit the budgets and tastes of all investors. So if you are looking for a property in costal Andalusia, Bahía de Marbella is an area that should not be overlooked.
By Eloise Horsfield | Property News | November 12th, 2012