Living in Estepona Old Town
Always charming, the historic centre of Estepona has undergone a beautification process in recent years that highlights the quaint beauty of its traditional Andalusian buildings.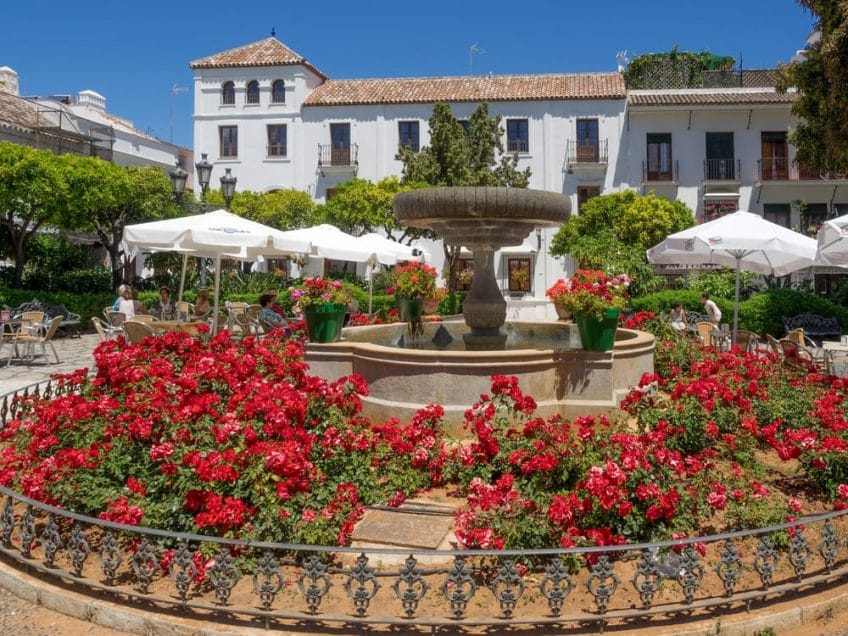 Originally a peaceful fishing village surrounded by pastures and fields of sugar cane, stone age dolmens found nearby confirm that this area of the Costa del Sol has been inhabited since the earliest times. The Phoenicians and Romans had settlements in or near to the modern-day town, but in its current form Estepona dates back to Moorish times, and this is clearly visible in the white-washed Andalusian houses that give the Old Town its character.
Here quaint squares and little streets that are now mostly pedestrianised breathe the atmosphere of southern Spain, often to a backdrop of clear blue skies and the smell of coffee mingling with pastries in the morning and fish, seafood and grilled meats in the afternoon and evening. The main pedestrian streets running parallel with the coastal promenade are lined with a good choice of restaurants, cafés, coffee shops and ice cream parlours. The gastronomy to be found in Estepona Old Town ranges from traditional eateries and tapas bars to ancient little bars and modern chill out lounges, with a choice of Italian, Argentinian and other cuisines dotted in between. The area closer to the main avenue and beach is known for its excellent fish restaurants, as you would expect of a fishing town.
Though the Calle Terraza is the main shopping street in the old centre, the heart of historic Estepona is the Plaza de las Flores, the pretty square sometimes mistakenly named 'Plaza de Naranjos' after its Marbella equivalent. Characterised by flowering plants, it is ringed by good restaurants, wine bars, boutiques, cafés and a small number of hostels. Radiating out from here are pedestrian shopping streets, which, like Calle Terraza, are likely to undergo further beautification and development into elegant retail streets in the style of Málaga's celebrated Calle Larios.
Authentic atmosphere
Follow the little winding streets radiating out from the centre and you become absorbed in the richly atmospheric residential part of Estepona's old quarter. Traditional Andalusian houses with Mediterranean roof tiles and pretty flower pots create a picture perfect setting that is, however, a very authentic and ambient traditional 'barrio' dotted with charming tapas bars and local eateries offering fantastic value for money.
The old town's monuments include its pretty municipal market, soon to be renovated into an attractive gourmet market with independent food stalls, the Torre del Reloj, Santa María de los Remedios church, Plaza Antonia Guerrero, San Luis Castle and segments of historic town walls. Above all, the charm of Estepona's old town lies in its pretty, flower-lined streets, historic Andalusian buildings and bustling Spanish life, where cafés, restaurants, shops and indeed beaches are just a few steps away.
By Adam Neale | Property News | April 3rd, 2017