Earthly Delights: Estepona's Old Town
Marbella's Casco Antiguo might have the international reputation as a holiday hotspot but Estepona's lovely and welcoming Old Town can more than hold its own in the civic pride stakes.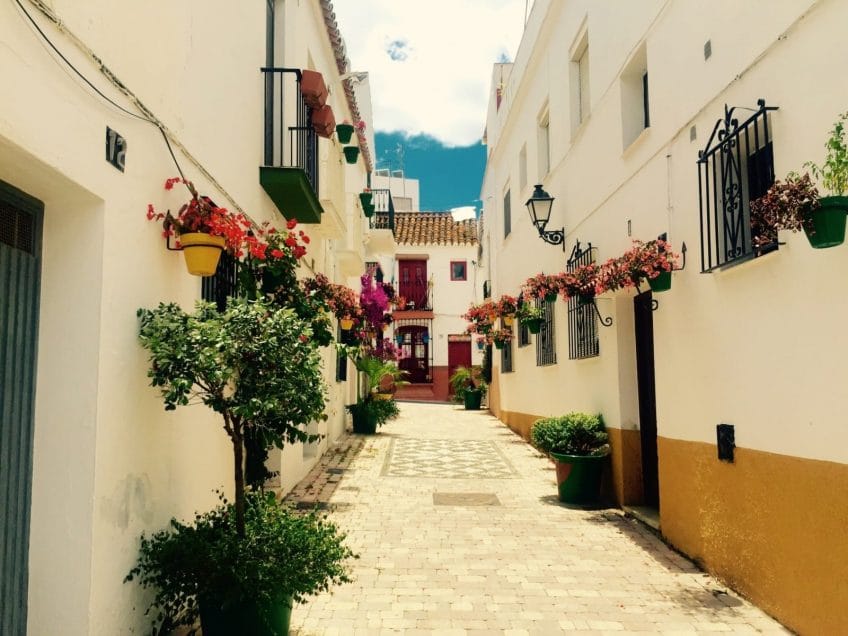 At the heart of this very beautiful town is the Plaza de las Flores, where floral displays and a plentiful supply of benches have made this the perfect place for the town's elderly residents to gather and enjoy a good gossiping session. Apart from the many excellent cafés and heladerías that line this pretty square, you can visit the Casa de las Tejerinas, which contains the local tourist office and the Garó Art Collection. Like everything else in the square, this building is an attractive example of Spanish architecture, an 18th century house containing a number of interesting features, including a central patio and a lookout tower on the highest floor. La Casa de las Tejerinas is so named because it was once owned by two sisters, Carmen and Francisca Tejerina, who left the property to be used as a hospital for the poor and it was later taken over by the local council.
From the Plaza de las Flores it is a short walk to the Church of Santa Maria de Los Remedios and its famous blue and white striped tower, which can be seen for miles around and then on to the town's Plaza del Reloj, where everyone gathers at midnight on December 31st to see in the New Year. Estepona's Old Town is an especially user-friendly place for keen walkers, in fact with much of it pedestrianized even amateurs should find it easy to wander from one side of the town to the other.
Improvements to the town are being made constantly, meaning that there is always something new to see from the houses, even the most modest of which are decorated with hanging flower pots and arrangements, to larger projects such as the open-air art gallery (Ruta de los Murales) instituted by the local ayuntamiento (or town council).
Along with Calle Real, Calle La Terraza is an attractive street lined with small shops and, if you follow the road into the heart of the Old Town, you will find the eye-catching Orchidarium. This striking new building is divided into two levels, separated by an impressive bamboo 'forest' and houses more than 5,000 plants, including 1,300 species of orchid, which is the largest collection in Europe. The grounds of the Orchidarium also contain vertical gardens, planted on a 12-metre wall against which the plants, planted at five different levels, can climb and form natural patterns as time progresses.
Estepona Old Town residents like to support their local businesses, so make sure that you visit some of the fascinating small shops and welcoming cafés and restaurants that line the main retail streets of the town. You're sure to see something new and exciting every time you visit.
Fancy viewing some property for sale in Estepona Old Town? Just click the link and find out more about some of these amazing homes.
By Adam Neale | Property News | March 27th, 2017
Related Posts
Estepona Old Town: More than a holiday destination