Puerto Banús - Mini Guides
A short history of Puerto Banus, Marbella
Puerto Banús is a popular international marina located immediately west of Marbella that is well known for its glitz and glamour, and seemingly perfect year-round weather.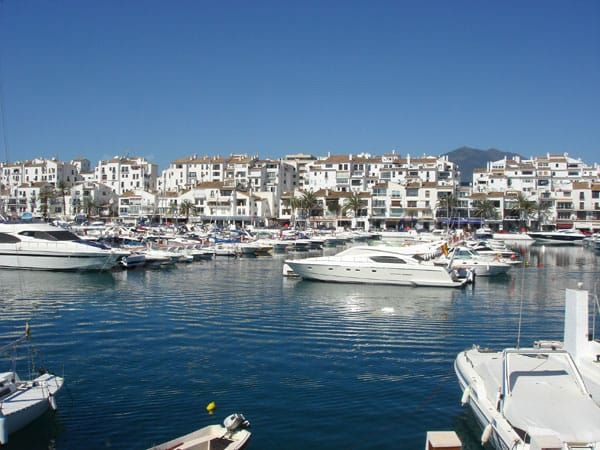 A regular haunt of the rich and famous, its large marina, luxury boutiques, quality restaurants and exciting nightlife all help to attract up to five million visitors each year.
What many people don't realise is that Puerto Banús is still a relatively young resort and has only existed since 1970, when it was built by local property developer José Banús. As a smart businessman, Banús was initially attracted to the area after buying a large estate designed for breeding bullfighting cattle, which was located in the area now known as Nueva Andalucía.
Significantly, it was also around this time that neighbouring Marbella experienced a spectacular boom as a popular tourist destination. The town was first discovered in the second half of the 1940s by some circles of the European elite and royalty, who in turn attracted the stars of the day, who began to flock to the coastal resort.
José Banús saw an opportunity a few decades later and developed the idea of providing Marbella's international set with an exclusive marina where they could shy away from the prying eyes of the press.
The wheels were set in motion in 1966 when Prince Alfonso Hohenlohe introduced Banús to two architects: Noldi Schreck and Marcos Sainz, who had previously been hired to design the Marbella Club Hotel. José Banús shared his idea with them and from these initial meetings the first blueprint of what would later become Puerto Banús began to emerge.
Under the influence of Schreck and Sainz, Banús moved away from his original designs of spectacular skyscrapers in favour of a more traditional Mediterranean architectural style. Schreck and Sainz travelled around the region for inspiration, making notes of typical local architecture that could be incorporated into a more modern design.
What they eventually came up with was a glamorous marina that still had the quaint feel of an Andalusian fishing village. José Banús approved of their designs and the port facilities, and the apartments and service areas were officially opened in May 1970. The lavish launch ceremony was attended by a host of celebrities including film director Roman Polanski, Playboy founder Hugh Hefner and Prince Rainier and Princess Grace of Monaco.
A young Julio Iglesias was also hired to sing for the 1,700 guests.
Puerto Banús quickly became a favoured vacation destination for the jet-set, which worked hand in hand with the businesses that were soon vying to set up there. Due to the success of the project, José Banús went on to become the largest developer of residential tourism complexes on the Costa del Sol.
The beautiful port, which still carries his name, was transformed from just two roads and a marina into a millionaire's playground. To this day its growth has proved unstoppable and the port now houses some 900 boats, including a number of luxury super yachts belonging to the world's wealthiest people.
Originally published in December 2012, updated by Adam Neale in September 2018
More about Marbella - puerto banus