Positive plans for Puerto Banús see marina returning to its glamour days
The famous marina of Puerto Banús has a rich and interesting history but its reputation in recent years has been rather less glamorous than its auspicious beginnings. From the earlier days of having genuine film star allure, this Costa del Sol star attraction has been courting a less exclusive crowd and some unfortunate behaviour that has concerned residents and regular visitors to the area.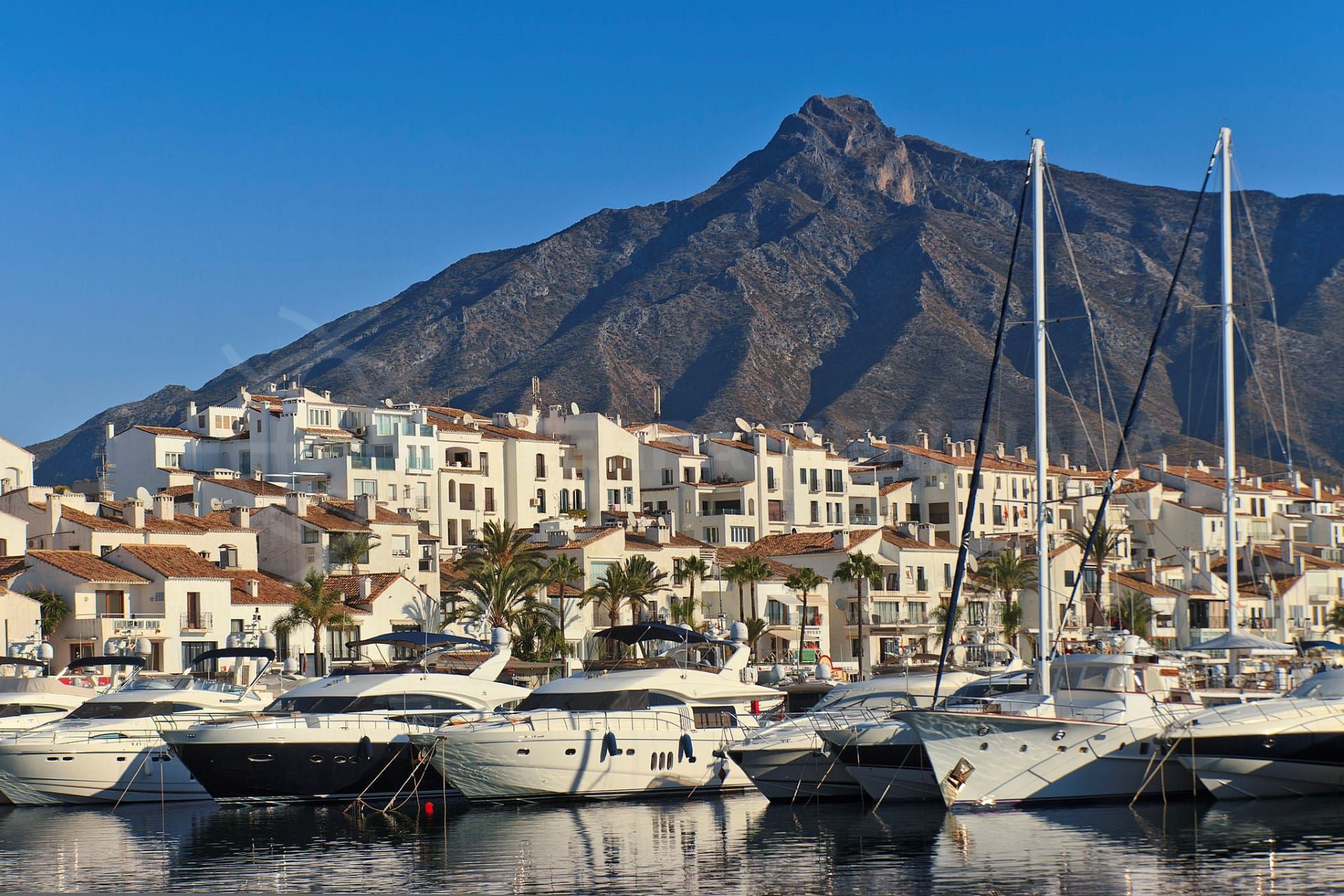 Today local authorities are stepping up to address the issues created by staggering youngsters and seedy reprobates, and the future is once again looking positive for the iconic yacht harbour.
Illustrious beginnings
Contrary to its appearance, Puerto Banús is not an authentic fishing village at all but a venue purpose-built in the early 1970s as a pleasure ground for the international jet-set. It was deliberately modelled to look authentically Andalusian, with high-rise buildings tacitly forbidden and a yacht harbour designed to accommodate all but the largest private craft.
Once completed, the marina witnessed the arrival of the elite, including Saudi princes and Hollywood movie stars, who could access their sumptuous holiday homes via the sea and in consummate style. The Marbella Club Hotel initially instigated the reputation of Marbella as an exclusive holiday destination andit was followed by the Puente Romano Hotel. These two illustrious establishments, located just a short drive from Puerto Banús, have continued to maintain the highest standards of luxury ever since.
A change of scene
The advent of the cheap package holiday had a distinct impact on towns such as Torremolinos and Fuengirola further along the coast, but initially it appeared that Puerto Banús had escaped the flood of mass tourism by maintaining its air of exclusivity.
The attractive waterfront was able to preserve its air of elegance due to the impressive luxury boats in its moorings and the first class restaurants and designer shops located on the port's frontline. However, eventually the hen night and stag party brigade did begin to infiltrate the second row of Puerto Banús during the past decade, bringing an unwelcome air of debauchery and an increase in petty crime. As budget airlines enabled raucous youngsters from above all the UK to descend on Marbella for holidays and mini-breaks, parts of the famous port began to cater to a more downmarket crowd. What was already becoming a problem turned into a PR disaster for the town, after the reality TV programme 'The Only Way Is Essex' started sending its 'stars' to 'Marbs'.
Kebab shops now populate the road behind the designer boutiques, with the arch of the main entrance to the yacht harbour all but impassable after the sun goes down, populated as it is with prostitutes and touts hawking all manner of counterfeit goods. Bars that were once elegant, glamorous venues for the 'beautiful people' have had to employ beefy security guards, ever vigilant for the trouble that can occur when groups of young people imbibe alcohol in hedonistic holiday quantities.
Signs of improvement
Locals have been concerned for some time about the change to certain areas of Puerto Banús and the unpleasant behaviour of some of its new clientele. The famous marina was in danger of losing its prestigious and glamorous reputation, yet new hope has been proffered this year as authorities are taking steps to turn the tide.
It seems that the Marbella Town Hall is determined to improve the situation and has now issued widely publicised edicts warning of stiff fines for disorderly conduct, including on-the-spot fines for improper public attire. Signs of improvement are already being seen and hopefully this year residents won't have to endure any unpleasant behaviour when strolling through this once-elegant yachting quarter.
Puerto Banús: always loved, forever captivating and charismatic
Despite the issues endured in recent years, Puerto Banús has always remained a place where lovers of the good things in life can find fine dining establishments, designer clothes stores and exclusive jewellery shops. To both the left and right of the harbour visitors will discover some of the best beaches on the Costa del Sol. Surprisingly wide and decked with soft pale sand, they are hosts to charming chiringuito beach bars, fun bars and classy restaurants.
The resort's large cinema complex offers a great variety of films and its programme always includes original versions of foreign films for the local communities of non-Spanish nationalities. In summer, the large square in the middle of Puerto Banús is decorated with small white marquees that sell clothes, jewellery and many other interesting products, overlooked by the grand department store of El Corte Inglés.
The core chic essence of Puerto Banús remains firmly in place. As the positive action to manage the bad elements from out of its second line streets continues, both residents and visitors alike can feel positive that Puerto Banús will remain a fashionable resort for another fifty years to come.
By Adam Neale | Property News | December 18th, 2018