Estepona builds new town hall and car park complex
Work has started on an avant-garde new town hall that will become an eye-catching architectural feature close to the centre of Estepona. The complex will not only house the town's administration, but also feature an underground car park with 169 spaces – a much-needed facility in downtown Estepona – that will be operated by the disability charity Aprona.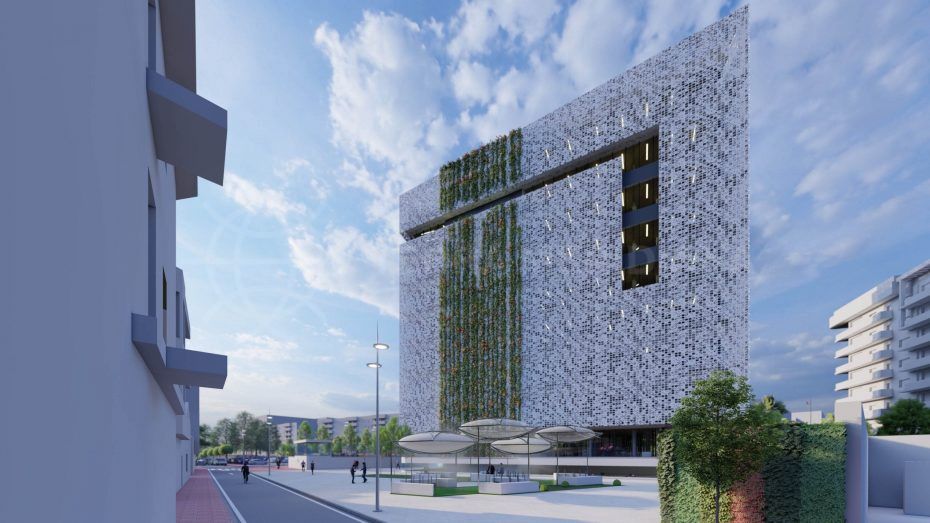 The latter creates job opportunities for people with learning possibilities in the form of car park attendants and similar initiatives. This collaboration is already functioning well in Estepona, and will be extended to the new car park, where the town hall has committed itself to providing parking at very affordable rates.
A new landmark in Estepona
Fronting the eight-storey building will be a 5,000m2 square that will provide an open public space with the potential for including seating areas and a café/catering facility. The project, which costs just over €11 million, is expected to be completed within 16 months and is being designed to be as environmentally friendly and energy-efficient as possible.
To achieve this, it has been designed to incorporate renewable energy sources such as solar power, and makes use of bio-climatic systems. In housing all the different municipal services under one roof, the new town hall will bring them together from the various locations currently being used, and in so doing is expected to provide a more coordinated and better service to citizens.
The new architectural landmark in town will add to a series of new apartment complexes featuring modern design. Together, they are creating a sense of urban renewal and development that is consolidating parts of Estepona close to the historic centre in a process that is improving the housing stock while also revitalising the town itself.
Keeping Estepona dynamic
Mayor José María García Urbano and his team have also worked hard to put together a funding package designed to revitalise the local economy and create jobs in the wake of the Coronavirus lockdown, which beganin mid-March. Much of the focus will be on getting shops, restaurants and cafés up and running in compliance with the social distancing regulations, as well as preparing the town and its hotel sector for the coming summer season, in a drive to mitigate the economic effects of the virus lockdown, and maintain Estepona's dynamic momentum.
By Adam Neale | Property News | May 11th, 2020