Designed by the celebrated Costa del Sol architect, Melvin Villaroel, Alcazaba Beach is a high-end, seafront residential development in Estepona, made up of two and three-bedroom apartments, penthouses, and townhouses, all with direct access to a half-kilometre-long stretch of sandy Mediterranean beach.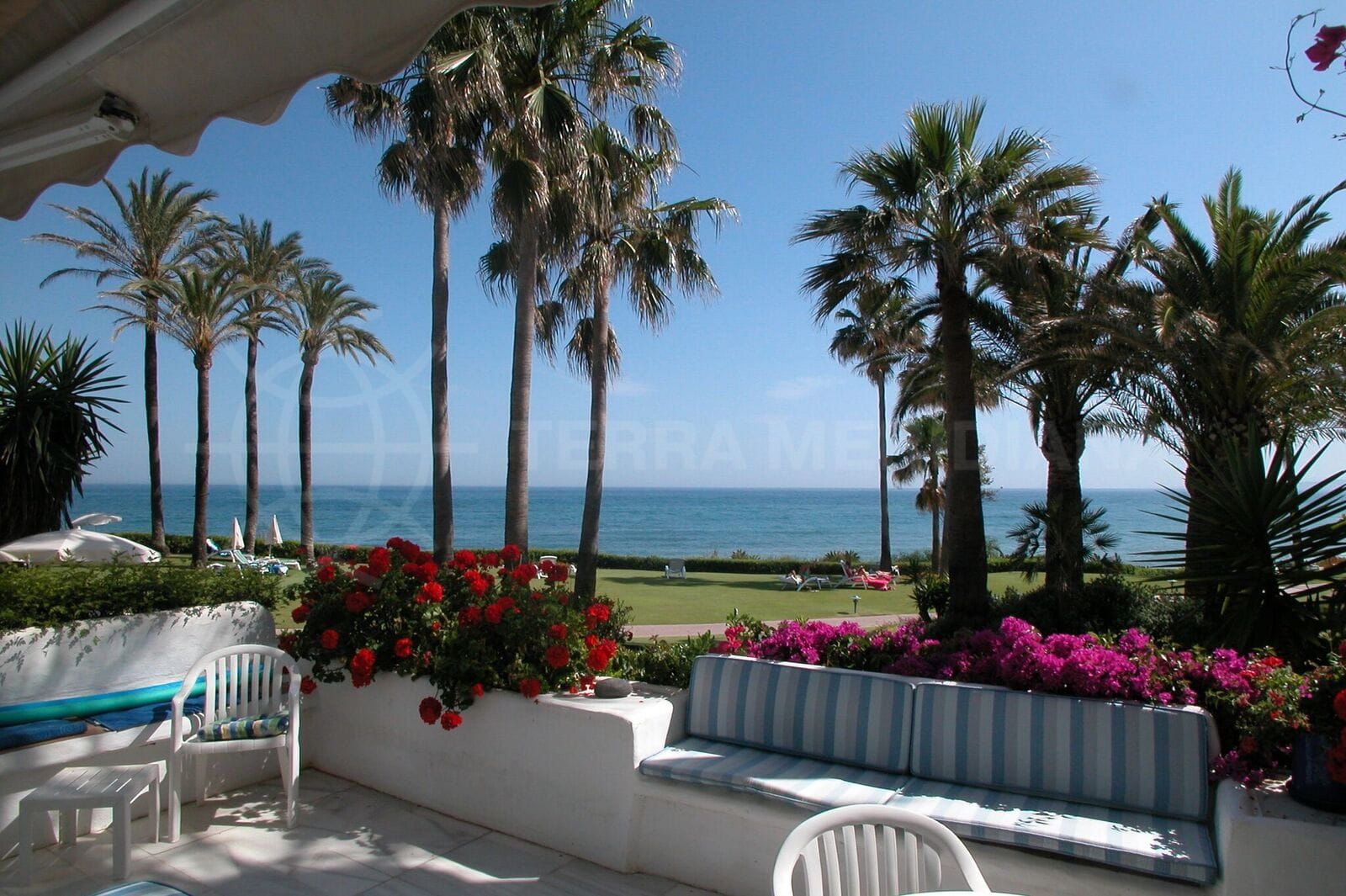 Alcazaba Beach is one of the residential gems on the New Golden Mile. It is situated in a prime frontline beach location between Laguna Village and the eastside of Estepona. Elegant apartments are laid out amid beautifully landscaped gardens and lush lawns. Large swimming pools and sunbathing decks are surrounded by flowerbeds and the property's many trees.
What is Alcazaba Beach?
This is a stunning, five-star, beachfront development. It is one of the most beautiful and prestigious in the Costa del Sol. It has over 26,000 square metres of prize-winning gardens, and a wide range of luxurious properties. All this makes Alcazaba Beach a much sought-after vacation paradise.
Alcazaba Beach was built over several phases that have added to the property and gardens. Because of its beauty, it won the 2007 Architectural Heritage Prize for Urbanisations of Environmental Interest. This is Andalusia's highest governmental award. It has also won multiple awards for its landscaped tropical gardens.
The property itself is 75,000 square metres that fronts onto 500 metres of beach. It has views across the Mediterranean, all the way to the coast of Africa. Its well-planned layout makes it a walkable, tropical paradise.
Who was the architect and developer of Alcazaba Beach?
Alcazaba Beach was designed by the Bolivian-born, internationally renowned architect Melvin Villarröel. His design philosophy was always focused on emphasizing human space, the natural environment and local design traditions.
It is from these foundations that Alcazaba gets its distinctive, low-density, natural beauty, and its Andalusian-style luxury.
The developer of Alcazaba Beach was the Chilean family Leria who are responsible for many luxury developments in Marbella.
Alcazaba Beach was the developer's first foray into Estepona, which in 1988 was far less desirable than it is now (in real estate terms!). At that time, Estepona was just a small, inconspicuous fishing village. It was barely noticeable compared to the glitz and glamour of Marbella.
Many thought the Leria family were overly ambitious, if not crazy, to build a fashionable resort of 400 apartments on the beach in such a backwater.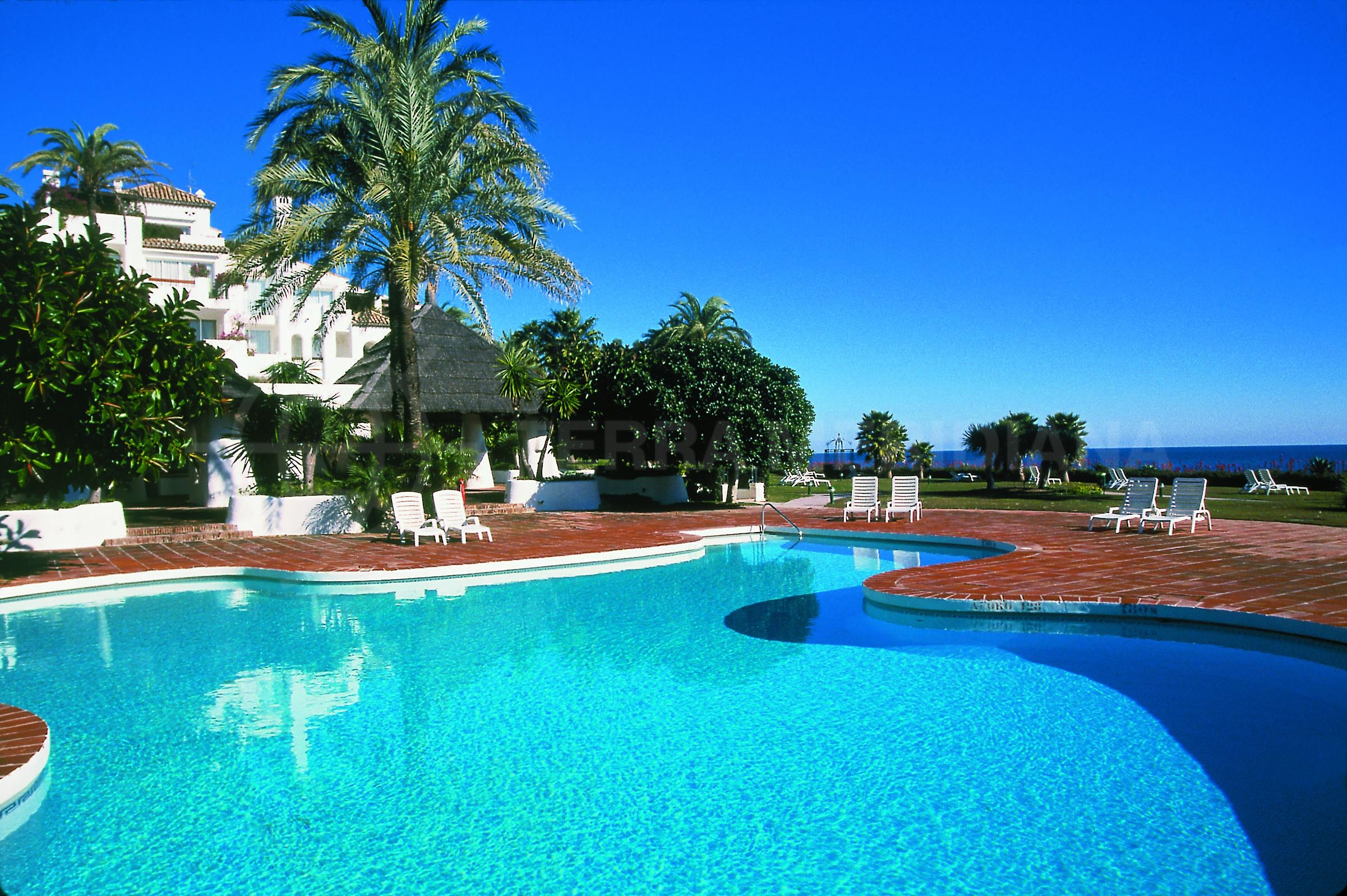 Where is Alcazaba Beach located?
Alcazaba Beach is located at the western extreme of Estepona's New Golden Mile. This puts it close to the centre of Estepona. It is also just a few hundred metres from the shops and services east of the town.
By car or bike, you can get from doorstep to the historic centre of Estepona in ten minutes. By foot, along the waterfront, you can arrive in 30 minutes.
Alcazaba Beach is also situated close to the Kempinski Hotel. The new Laguna Village is a mere 10-minute walk away. It is also just a short stroll to Trocadero beach restaurant. All properties are just steps from the beach.
The development lies just two kilometres from exit 157 of the AP7 toll road. It also connects with the Avenida Litoral and A7 coastal road. This places Gibraltar's and Malaga's international airports less than an hour away.
The urbanisation is well placed to make the most of Estepona's growing list of attractions. These include the new Orchidarium and botanical park. There is also the Felipe VI Auditorium (the largest theatre on the coast). In addition, there are a wide variety of bars, restaurants, and stores that fill the whitewashed streets of the town's historic centre.
When was Alcazaba Beach built?
The property is a first-line beachfront development. The first phase apartments, built in the 1980s, look out directly over the Mediterranean oceanfront. The fourth and final phase of apartments were built in 2007.
How many apartments are there in Alcazaba Beach?
Alcazaba Beach has over 300 apartments of various sizes and types distributed over 4 phases. You will find 2-, 3-, and 4-bedroom apartments, penthouses, and duplex penthouses. The size of properties begins around 100 square metres and goes up to over 180 square metres.
What type of properties are there on Alcazaba Beach?
Phases I – III
These are the oldest properties in Alcazaba Beach. They do not have underground parking or lifts. A few of these apartments do have underground storage rooms.
In original-condition apartments the bathrooms and floors are fitted with grey marble. They also have windows that are single glazed. In traditional manner, kitchens are separated from the main living room.
All apartments have integrated, centrally controlled air conditioning and an alarm system as standard.
Many apartments have been completely refurbished and have new marble, double glazing, underfloor heating, individual thermostat-controlled air conditioning. Some have been converted to open-concept kitchens/living room layouts, etc.
Phase IV
This is the newest phase and dates from 2007. Apartments in this phase come with underground parking and storage rooms. They have modern features such as underfloor heating in the bathrooms and double-glazed windows.
Some apartments do suffer from road noise in Phase IV since it is situated at the back of the development close to the A7.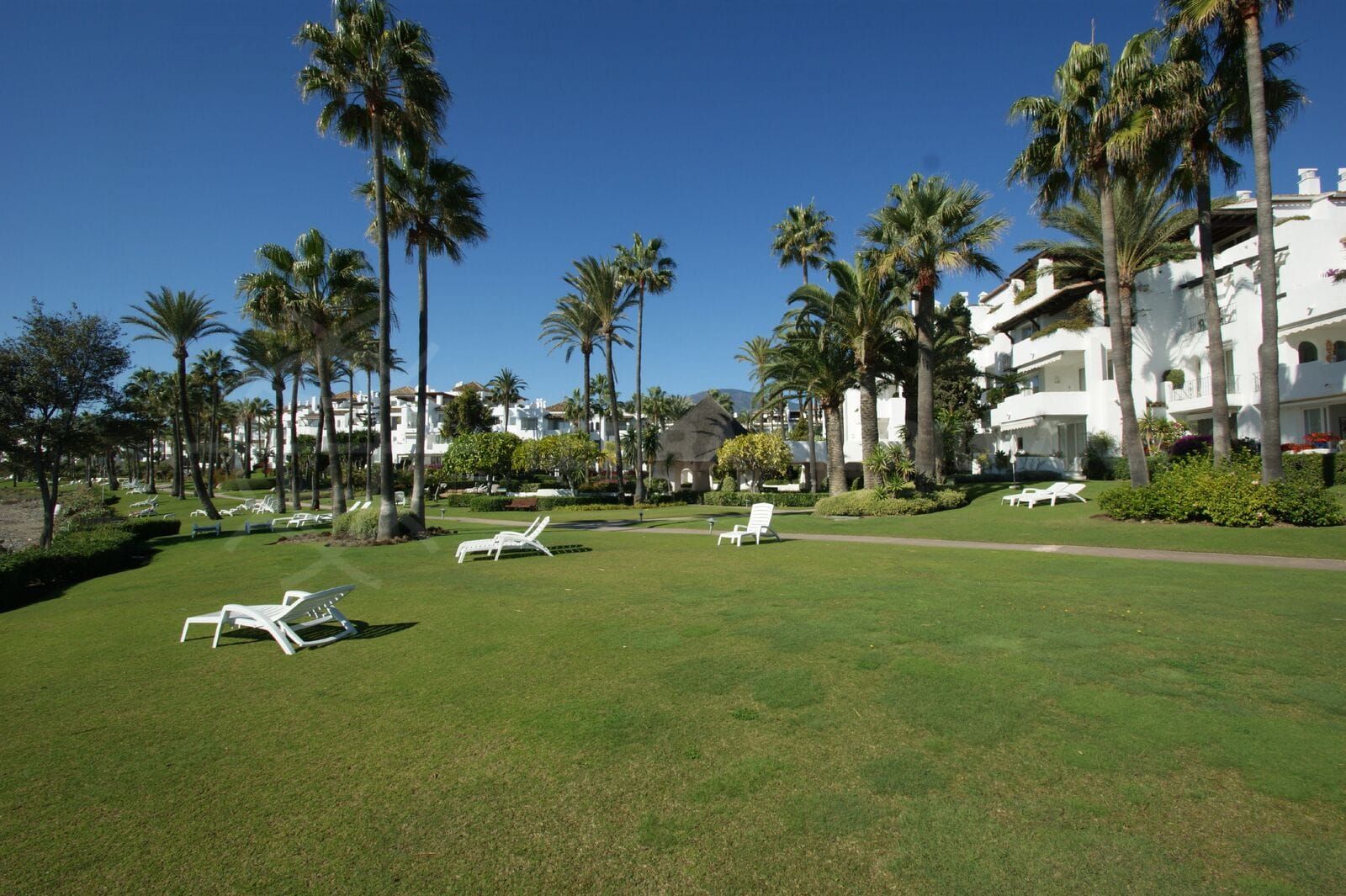 What are the property prices in Alcazaba Beach?
There are a wide range of prices available, depending on location and size. These start from under €500,000 to over €1,500,000. Larger properties and those closest to the beach are the most expensive.
Most units on the ground and first floor are 2-bedrooms. The 3-bedroom units are reserved for some penthouses.
There do exist 3-bedroom ground floor units, but these are rare. It is possible to convert corner 2-bedroom apartments into 3-bedroom apartments. Please contact us for further details.
Monthly community fees on average begin at €450, with an annual property tax (IBI) of €1200 and garbage fees of €195.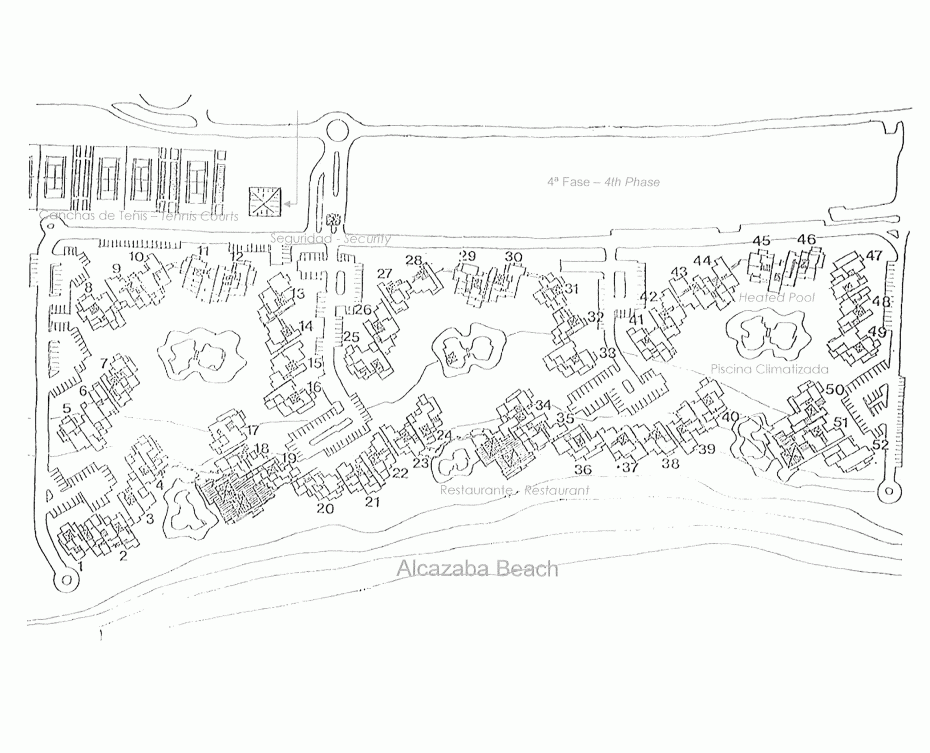 Does Alcazaba Beach have security?
Alcazaba Beach is a gated community with CCTV surveillance. It also has barrier entry and a 24-hour security guard, meaning you can always feel secure.
What facilities are there at Alcazaba Beach for residents?
Alcazaba Beach has a ton of things for residents to do and the facilities in which to do them. You will never need to feel bored or lacking in activity.
There are 7 community pools, one of which is heated through till the end of October. Outdoors there are also 5 tennis courts, 3 paddle tennis courts, and a football pitch with natural grass. In addition, the community has a gym, sauna, and a children's play park.
During high season there is a restaurant, two poolside bars, and a beach bar catering only to residents. You can also rent paddle surf boards and bicycles. There is even a library that organizes cultural activities and specializes in books about local flora. If you are looking to really spoil yourself, go for a massage or a mani-pedi right on-site.
During the summer season the community runs a whole programme of children's activities as well as outdoor film screenings. Contact the community for further information.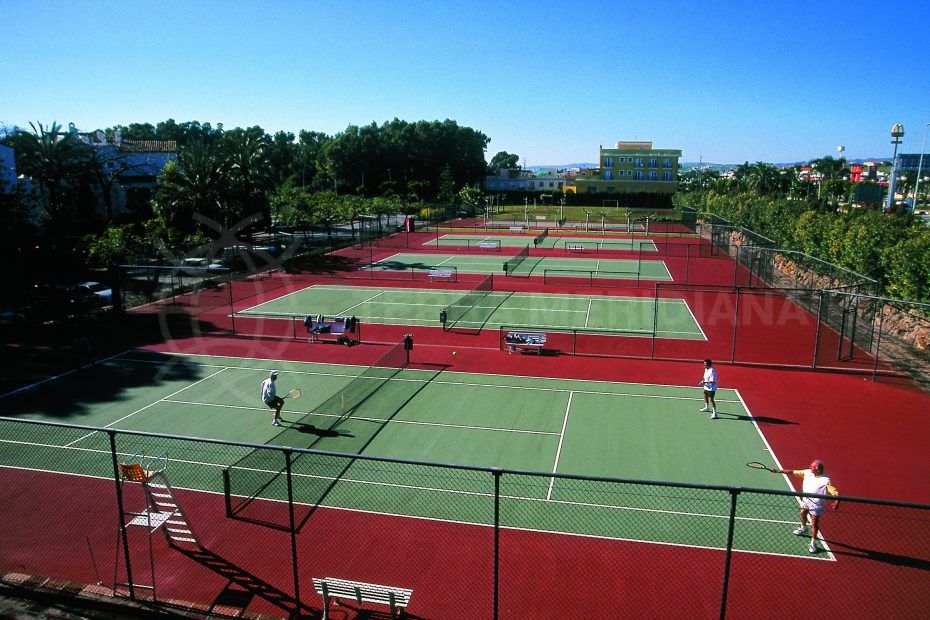 What is the beach like at Alcazaba?
Alcazaba Beach has a 500-metre stretch of beach in front of the development. In the summer you can rent parasols and lounge chairs.
The beach is not the best, it must be said but it is perfectly fine for swimming. In summer there is a diving platform out in the water for residents. The upside to not having the best beach is that there is no noise in summer from tourists on the beach.
La Rada beach in Estepona is a short walk or cycle ride away for beach lovers.
Where can I park in Alcazaba Beach?
There is outdoor and covered parking available. This is sufficient for residents and guests in Phases I-III. The spaces are not designated but there is never a problem finding a space even in summer.  There are also underground parking spaces available for apartments in Phase IV. Some of these are sometimes sold separately.
What activities are there in Alcazaba Beach?
There is lots to do on your own but during high season things really kick off and you can find tons of organized and supervised activities as well.
For instance, families with children over the age of 1-year can take advantage of the Kid's Club. It runs Mondays to Fridays, from 10:00 – 13:00 at a very reasonable price of 20€/day or 70€/week. The activities for the kids include music, games, crafts, storytelling, and psychomotor skills.
For adults who are also looking to move their bodies, there is tons to do.
There are swimming lessons, paddle tennis classes, yoga, aquagym & Pilates classes, community games, and babysitting. There's even outdoor summer cinema every Friday through July and August.
If you need to give a boost to your strength, flexibility, endurance, or mobility, a personal trainer can be had for 35€/hour.
What is it like to live in Alcazaba Beach?
Paradise! Alcazaba Beach is a fantastic urbanisation to own a holiday home or residential home.
It is a safe & secure complex, surrounded by beautiful gardens. It is one of the top 5 developments within walking distance to Estepona Town. There is also the additional benefit of being close to the Kempinski Hotel and Laguna Village.
For families, the development has tons of facilities and activities, especially in summer.
Is Alcazaba Beach a good real estate investment?
Alcazaba Beach is an excellent investment. Any urbanisation within walking distance to Estepona Town and on the beach is an excellent long-term investment. But Alcazaba Beach has the additional attraction of having an enormous number of amenities on site.
See: Properties for sale in Alcazaba Beach for more details.
Can I rent my property at Alcazaba Beach
Yes, the community allows rentals and there is even a management company on site, which has a team of cleaners and manages holiday rentals for residents.
Prices range from €700 per week in low season to over €3,000 per week in Summer. Summer rentals are almost guaranteed as there is a waiting list of clients wanting to rent every summer.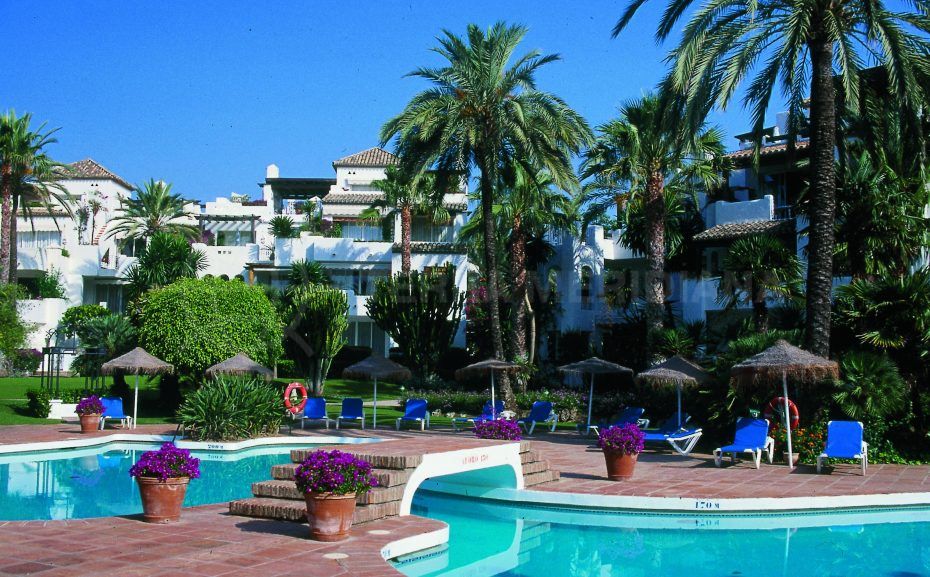 Is the Alcazaba Beach community professionally managed?
Yes, the urbanisation is excellently managed. The development has a team of gardeners and maintenance staff who keep the community in good condition. That includes keeping the buildings freshly painted.
The gardens have won prizes for their maintenance. The tennis courts are in good order as is the gym equipment and sun beds.
The community is extremely strict about changes to the aesthetics of the development. You need permission from the community to make external and/or internal changes to your apartment.
Are there good restaurants near Alcazaba Beach?
The property itself has a private restaurant and a beach bar that is open during high season. However, being a stone's throw from Estepona and 25 minutes by car from Marbella, means being close to some of the finest cuisine on the Costa del Sol.
Of course, being on the Mediterranean means a wide variety of top-quality, freshly caught seafood. Both Estepona and Marbella also have a cosmopolitan selection of cuisine that would make much larger cities proud.
Both cities also have restaurants to suit every budget level, whether you want to grab a slice of pizza or bocadillo, or are looking for a three-course, meal on white linen. In Marbella you will also find a selection of six Michelin-star restaurants.
A couple of solidly good restaurants in Estepona are:
EL PESCADOR
Located on the Paseo Marítimo, El Pescador offers a selection of high-quality fresh fish and rice dishes, as well as more creative suggestions, such as tuna tartar. Two indoor dining rooms and a very large terrace, conveniently close to the playground on the beach for families.
Avenida España 1
29680 Estepona
Tel: 952804393
https://www.elpescadorestepona.com/
LA RADA
An Estepona institution, La Rada is a fine dining restaurant serving freshly landed fish and quality meats, as well as a good value daily set-price lunch menu. Outside, there is a large, covered terrace with views of the Mediterranean.
Edificio Neptuno
Avenida España s/n
29680 Estepona
Tel:952 79 10 36
You can find many more great restaurant suggestions by looking at our guide to restaurants in Estepona.
How do I buy a property in Alcazaba Beach?
Terra Meridiana are experts in helping clients to buy and sell real estate in Alcazaba Beach.
We can help you with your search at every step of the process to meet your needs and the dreams you have for a beachfront property.
And if you are looking to sell a property you already own in Alcazaba Beach, we have clients all the time who are actively interested in purchasing homes in the urbanization.
More about Alcazaba Beach, Estepona
More about Alcazaba Beach, Estepona