Los Granados, luxury villas in exclusive Sotogrande
Los Granados de Sotogrande is a development of 44 luxury townhouses and nine private villas situated on the banks of the Guadiaro river. The complex features perimeter security, landscaped gardens, both covered and open-air swimming pools, tennis and paddle tennis courts, a sauna, a children's area, and a social club.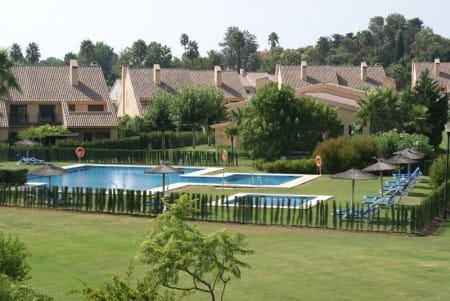 Whether you opt for one of the townhouses or private villas, attention to detail is obvious in the construction of the homes, all of which feature climate control, fireplaces, fitted wardrobes, top-quality electrical appliances, garages and storerooms, marble floors, terrestrial and satellite TV, under-floor heating, and the list goes on. The modern style villas have been built in terracotta colour and with sloping tiled roofs.
In terms of location, Los Granados is close to the marina and beach. Cross the bridge over the Guadiaro to get to the Real Club de Golf de Sotogrande. The advantages of a home in Sotogrande are well known: quick access to eight golf courses in the resort or nearby, excellent connection to business and tourist airports like Malaga, Jerez, or Gibraltar. And of course, the Sotogrande lifestyle: restaurants, shopping, and, last but not least, sports.
Apart from what Sotogrande itself are to offer, the resort is the perfect base for day trips or longer jaunts to some of the best that southern Spain, Andalusia, and even Morocco have to offer. Tarifa, Chefchaouen, Castellar, Garganta del Capitán, the National Cork Oak Forest and the historic cities of Granada and Cordoba are just a few destinations offering endless possibilities for unforgettable adventures in a myriad of settings. Comfort, inspiration, the good life… all reasons why a home in Los Granados de Sotogrande should prove an excellent investment indeed.
By Eloise Horsfield | Property News | December 12th, 2012