The rise of the modern in Sotogrande
Sotogrande has become renowned as one of the most luxurious urbanizations in Europe and boasts some of the most expensive homes to boot.
Moreover, it has developed a reputation as an architectural showcase.
Now another exciting new modern project is underway.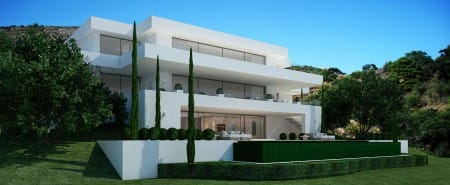 Villa Morera is a magnificent luxury villa, located in the La Reserva area of Sotogrande, overlooking the Mediterranean.
A spacious mansion of more than 1000 square meters it boasts three bedrooms with en-suite bathrooms and private terraces with fantastic views of the garden and swimming pool.
"It is an oasis of privacy and peace," explains the architect behind the project who insists the location is key.

"The germ of any architectural project is usually the place.
"In this case, it is on a spectacular hill overlooking the sea and the countryside.
"With this in mind the idea for the project is simple but clear and defined, with a series of 'trays' that frame the views of the landscape."
Like most modern, contemporary homes, Villa Morera has an abundance of natural light with lofty windows.
And inside, the house is adapted for the needs of modern living.
In particular it has a large, fully equipped kitchen that would satisfy even the best chefs.
But the main focal point is the view.
"Sotogrande is an enclave with stunning scenery surrounded by natural parks and golf courses with enviable sea views and is not built up, which makes it perfect for nature lovers and those who want to relax.
"For this reason, the house is designed to be very open, to really make the most of the marvelous location.

"It will suit people who are adapted to a flexible, modern way of living, without spaces that are strictly defined and that have a freedom of use.
"And it is aimed at those who like the lifestyle that Sotogrande offers."

Just minutes from Marbella, Puerto Banus and Gibraltar, and at less than one hour from Malaga Airport, Sotogrande has proved a regular haunt for the likes of Rod Stewart, Mariah Carey and Duffy, as well as Glenn Hoddle, Eddie Jordan and Mike Rutherford who all have homes here.
Spain's largest private estate (all 4,400 acres) is also well used to seeing British royals (Prince Andrew, the Duchess of York, Prince William and Harry and princesses Eugenie and Beatrice are regulars) blazing a trail through its security gates which are manned 24 hours a day.
The jet set appeal lies in the natural beauty of the area which also boasts an enviable location, climate and infrastructure, and has become established as a sporting hub with polo fields, tennis courts, paddle tennis courts and four of Europe's best golf courses including the world-famous Valderrama.
Demand may not be as high as it once was in the luxury villa market in Sotogrande but there continues to be an attraction for those who want the peaceful tranquility that the resort offers.
Moreover with its high percentage of homes built with foreign buyers in mind, the enclave can count on internationally diversified demand, meaning the recession that has struck the Spanish property market in other areas of the country has not been as keenly felt.
By Adam Neale | Property News | May 23rd, 2012