Housing Affordability in Spain
Andalucia has been named amongst the cheapest regions in Spain to buy property – which is great news since it is one of the nicest places to own a house.
The map below shows housing affordability in Spain, working on the basis of how many years' salary it would take a buyer to purchase property in each of its 17 regions.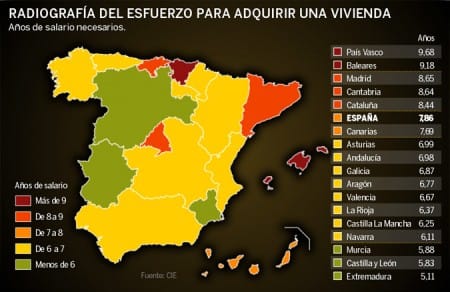 While the average house in Spain would cost 7.8 years' salary, buying property in Andalucia would cost just 6.9 years' worth.
And there are so many nice places to choose from for those who are looking to buy in Andalucia.
If living by the sea is an absolute must, the coastal resorts of Estepona, Marbella, Sotogrande, Benahavis and Casares are well worth exploring as possible options.
These towns all have enormous expat communities, which is a huge benefit to buyers who enjoy having familiar surroundings whilst enjoying the best of Spain at the same time.
For those who prefer to be up in the hills, Gaucin is a great possibility; while further inland buyers will find more mountainous pueblos blancos such as Ronda and Antequera, which offer a more genuine 'Spanish' experience with fewer non-natives.
The other good news is that since prices are still too high in relation to salary levels in Spain, they are likely to fall even further in the near future.
Currently the most expensive place to buy property in Spain is the Basque Country at 9.7 years' salary, followed by the Balearics, then Madrid and Cantabria.
By Eloise Horsfield | Property News | May 28th, 2012