Spain and Costa del Sol Residential Property Market Overview 2018
Welcome to the latest update of the market reports compiled by Terra Meridiana using data from official sources. In this review we analyse the residential property market using the latest figures.
Our information sources include Notaries, Registrars, the National Statistics Institute (INE) and the Ministry of Public Works (Ministerio de Fomento). This forms the basis for a compact but detailed analysis of the latest trends, local, national and international factors that impact upon the property markets we specialise in.
Property sales in Spain levelled off in 2017
Real estate transactions across the country remained almost the same in comparison with 2016, growing by 49 units to a new post-recession high of 457,738 properties. Though healthy, this figure remains well below the all-time high of 2006.
Evolution of residential property sales 2006-2017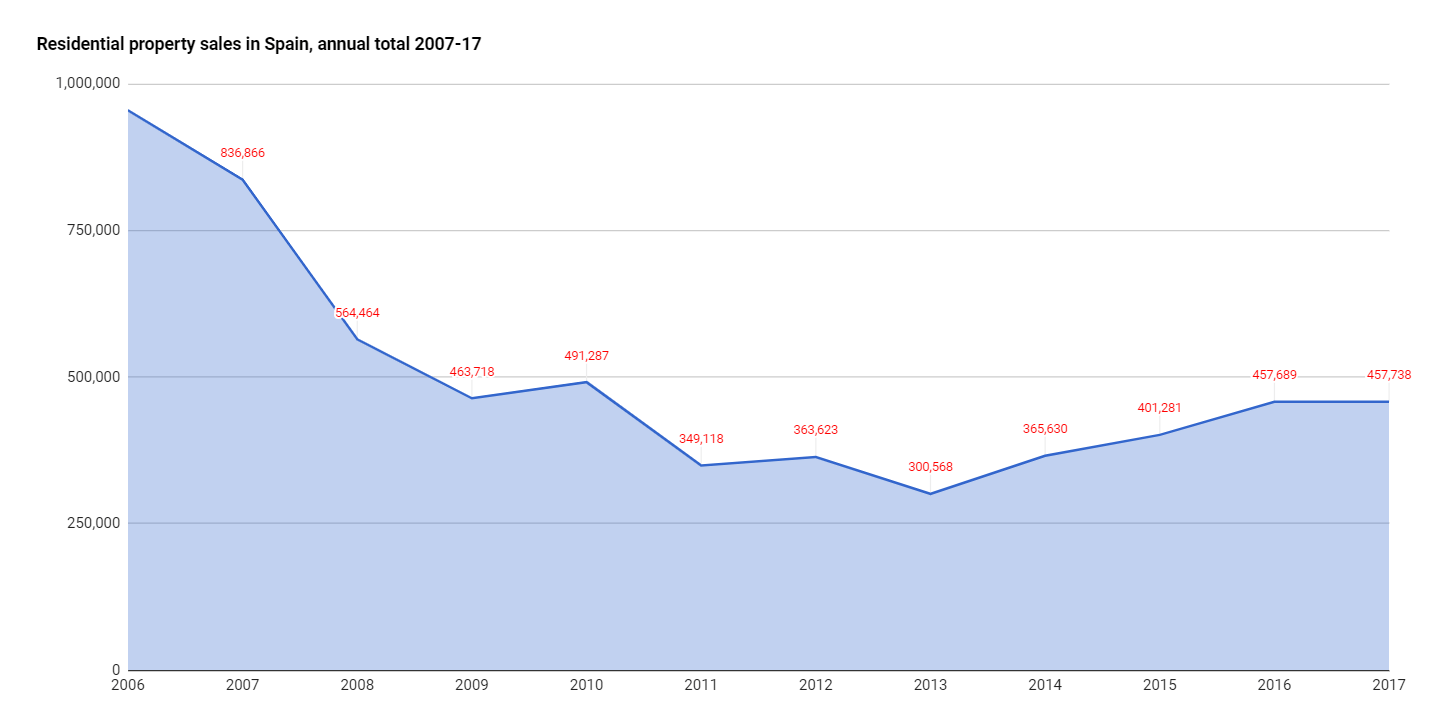 Terra Meridiana's view:
Spain is a large country and its property market highly diverse and regionalised. The national figures are therefore an amalgam of highly divergent trends, with the main urban and coastal centres traditionally outperforming the rural areas. This is also true of the Costa del Sol, where the statistics from the three municipalities that make up its 'Golden Triangle' tell a different story. 
Property sales Golden Triangle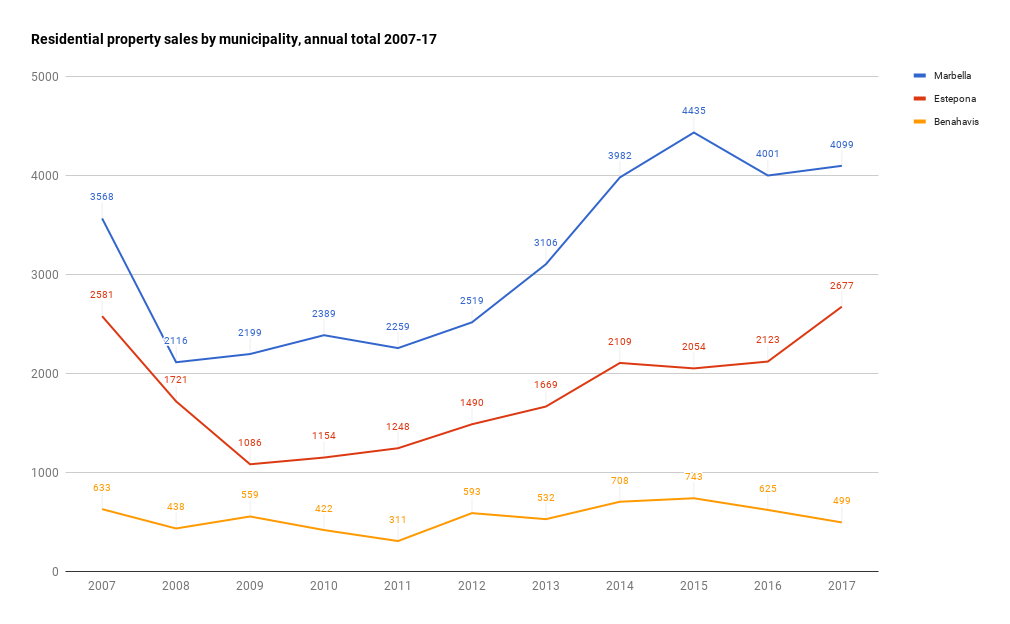 Terra Meridiana's view:
Sales in Estepona continue to grow impressively, helping to drive a market in which the planning impasse in Marbella has resulted in far lower sales figures than there would have been had there been more new projects to sell. Both Marbella and Estepona are both showing higher sales figures than the pre crisis boom of 2007 and very strong growth. Since the bottom of the market for Marbella in 2008 the market has recovered 94%; since the bottom of the market in Estepona in 2009 the market has recovered significantly higher, by 146%.
Always smaller and more dependent upon inland properties and development, Benahavis focuses on quality above all; after the fast growth of the initial recovery period, percentages have dropped somewhat, with sales figures actually slipping back a little from the initial shock of the British Brexit referendum, but they have continued to recover strongly, posting a 60% increase from the bottom of the market in 2011.
New vs Resales (in Spain)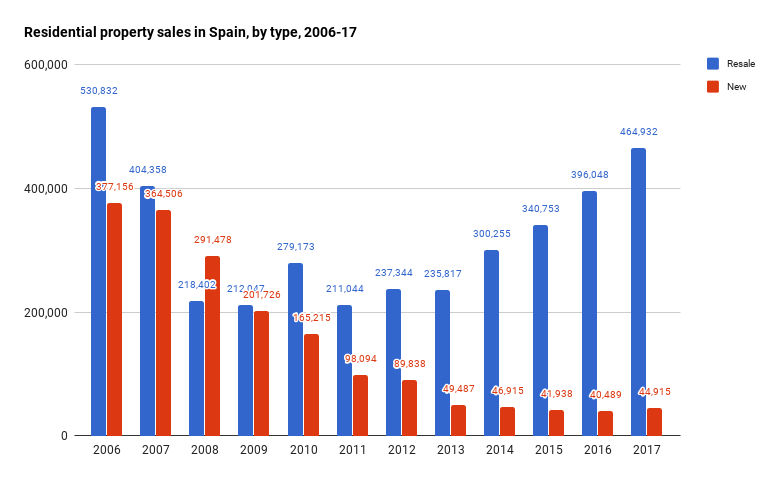 Terra Meridiana's view:
While resale figures have rebounded in Andalucía to actually surpass 2007 levels, new-build sales – which are historically strong on the Costa del Sol – have continued to drop within the autonomous region, as large-scale construction has not yet got underway. This is reflected in the number of building licences issued (see below), which bottomed out in 2014 and in 2017, recovered slightly to 2011 levels. We expect this figure to continue to climb but the crazy heights of 2006 are still, we hope,  many years away. These figures may come as a surprise to some given the return of cranes to the costa del sol skyline, however the figures reveal a different story which is that resales continue to dominate the marketplace and outpace new builds in terms of sales.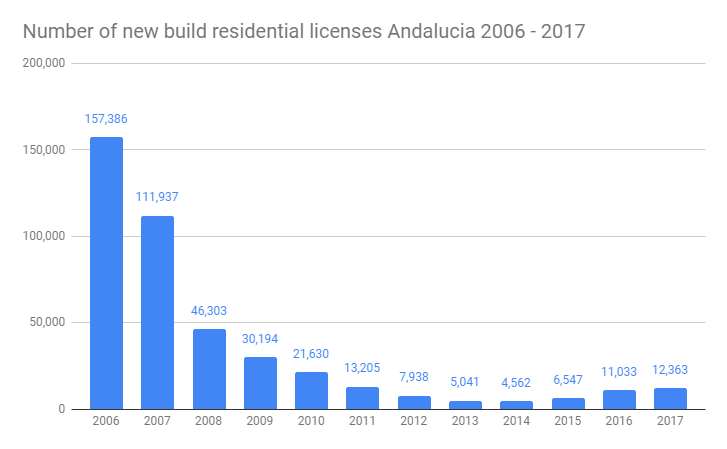 Foreign buyers (as a percentage of total property sales)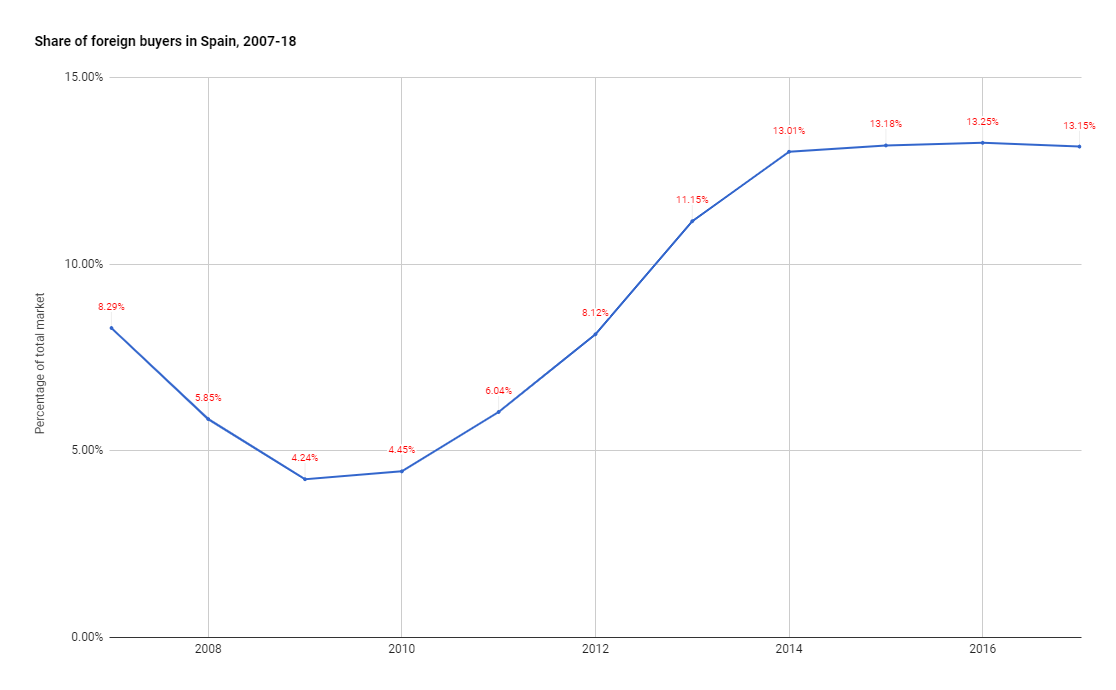 Terra Meridiana's view:
The figures show how the number of foreign buyers roughly halved at the height of the financial crisis, but then gradually returned. By 2012, the pre-recession share of roughly 8% had been re-established, and by 2014 the current level of 13+% had been reached. It just goes to show the importance of regions such as the Costa del Sol, which are driven by foreign property sales.
Housing Prices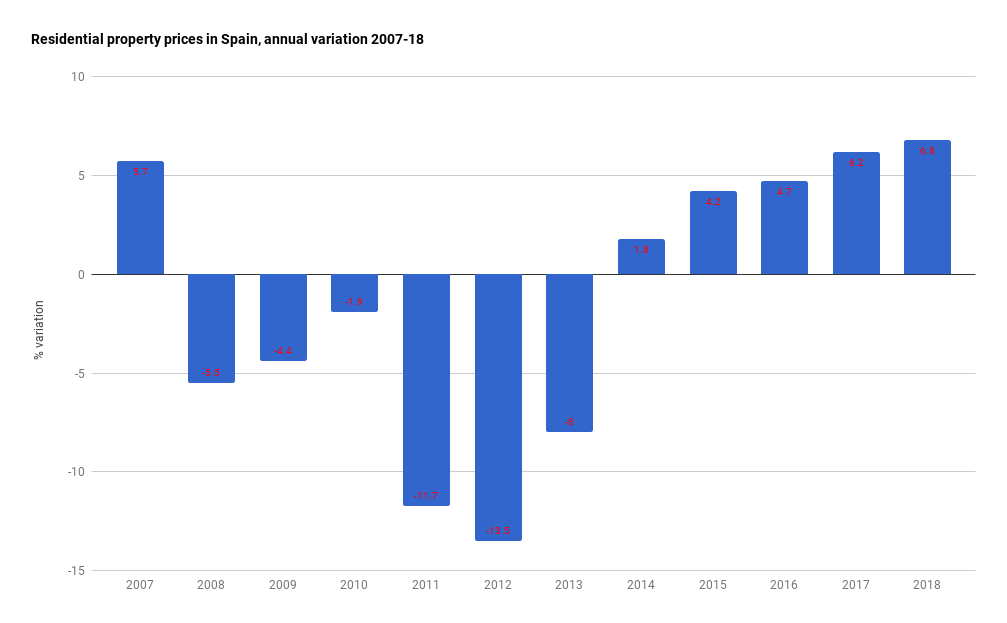 Terra Meridiana's view:
For house prices, the pattern is visible and it tells a clear story, charting the decline of the market during the recession and its recovery in more recent times. The figures can seem deceptive, though, as there is almost always a time lag between market trends and the resulting shift in prices. It can therefore be expected that property values will continue to grow for some time, and likely accelerate a little more in the near term. Comparing house price levels in 2007 and 2017 shows a 9% increase overall. Prices have risen since the bottom of the market in 2012 by approximately 146%.
In the first two quarters of 2018 house prices have continued to show strong growth, higher than the previous first two quarters of 2017.
Mortgages
Like prices, mortgages are an indicator of what is happening, but unlike prices they give us a forward glance ahead of the overall trend indicators.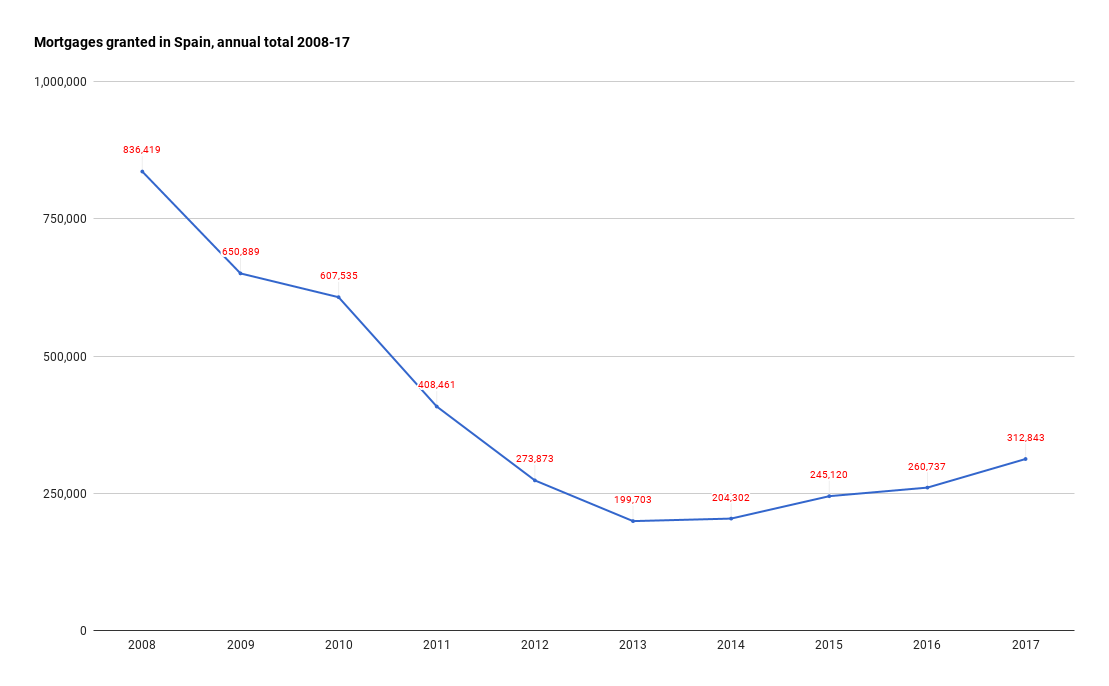 The figures again show a trend of reduced demand due to the effect of the global financial crisis of 2009, yet as this was also a banking crisis, finance tightened up considerably and mortgages were also harder to come by. Even though the liquidity of banks has greatly increased since then, lending conditions are tighter than they have been in decades, so here the mortgage indicator understates the strength of demand, especially in markets such as Marbella, where a large percentage of buyers do not require mortgages.
Overall, the figures for 2017 show a healthy consolidation of growth without all the warning signs attached to a property bubble such as an oversupply of new build homes. Growth can continue at this rate for some time without heating up too much, and while we expect growth rates to begin to level off on a local level, sales should remain strong regardless of Brexit outcomes.
By Adam Neale | Property News | December 21st, 2018