Almenara, stunning views and quality golf in Sotogrande
Inaugurated in 1998 and designed by Dave Thomas, Almenara Golf is celebrated for its views, playing quality, and varied facilities. The course is near Valderrama and La Reserva, respectively the most famous and the newest of Sotogrande's courses, making Sotogrande Alto a golfer's true heaven.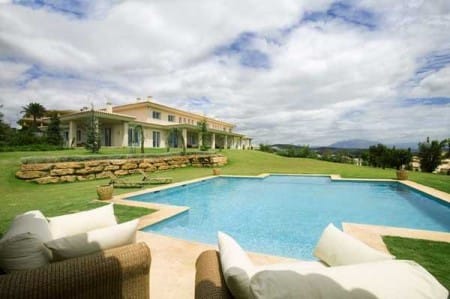 With three circuits of nine holes each that can be played in various 18-hole combinations, the course features two large lakes, pine trees, and cork oaks. It has been carefully designed to accommodate players of all levels. Views of the Strait of Gibraltar are naturally stunning from here, with Africa clearly visible on a clear day.
Facilities at the Almenara Golf Club, completely refurbished four years ago, include two restaurants and a piano bar, as well as the standard pro-shop, buggy park, and administrative offices. One of Almenara's key advantages is its teaching and practice facility, the Sotogrande Golf Academy, which is the only high performance centre in the region.
Among Almenara's distinguishing factors as a golf course is the NH Hotel onsite. Starting from about 140 euros per night, its 148 rooms have been carefully decorated in a style respectful of local tradition. Sotogrande's flagship spa, Elysium, is part of the hotel. Here, top-class professionals are on call to offer massage, beauty treatments, pre-golf warm-up, and other services. The centre is equipped with fitness rooms, swimming pools, Jacuzzis, saunas, and even Turkish baths.
Anyone looking into buying a Sotogrande home will already know the advantages of the resort in terms of location and facilities. In Almenara, investors can choose from a host of properties bordering the course, especially recommendable for those wishing to have the aforementioned Almenara facilities at hand. These include plots, detached villas or enormous townhouses with individual swimming pools. One of the best known developments are the Valgrande terraced apartments boasting some of the best views and offering, among other luxuries, golf buggy parking, several swimming pools, private gardens, and an onsite management service.
By Eloise Horsfield | Property News | November 9th, 2012