Villa Cerquilla – Marbella at its very best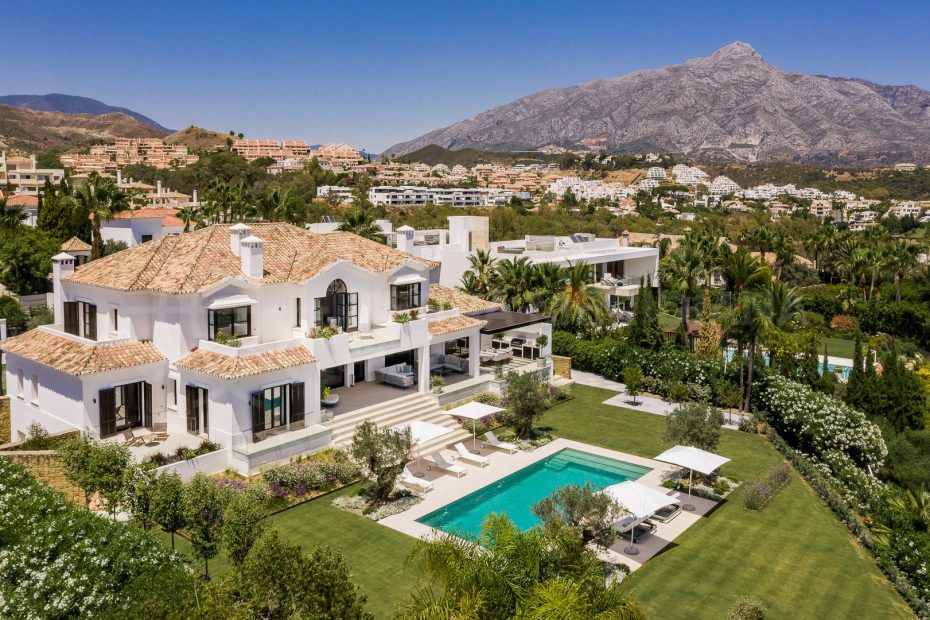 Named for the exclusive gated villa suburb it is located in, Villa Cerquilla embodies many of the things that are so special about Marbella. Its location close to Nueva Andalucía's Golf Valley ensures views over lush green fairways, beyond which stretch vistas of mountain ranges and the curving of the Mediterranean shoreline. It's a privileged setting; close to Marbella town, Puerto Banús, beaches and all amenities, yet also ensconced within a private, peaceful domain.
Within La Cerquilla, this property ranks among the very finest, immaculate in style, layout and finishing, and covering a built area of over 1,000m2 surrounded by 3,000m2 of manicured gardens. A covered terrace provides an elegant space from which to enjoy the Marbella climate amid inspiring views, while steps lead down to the lawn and the deck that surrounds a superb swimming pool. Refinement and tasteful, timeless Mediterranean style mark this outstanding villa.
Complete privacy envelops garden and home, which features six spacious and beautifully appointed bedroom suites. Outside and in, this is a beautiful property from every angle; whether you are approaching the entrance, step into the hallway or make your way through the open-plan living spaces to the open-air lifestyle zone, which includes an outdoor dining area with state-of-the barbecue.
The epitome of Marbella elegance
Designed by renowned Marbella architect Miguel Tobal, Villa Cerquilla exudes a sense of style that owes much to the perfect proportioning of its ample dimensions, which while impressive never seem cavernous or overbearing, but instead create a series of interconnected, intimate spaces. Natural light and views mark the living experience by day, while in the evening this property really takes on an enchanting look.
This level of design is continued indoors, where the finest quality large-format stone tiles, modern ambient lighting and attractive windows create a special ambience of comfort, luxury and sophistication.
Detail is found in everything from the stairs and modern woodwork of the vaulted ceiling to recessed wall sections covered in artwork, not to mention one of the finest examples of a private spa in Marbella. Water features complement the visual splendour of the home's settings to make living here a true sensory experience in the finest Marbella tradition.
Contact Terra Meridiana for further details.
https://www.terrameridiana.com/ref-TMRV08114_villa-la+cerquilla-nueva+andalucia.html
By Adam Neale | Property News | September 23rd, 2020