Why Spain still attracts Swedish property buyers?
Spain is now looking to Sweden to find buyers for its thousands of surplus properties.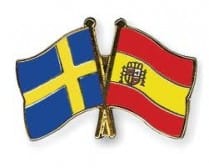 The Costa del Sol Tourist Board has launched a major promotional campaign to introduce the Nordic market to the charms of the region.
As part of the Living Costa del Sol project, developed by the authorities in cooperation with local businessmen, representatives from Malaga met with a group of Swedish estate agents, tourism operators and local authorities in Stockholm.
Headed by tourism boss Elias Bendodo and tourist board manager Arturo Bernal, the group aims to boost Malaga's image abroad and showcase the area as the perfect place for a second home as has been done in previous promotions in Germany, Bulgaria and Russia.
It hopes investors from Sweden, Finland, Norway and Denmark attracted by the area's sun, sea, sand and golf courses, can help buoy up the nation's ailing property market and increase the number of foreign residents in the region.
Although there are many Danes, Finns and Norwegians living or holidaying on the Costa del Sol, the Nordic market is still dominated by Swedish buyers.
Last year nearly 120,000 Swedes came to Malaga, which represents a year-on-year increase of 41%. It comes as the Association of Property Registrars have revealed that 6% of home purchases in Spain in 2011 were made by foreign nationals, with a large portion of these for tourism purposes
By Adam Neale | Property News | October 22nd, 2012