What makes La Alqueria (Benahavis) a special place to live – luxury villa owner Chris explains
Chris and Clive have lived in La Alqueria (Benahavis, Spain), for the past 8 years. Recently they have decided the villa is too large for them and have decided to downsize. Here they explain to prospective buyers why they are sad to leave the estate and what they have enjoyed most about the house: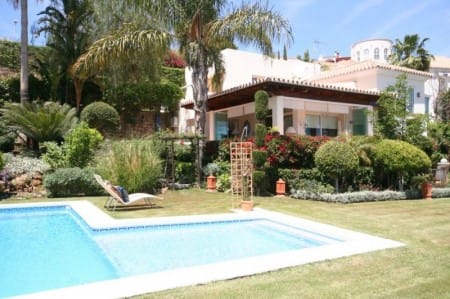 What is it like living at the villa?
It has been great living here and the views are fantastic. We have panoramic views of La Concha mountain and the Mediterranean, and sometimes Morocco on a clear day. It is very quiet as most plots at La Alqueria are over 1,500 square metres large and the space between them means there is nobody looking over you.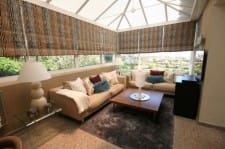 What is the golf access like?
It is ideal. We are right on the new Atalaya Golf course, and there are many other golf courses within the area. We are about seven metres above the fairway so we still have our privacy but can see the views of the course and lakes.
How long have you lived there?
For 10 years. We purchased it from the developer so it was new when we moved in.
Where is it located exactly?
We are on the Benahavis road coming from the coast road. It is just a short distance from Puerto Banus and Marbella and about halfway between Malaga airport and Gibraltar airports which are each about 45 minutes away. Benahavis village, with all its great restaurants, is only 10 minutes away. A brand new supermarket has just opened on the Benahavis road, about five minutes from us.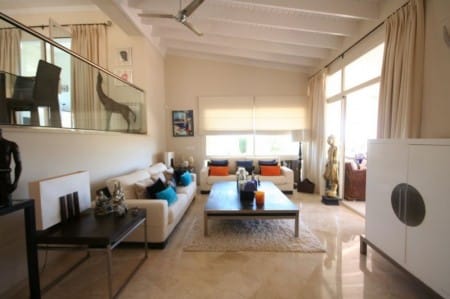 What do you like best about the villa?
It is quiet and peaceful and has fantastic views.It has a large garden with around 500 square metres of lawn, a swimming pool and terraces for entertaining, as well as a gazebo, bar and barbecue. It would make a great holiday home for families, and could also be let out in the summer.
Why are you moving?
We have four bedrooms and there only two of us, so we want to downsize and move to an apartment within the local area.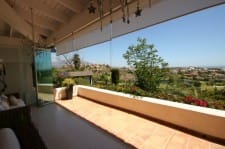 Is it good for hosting parties, family and guests?
It is perfect for parties, thanks to its facilities. And it is split level with the bedrooms on different levels, which allows privacy for visitors.
By Eloise Horsfield | Featured Properties | October 29th, 2012