SPAIN AND COSTA DEL SOL RESIDENTIAL PROPERTY MARKET REPORT Q4 2016
Every quarter, Terra Meridiana puts together a report on the Spanish housing marketplace, focusing particularly on the Costa del Sol, in which we compare data from official sources to offer both buyers and sellers the latest information about the market and our perspective about what it all means.
We draw on data from Notaries, Registrars, the National Statistics Institute (Instituto Nacional de Estadística, INE), and the Ministry of Public Works (Ministerio de Fomento) to identify trends, and summarise some of the most important facts and figures about the national and regional markets.
Sales across Spain fell 12.7% compared to Q3, but were still 7.4% higher than Q4 2015
In the final quarter of 2016, a total of 90,327 residential properties were sold in Spain, a drop of more than 12% in comparison with the previous three-month period, but still the best fourth-quarter sales figure since 2012 and over 7% higher than during the same period last year.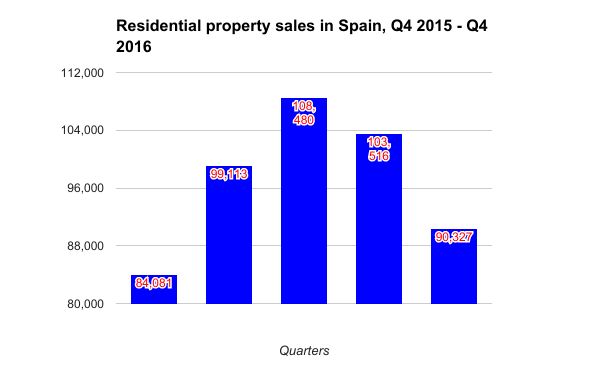 Terra Meridiana's view: We had expected to see a decline in residential sales in Q4 2016, as the national market – particularly in the areas that traditionally have been most popular with Britons – began to feel the effects of the Brexit vote. Combined with the continued low exchange rate between the pound sterling and the euro, the number of British buyers has fallen off sharply, although the recovering Spanish market and other overseas purchasers are beginning to make up the shortfall.
The number of sales registered in most of our Costa del Sol markets rose in Q4 2016
After a somewhat disappointing third quarter, we are encouraged to see a return to growth in three of the four local property markets we keep track of along the Costa del Sol. Marbella, the largest market we deal with by far, recorded a rise of 3.5% for the quarter, although total sales for the municipality were down by 7.7% year-on-year. Estepona saw a rise of 6% over the quarter, although, compared to the same period last year, 3.8% fewer sales were completed. The more modest market of Benahavís witnessed a drop-off of 20% compared to Q3 and almost 17% in comparison with Q4 2015. And San Roque, where Sotogrande is located, saw sales climb 26.7% for the quarter, albeit down 4.6% compared to the final quarter of last year.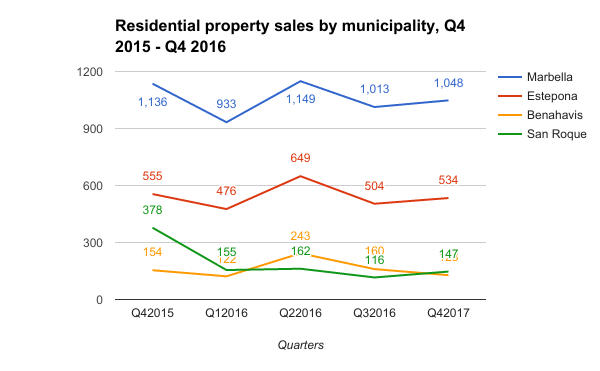 Terra Meridiana's view: Q4 2016 delivered increases in the total volume of sales in the three biggest markets on the Costa del Sol that we work in, with discreet gains in the number of transactions completed in Marbella and Estepona, and a significant jump in San Roque, most of which was probably accounted for by national buyers. Benahavís did see a slide in sales, although the total number of properties that changed hands were less than 40 fewer.
Property prices grew faster than in Q3 2016 and continue to climb more per quarter than Q4 2015
Average housing prices across Spain grew by 4% in Q4, a little higher than the rate for the previous quarter and for the same period last year.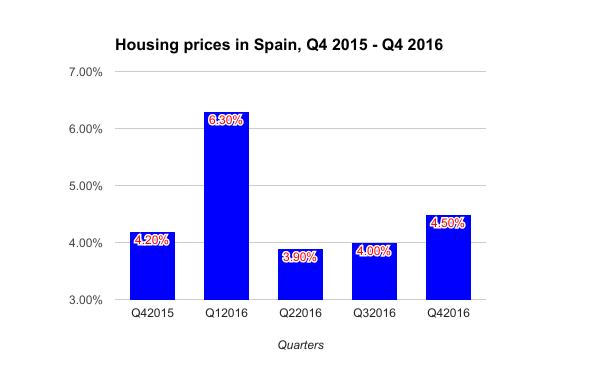 Terra Meridiana's view: Despite some concerns among commentators, the increase in property prices nationwide continues to follow a positive trend, but is far from overheating, although larger increases in places like Madrid and Barcelona indicate consistently strong demand in urban areas.
By Adam Neale | Property News | April 18th, 2017