A home with every room in the right place
A stunning, six-bedroom villa that's ideal for entertaining, in Cortijo Blanco, one of Marbella's most established and prestigious areas.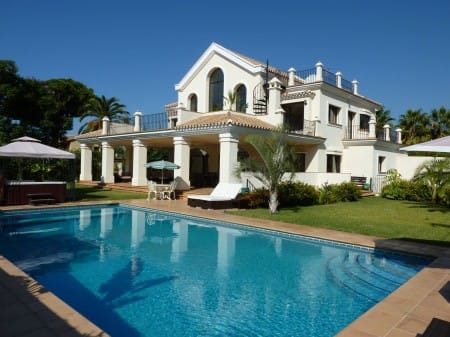 Nestled near the beach, between the millionaire's playground of Puerto Banús and San Pedro de Alcantara, Cortijo Blanco is home to exclusive villas in an unparalleled location.
Linda Russell, who built her villa with husband Keith six years ago, says the area offers the best of everything: "It is less than three minutes walk to the beach with its restaurants, promenade and bars," she explains.
Cortijo Blanco is also less than five minutes drive from celebrity frequented Puerto Banús and very close to the best international schools. Linda is keen to point out the neighbours include well-known local business people, who have come to appreciate the value of this very prestigious area.
The retired couple, who moved to Spain from the UK 12 years ago, hand-picked the area and had the stunning six-bedroom villa built to make it their ideal home.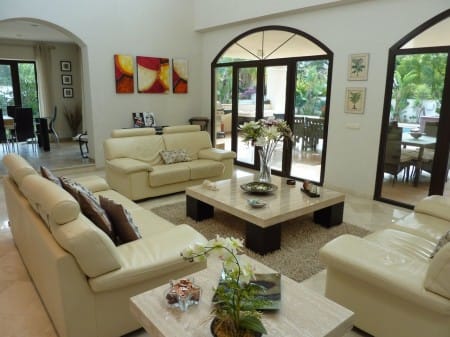 The property stands on a south-facing plot and has been finished to the highest standards, offering spacious, flexible accommodation over three floors. It is no wonder that Linda says she will miss it when she moves.
"I am only living with my husband, who travels a lot, so it is time to sell and buy a smaller property," she says. "But we have put a lot into this villa."
Linda says her favourite thing about the house is the layout: "We started with a blank sheet and every room, in our opinion, is in the right place," she notes. "We also have a lift which is a very desirable feature, especially when you have an elderly parent or guest. They can make full use of the three floors, which is a great benefit."
Linda says the house would suit a large family and people that like to party, owing to the open-plan nature of the rooms and the extensive terrace area, adjacent to the 12-metre swimming pool, that is perfect for entertaining.
"It is a very lively house," she smiles. "The windows are exceptionally large and the house is south facing, there is always lots of light. We love it."
By Adam Neale | Featured Properties | March 14th, 2014
Related Posts
Stunning, six-bedroom villa with lift and pool, Cortijo Blanco, Marbella