A new look for Estepona's old town
Since 2012, Estepona's town council, under the leadership of its mayor José María García Urbano, has been carrying out an ambitious programme to remodel the streets and squares of the town's historic centre.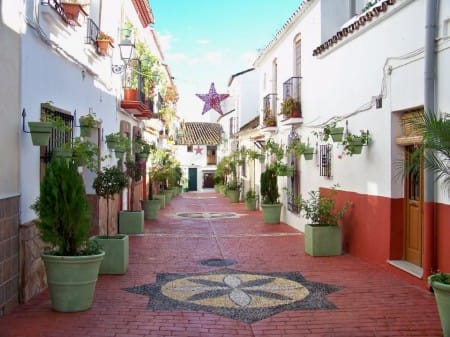 The Plan de Mejora del Casco Antiguo (Improvement Plan for the Old Town) includes 100 different projects, which will eventually encompass an area of some 10,000 square meters. All have been awarded to local construction companies under tenders and represent a total investment of around five million euros.
According to the official brochure, published at the start of 2013, the town council's goal is to "recuperate and transform Estepona's historic centre into one of the most beautiful in Andalusia." The plan also aims to give the town's shops a boost, support local businesses, and improve services offered to residents.
The first three streets – Calles Corta, Flores and San Antonio – were inaugurated in September 2013 and, to date, 50 projects have been undertaken throughout the centre, with the latest to be completed at Plaza and Pasaje Bejines, which were delivered at the end of January, and Calle Horno, in February.
The improvements usually involve replacing old, damaged paving for new surfaces, often featuring decoration with traditional stone and pebble finishes, the installation of new water pipes, and the replacement of rain and waste-water drains.
At the same time, the work aims to make the affected areas more attractive, thanks to the planting of new trees and climbing plants, and the placement of plant pots on façades, usually seeded with geraniums. By the conclusion of the plan, the town council expects to have put in place as many as 3,000 pots across the town.
Making the most of the town's new image, the mayor announced the launch of Estepona's new Historic Accommodation Network (RAH, in Spanish) last November, which local businesspeople have created to bring life back to out-of-date and abandoned establishments in the old town.
Estepona is already one of the most popular destinations on the Costa del Sol, receiving nearly 130,000 visitors in 2013, a 48% increase over the previous year. The town is also home to more than 18,000 registered foreign residents, almost 30% of its total population, which currently stands at close to 69,000.
By Adam Neale | Property News | February 25th, 2014