Hospital Costa del Sol celebrates two decades of quality care
Marbella's leading public hospital looks back on 20 years of growth and success, taking care of the health of thousands of local and foreign residents.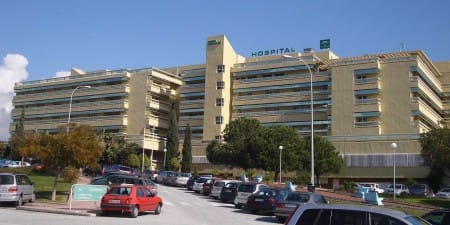 Hospital Costa del Sol is celebrating 20 years of high-quality health services, with an array of impressive figures that show its steady growth, since opening at the end of 1993. In 2013, almost 15,000 operations were performed at the hospital (more than 40 per day) – over three times as many as during its first full year.
The statistics are especially promising given the current state of Spain's economy, demonstrating dedicated organisation and commitment from healthcare professionals involved in its operation. The hospital employed just 325 staff when it opened on 29 December, 1993. It now has a workforce of almost 1,800.
Situated in Marbella, the hospital started out with a catchment area of around 130,000. This has now swelled to more than 400,000 residents, incorporating the towns of Benahavis, Manilva, Casares, Mijas, Estepona, Fuengirola, Istán, and Ojén.
Efficiency is the name of the game at the Costa del Sol Hospital, with 60% of all surgical procedures carried out on outpatients and 77.7% of patients discharged the same day they are operated upon.
As well as the impressive range of services offered when the hospital first opened, including trauma surgery, orthopaedic surgery, obstetrics and gynaecology, eye surgery, digestive and neonatal, the centre has added to its provision over the years. In 2002, the centre began to offer dermatology and, in 2005, preventive medicine. In 2007, an oncology unit was added.
María José Sánchez Rubio, the regional government's health secretary, said the centre's opening, 20 years ago, "was a major commitment which aimed to introduce many different criteria, which have been very successful."
When it comes to emergencies, the hospital dealt with some 40,000 in 1994 (110 a day, on average) – a number which increased to 108,000 in 2013 (296 per day). Since it opened, over two million A+E patients have been seen.
The Costa del Sol Hospital is one of many quality establishments offering top-level health services in Malaga. Malaga's general hospital, Hospital Regional (previously called Carlos Haya), has been open since 1956, and incorporates four centres throughout the province.
Meanwhile, the Hospital Universitario Virgen de la Victoria offers specialist health services much like the Costa del Sol Hospital. There are also three smaller hospitals serving north Malaga, east Malaga and the Axarquia, and the Serrania de Ronda area.
By Eloise Horsfield | Property News | February 18th, 2014