Santander gets back into the property market
Construction work is set to begin again on 5,000 homes across the country, returning Banco Santander, the largest financial group in Spain, to pre-boom building levels.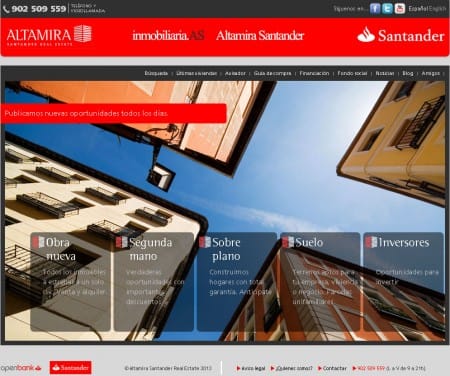 It comes after the new CEO Javier Marin, ordered an evaluation before the summer of all the repossessed construction projects on the bank's books. After analysing the potential demand, Santander has chosen to resume work on some 140 repossessed developments throughout Spain, where over 30% of the properties have already been sold off plan. This includes a total of 5000 residential properties, a figure unheard of since the bubble burst on the real estate sector.
Altamira, the bank's real estate subsidiary, will be a key player in this latest move despite the fact that it was reportedly sold to the US investment fund Apollo Global Management at the end of November. According to sources at Santander, the construction of these projects will go ahead anyway.
It is now hoped current market prices will attract new buyers – both those who didn't buy during the boom and those who made money by getting out in time before the bubble burst – for the remaining unsold properties now being kick started after several years hiatus. Selling prices are around 40% lower than when construction was originally put to a stop due to lack of demand which bodes well.
Certainly it is a welcome return to employment for many construction workers. Moreover, it could have wider implications on the market as other banks are sure to follow suit if the venture proves successful.
By Adam Neale | Property News | December 31st, 2013