Air China sets its sights on the Costa del Sol
Yet more passenger flights look likely to land on the Costa del Sol as southern Spain becomes an ever-more popular destination for visitors from all over the globe.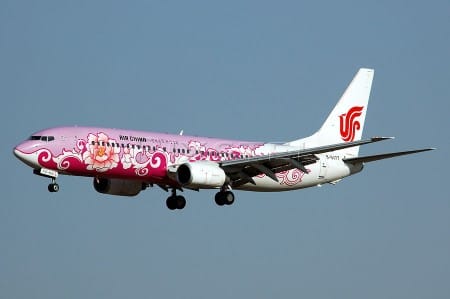 Air China is considering adding Costa del Sol airport Malaga to its network as part of its expansion into Spain, while British Airways and Jet2 have announced they will increase their connections between Malaga and the UK following record numbers of visitors in 2013.
Air China's business development director, Zhaoqui Bi, met with Malaga tourism boss Damián Caneda in Shanghai to discuss the possibility of creating a route between China and Malaga.
As the Asian airline with the most connections to Europe, Air China has been running flights between Beijing and Madrid for the last eight years. Now it is considering extending its network to the Costa del Sol.
"Air China is interested in opening all the routes possible. We will be carrying out a detailed study on all the routes which could be opened between China and Spain and that, of course, includes Malaga," said Bi.
Currently passengers wanting to fly between Malaga and Asia have to fly to Istanbul, Turkey, and pick up another flight there.
Bi added that there was a need to attract more Chinese tourists to Malaga. This sentiment was echoed by Caneda, who said there was still work to be done promoting Andalusia within China, and that currently only 15,000 of Andalusia's 20 million annual tourists come from China.
Caneda is working towards Malaga becoming the Chinese gateway to Andalusia, acting as a springboard to Andalusia's Golden Triangle (Granada, Sevilla and Cordoba) as well as becoming a destination in its own right.
Meanwhile the popularity of the Costa del Sol continues to rise for Britons, something greatly reflected in the growing number of flights already operating between Malaga and cities all over England, Wales and Northern Ireland.
UK operator Jet2 has just announced plans to increase by 11% the number of seats sold on flights to Malaga in summer 2014 compared to the same period this year. It also hopes to sell over 100,000 tickets during winter 2014-15, more than three times as many as those available this winter.
In addition, British Airways has announced two new flights a week between Malaga and Heathrow from March 2014, which will rise to four during summer 2014. This will add to the flights it already operates from Gatwick and London City to Malaga.
Last month budget airline Vueling launched a twice-weekly low-cost flight between Malaga and Moscow in line with the Costa del Sol's growing popularity within Russia.
By Eloise Horsfield | Property News | December 20th, 2013