Life is better in Spain, finds new survey
Research has shown two thirds of British expats prefer their Spanish life to the one they had at home. An impressive 66% said they had a 'better overall quality of life' in Spain than in the UK.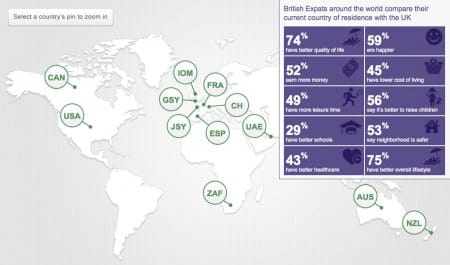 Carried out by Lloyds TSB, the study also found 64% of Britons had a 'better lifestyle' than the one they had before they made the move to Spain.
These figures are perhaps predictable given that most Britons who live in Spain choose luxurious destinations such as the Costa Brava and the Costa del Sol, thus swapping dreary and rainy Britain for year-round southern European sun.
With some house prices now half what they were in 2008, many foreign residents can afford to live in designer properties in wow-factor locations such as Marbella, Estepona, Benahavis, Gaucin and Casares – and expect a fun life full of beaches, warmth, sunshine and spectacular views.
Of the respondents, 65% reported lower costs of living. This reflects yet another key advantage of moving to Spain. Because of the current economic situation, living costs have been slashed allowing British expats to enjoy the finer aspects of life (including spectacular wines and delicious fresh produce) for much less.
Perhaps more surprising is that, despite Spain's current recession and 27% unemployment rate, 52% of British expats said they earn more in Spain than in the UK. It would seem foreign residents are not being affected by the thousands of job losses that have hit Spanish nationals since the financial crisis hit in 2008.
Meanwhile 61% reported that their healthcare in Spain is better than back home.
The survey asked British expats all over the world, including in Canada, France, the US and Switzerland, to compare their current country of residence with the UK.
The results can be viewed here.
By Eloise Horsfield | Property News | August 12th, 2013