Russian demand for luxury homes on the Costa del Sol is booming
Enticed by the region's warm climate, golf courses, glamorous lifestyle and range of upmarket properties, Russians have now overtaken Germans as the number two buyer on the coast, beaten only by the UK.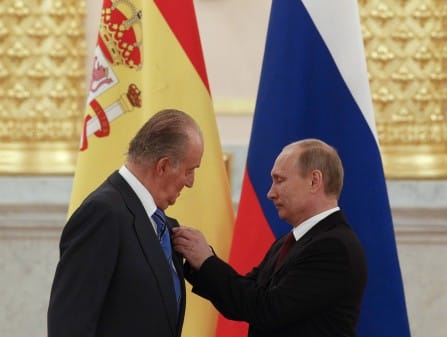 According to the president of the Malaga Builders and Promoters Association, Jose Prado, Russians are buying nearly 20 per cent of the available properties in the province.
The last year has seen them leapfrogging Germany and going from tenth to second place despite representing only a fraction of the expat community.
In fact of the 4,600 homes purchased by foreign citizens on the Costa del Sol last year, Russians accounted for 19 per cent, compared with just 12 per cent bought by Germans who fell into fourth place behind the Norwegians.
And there is more good news for Spain's property market, as investments in the sector from Russia, Bulgaria and Germany are expected to increase by between 10 and 12 per cent this year.
It comes as the Costa del Sol Tourism Board was recently in Moscow for the presentation of the 'Living Costa del Sol' campaign which hopes to attract further investors from Eastern Europe.
More than 50 Russian estate agents, press and potential investors attended the event which aims to attract new residents with high spending power who will also help reduce the number of empty houses on the market.
It is a welcome lifeline for Spain's property sector, with the average private Russian buyer expected to spend in the range of €150,000 and €400,000, and the average property investor expected to spend €3 million.
Marbella continues to be the most popular destination for Russians buying property in Spain at the moment, with demand in the area roughly doubling in the last two years.
Meanwhile experts in the sector suggest Russian buyers are typically looking for luxury homes, villas and penthouses on the coast or on exclusive estates such as Zagaleta which boast good quality homes and high levels of security.
Spain's struggling economy means high-range houses are currently available for low prices, which combined with the weakening of the euro and Spain's well established tourist industry, is encouraging Russians to take advantage of the situation.
According to figures from the Institute for Tourism Studies of Spain (EIT) 920,000 Russian travellers visited the country last year representing a staggering rise of 44.6 per cent from 2010.
Of these 120,000 chose Andalucía, with 70,000 choosing the Costa del Sol.
Part of the increased attraction to buy property on the coast can be accounted for due to the amount of flights available from Russia to Malaga with 20 airlines offering direct routes and over 80 flights from Moscow per week.
Meanwhile many are enticed to buy as it makes it easier to obtain a Spanish visa allowing Russians the possibility to travel freely in the euro zone.
By Adam Neale | Property News | August 10th, 2012