Costa del Sol and the Commercial Real Estate Crisis
There are a lot of stories in the news these days about an unfolding crisis in the commercial real estate (CRE) sector, especially in relation to office buildings. At the end of July, the US business press seemed to be in pre-panic mode about looming bank and real estate failures. Some of the causes of this are not secret or complicated. The first is that during the pandemic response of 2020-2022, there was a substantial increase in people working from home.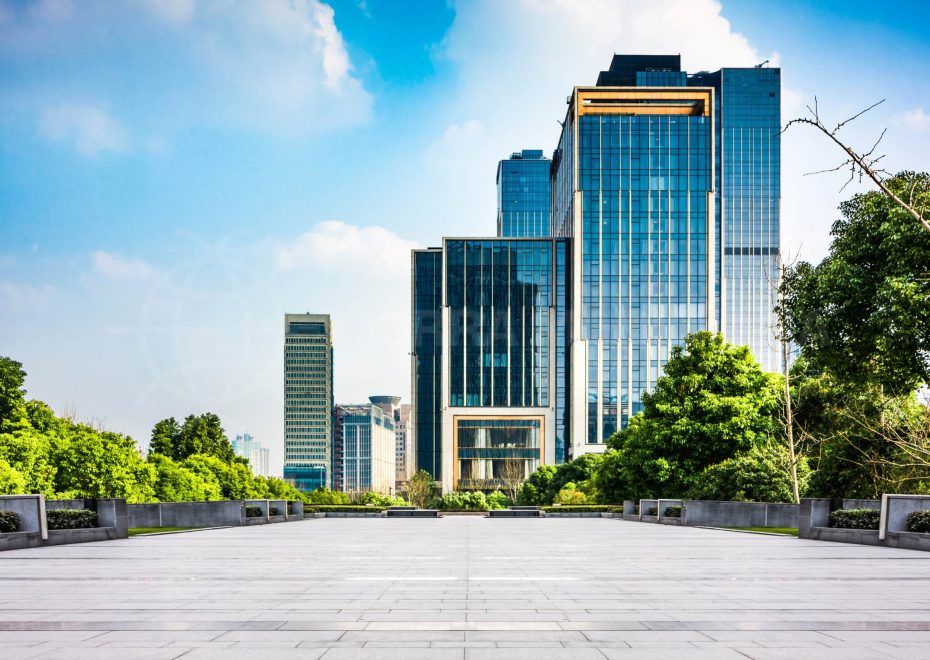 The Remote Work Revolution
In the EU27 countries, which includes Spain, the number of remote workers more than doubled, from 5.5% in 2019 to 13.5% in 2021. And that number remains stubbornly high at about 10% in the EU. If we include people who work from home at least part of the week, that number rises significantly. In the USA, which has similar numbers to Europe, more than 28% of employees have a hybrid work model, including some days at home. People like working from home when it's permitted, it seems. But people working from home means less office space is needed, and as leases come up, many companies are renegotiating with their landlords for smaller spaces.
Climate Change and Office Spaces
There has also been a raft of laws passed in recent years to counter climate change. The result is a preference for smaller, higher-quality offices with a smaller carbon footprint. The result in the USA is almost catastrophic from a landlord's point of view, with an average occupancy rate of only 50%. The EU fares considerably better, with an overall occupancy rate of 65%, down from the pre-pandemic peak of 70% but not disastrously so. And while vacancy rates in the EU are around 7-8% and just under 9% in the UK, those in the USA are at an astronomical 19%. This disparity led JP Morgan to issue a note dispelling any idea of a similar crisis unfolding on the two continents: "Fundamentally, we believe that any contagion from either U.S. banks or U.S. CRE (commercial real estate) onto European peers is not justified, given different sector dynamics," analysts at the bank said.
The Perfect Storm in the USA and EU's Resilience
And finally, there has been a rise in interest rates. Commercial Real Estate landlords, particularly in the USA, are facing a perfect storm. There is falling occupancy, rising building code standards (to meet climate goals), and increasing interest rates to refinance their debt. That's the source of the panicked tone in North American economic publications. While the EU CRE market is in a stronger position than the USA market, it still faces problems. These include a dramatic decline in CRE investment. The UK measured the most significant decline at a whopping 59%, while Spain seems to be suffering the least with a decline of 13%.
Costa Del Sol Digital Nomads: A Silver Lining
Let's set aside the doom and gloom (in the USA) for a moment because, ironically, the negative trends in CRE and office real estate is potentially a plus for the Costa del Sol market. That may seem strange at first until you think about it a little bit. Who moves to the Costa del Sol from outside of Spain – and from outside of the EU in particular? It tends to be two types of people: retirees and those who work remotely as freelancers or directly for a Spanish company. And those numbers have risen significantly in just the last year.
The Rise of Remote Work in The Costa del Sol
"The number of foreigners registered as self-employed has risen [since April 2022 – ed] from 393,238 to 417,335, a 6.1% increase." Fully 60% of those self-employed are from outside the EU. Andalusia is the autonomous community with the fourth largest foreign freelancer population. Malaga has an estimated 29,000 foreign freelancers, two-thirds of all foreign digital nomads in Andalusia. And now, with the Digital Nomad Visa being approved in November 2022, it is easier for people to come to Spain and settle in. The application process can be complicated for those who are employees of a foreign company vs freelancers, but not impossible.
The Appeal of The Costa del Sol
It shouldn't be a big surprise that the Costa del Sol is a magnet for digital nomads. It has well over 300 days of sun every year, mild winters, beautiful beaches, and excellent infrastructure. The Costa del Sol also promises a healthier, more laid back and more outdoorsy lifestyle. And, it's a lot cheaper than most other places in Europe, while still being connected to them by regular flights or high-speed train. That's why, for instance, Malaga province – the fastest growing in all of Spain – has the most cosmopolitan population. Six out of ten new residents to Malaga are foreign, thus providing the biggest impulse to growth.
The Cosmopolitan Nature of The Costa del Sol
Over 16% of the population are foreigners, with some towns and mid-sized cities, such as Fuengirola, approaching 40% of the foreign population. Marbella is over 25% foreign-born, and Benahavis is a full 60% foreign! The effect of that is to create a market for the kind of infrastructure that then attracts more remote workers. There are many beautiful co-working spaces in Marbella, for instance. Likewise, Malaga and Estepona. A quick search on Google will pull up dozens. There are even review sites so that you can choose what works best for you in terms of prices, services, socializing or closeness to the beach. And plenty of cafes make themselves welcoming to remote workers who want to get out of the house and see other human beings. Isolation is always a risk for remote workers, especially foreigners who leave behind friends and family.
The Future of the Costa
I can't tell you what will happen to the CRE market in San Francisco next year. Or even for certain in Europe. But I can definitely tell you that the Costa del Sol will continue to attract people who are able to work remotely from all over the world – especially from Britain, which remains the largest contributor to the region's population growth.
By Adam Neale | Opinion | October 31st, 2023