SPAIN AND COSTA DEL SOL RESIDENTIAL PROPERTY MARKET REPORT Q3 2016
Every quarter, Terra Meridiana produces a report on the housing market in Spain and on the Costa del Sol, comparing data from various official sources to provide buyers and sellers with the most up-to-date information and our perspective on what it means for the marketplace.
We use figures from Notaries, Registrars, the National Statistics Institute (Instituto Nacional de Estadística, INE), and the Ministry of Public Works (Ministerio de Fomento) to track changes, and provide a summary of some of the most important data about the national and local markets.
National sales fell by 4.6% in Q3 2016, but were still 11.2% higher than Q3 2015
In the third quarter of 2016, 103,516 residential properties changed hand around Spain, a decline of 4.6% in comparison with Q2, but still the best third-quarter figure since 2009 and 11.2% higher than the same period in 2015.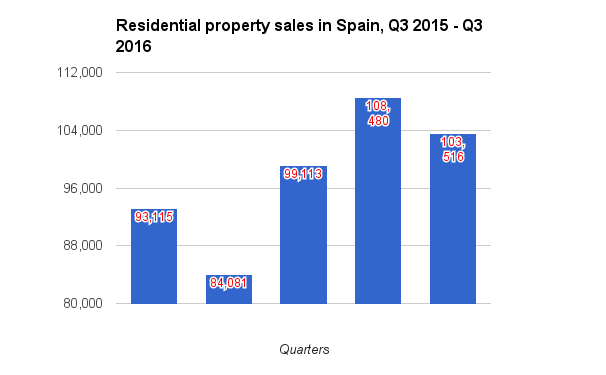 Terra Meridiana's view: The overall drop in sales in Q3 2016 was to be expected, following the Brexit vote in the United Kingdom at the end of June. The referendum result not only weakened the sterling-euro exchange rate to the detriment of British buyers, but created uncertainty over the eventual outcome of the UK's plans to leave the European Union.
The volume of sales in our principal Costa del Sol markets also decreased in Q3
After a strong second quarter, all three of the local markets we track on the Costa del Sol witnessed a sizeable downturn during Q3. In Marbella, the number of transactions dropped by 11.8% over the three-month period, representing 12.4% fewer sales year-on-year. In Estepona, the quarterly total was down by 22.3%, and 6.7% in comparison with the same period last year. And in Benahavís, sales plummeted by over a third (34.1%) and the total for Q3 was 42.8% lower than in 2015.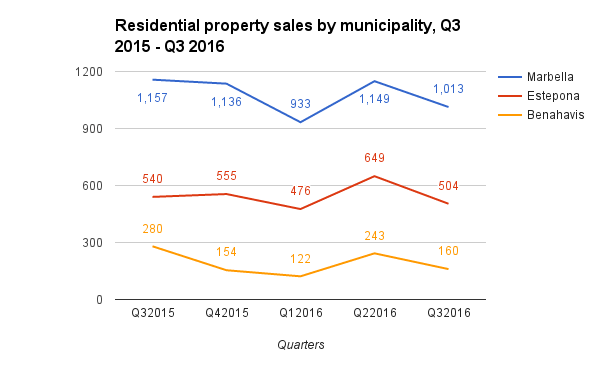 Terra Meridiana's view: Q3 2016 saw the number of sales in the three Costa del Sol markets we focus on even more adversely affected by the UK's Brexit decision than the average for Spain, due to the higher share of overseas, and particularly British, buyers in the area.
Prices followed a similar trend in Q3 2016 and continue to rise faster than in 2015
Spanish housing prices continued to grow by 4% in Q3, more or less at the same rate as the previous quarter, a little slower than the same period in 2015, but still slightly higher than the average for last year overall.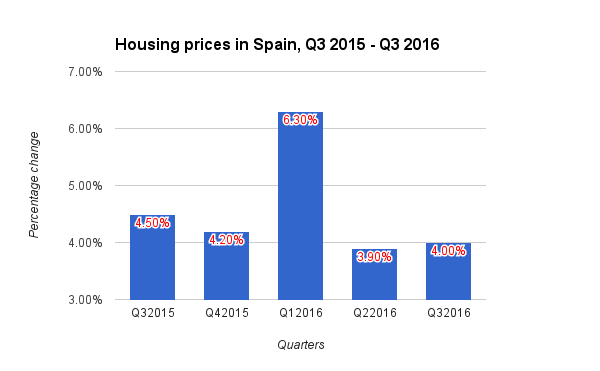 Terra Meridiana's view: Property prices across Spain continued climbing in the third quarter of the year, as the market continues to recover confidence following years of declining values.
By Adam Neale | Property News | December 30th, 2016