Spain and Costa del Sol residential propertu market report Q1 2016
Terra Meridiana produces quarterly reports on the Spanish and Costa del Sol housing markets, using data from official sources, to give buyers and sellers regularly updated information about where the market has come from and our opinion of where it is going.
We use data from Notaries, Registrars, the National Statistics Institute (Instituto Nacional de Estadística, INE), and the Ministry of Public Works (Ministerio de Fomento) to spot trends, track changes and provide an overview of the most relevant facts and figures from the national and local markets.
Sales were up nationwide in Q1 2016 by more than 9%, year-on-year
In Q1 2016, 99,113 homes were sold across the country, an increase of 9.2% compared to the same period of 2015 and a jump of nearly 18% (17.9%), in comparison with the last quarter of 2015.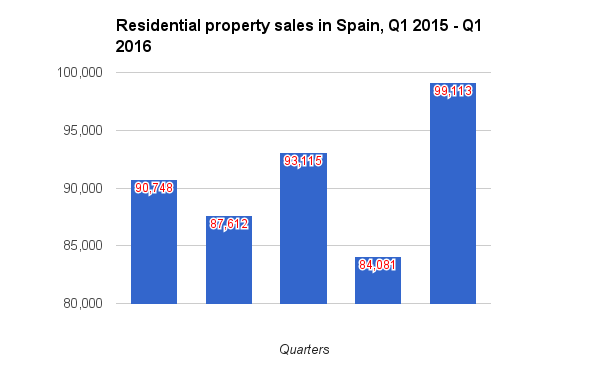 Terra Meridiana's view: This represents a strong start to the year nationwide and is the highest Q1 figure since 2010, although it is still well down on the historic highs of 2006-07. The first quarter of 2016 continues the generally positive growth trend the Spanish market has shown since the start of 2014.
On the Costa del Sol, sales also increased in all the locations we serve
Our principal markets on the Costa del Sol all registered year-on-year growth in the first quarter of 2016: in Marbella, residential property sales rose by 2.8%, in Estepona by a huge 25.9%, and in Benahavís by 11.9%.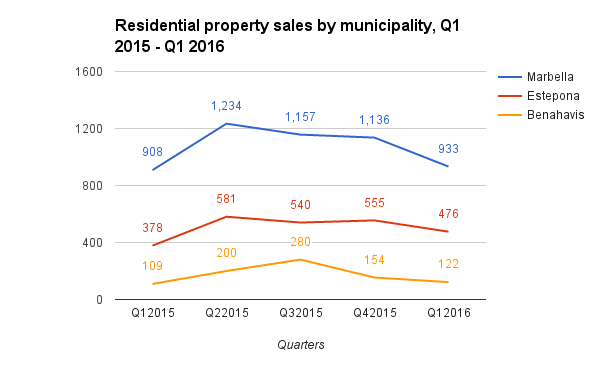 Terra Meridiana's view: The first quarter of the year is traditionally a quiet time for the Costa del Sol property market, as the numbers of tourists and potential foreign buyers drop off during the winter months. We are, however, encouraged by growth figures, particularly in Estepona, which is fast becoming increasingly popular with overseas clients.
Housing prices across Spain increased in Q1 2016 at a faster rate than 2015 overall
In the first quarter of 2016, Spanish residential property prices rose by 6.3%, compared to the same period in 2015. The average quarterly gain, year-on-year, for 2015 was just over 3.5%.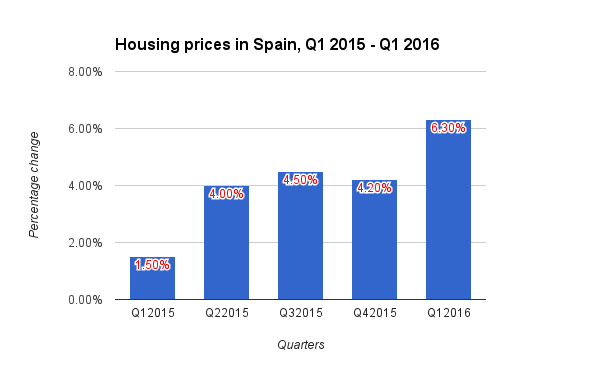 Terra Meridiana's view: Property prices in Spain have followed a more or less consistent positive trend since the beginning of 2013, with the biggest gains normally registered in the second and third quarters, the period when overseas buyers, especially those looking for holiday homes, tend to be most active. The significant jump at the start of 2016 signals a resurgence of confidence among sellers to achieve higher values.
By Adam Neale | Property News | June 30th, 2016