Real-estate investment trust buys Marbella's Hotel Guadalmina
Hispania Activos Inmobiliarios has paid a cool 21.5 million euros for the iconic four-star spa hotel and golf resort, which sits on the seafront and offers some of the best access to golf courses in the area.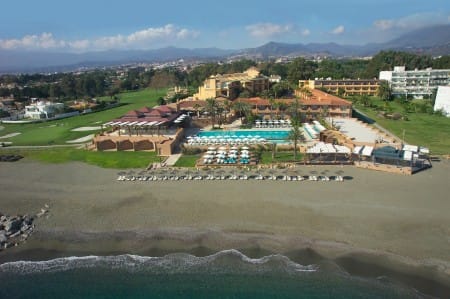 Hispania said the strategy was to reposition the hotel as "one of the most unique hotels and attractions in Marbella, one of the most prestigious and established tourist destinations in Europe.
"This first acquisition of Hispania is in line with our strategy of investing in high-quality assets in which there is a clear potential for value creation, through an investment plan that allows management and repositioning of assets in the market," explained Hispania advisor and Azora co-founder Concha Osacar.
"The Costa del Sol and Marbella in particular, is an area which Hispania is focused on and where we intend to continue investing," she added. "This operation confirms our competitive advantage of access to quality assets through debt positions and off-market transactions."
It is the first purchase by the new company which was listed on the Spanish stock exchange last month and has been attracting an influx of international interest. The REIT (known as a SOCIMI in Spanish) which owns and operates portfolios of income-producing real estate, and allows anyone to buy shares without the hassle or expense of becoming landlords, was created by the Spanish private investment firm Azora.
Last month, US billionaires George Soros and John Paulson each took a €92 million stake in Hispania, while US bank Morgan Stanley announced it will purchase €20 million of assets within the company. Speaking at the time, Paulson told the Financial Times he was impressed with Azora's management: "We think they are well positioned to capitalise on the opportunities that are likely to arise in the Spanish real estate market," he said.
This recent surge in international interest suggests things are on the up for Spain's property market. By choosing to make their first purchase in Marbella, Hispania marks another vote of confidence for the Costa del Sol, which is going from strength to strength.
By Eloise Horsfield | Property News | May 5th, 2014