Luxury living for those who want a view, and to be seen
This extravagant, modern seafront villa is a must-have for those looking for a one-off home that will seriously impress family, friends, business partners, and anybody who visits Rio Verde beach.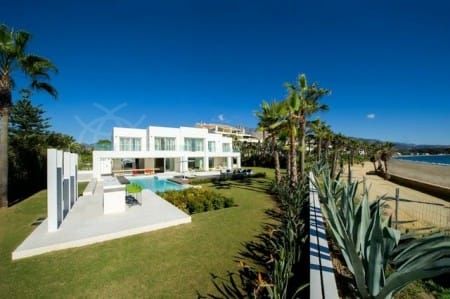 Created by the Argentinian architect, Carlos Lamas, one of the most forward-thinking professionals in southern Spain, 'La Serrala' is situated right on the beach, along Marbella's famous Golden Mile, and boasts a variety of one-off features that make life by the beach a breeze.
"It's a masterpiece," says Massimo Massullo, who works with Lamas. "This property is unique in the true sense of the word, in terms of size and modernity, both from an architectural and technological point of view."
He lists just some of the features that make La Serrala so special, like an 80m2 pool, cinema, built-in vacuum cleaner, and a state-of-the-art home-automation system, meaning heating, air conditioning, and lighting can be controlled remotely: "So if you're coming home from another country, you can turn it on when you arrive at the airport," he says.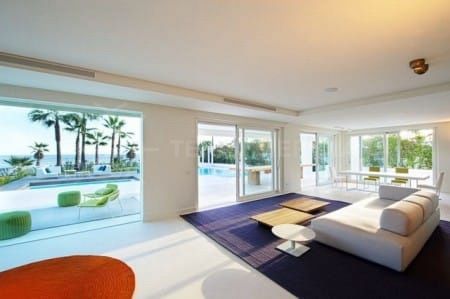 What's more, the house is completely protected from the elements, without compromising its aesthetic appeal. This includes such details as exterior window frames in aluminium, with wood finishing on the inside: "With a beachfront house, you get a lot of beating from the weather and the salt," Massullo points out.
La Serrala has direct access to the gorgeous Rio Verde beach, a key attraction for many potential buyers: "As it's beachfront, you are close to the world and not hidden away," he notes. "It might suit buyers who are a little flamboyant and like to show off what they own."
But, he adds, the brand-new house also enjoys real intimacy, thanks an innovative fencing system. "Imagine a fence a metre high, on top of which are glass panels. These offer views of the sea and beach, but also have internal blinds to give the privacy required. A traditional panel or wall would kill the view. This option is the best of both worlds."
By Eloise Horsfield | Featured Properties | April 4th, 2014
Related Posts
Luxury seven-bed beachfront villa, with pool, Golden Mile, Marbella