Torre Bermeja, between Marbella and Estepona
Torre Bermeja is a peaceful residential development situated on the New Golden Mile, between San Pedro and Estepona in sunny southern Spain.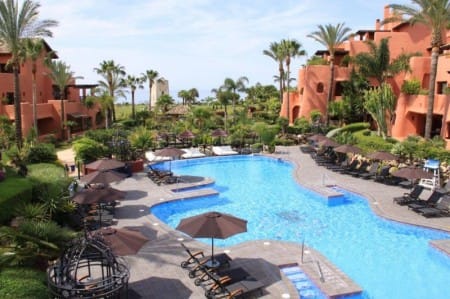 It consists of 108 apartments and boasts fantastic views over the Mediterranean sea with Gibraltar on the horizon, and even northern Africa on a clear day.
Built in 2002, the properties in this luxury estate range from around €500,000 to €1.5 million, ranging from two-bedroom ground floor apartments to 3 bedroom duplex penthouses.
What's more, Torre Bermeja is part of a protected archaeological site and has its very own Roman tower that has been very well preserved by the developers.
As the current president explains, one of the best things about living in Torre Bermeja is its social scene thanks to a really good mix of people.
"I think the friendship is the best thing about Torre Bermeja," he said.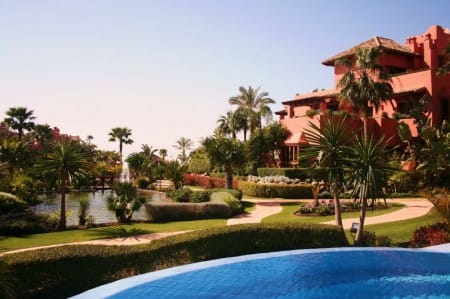 "The people living here come from right across Europe. There are Scandinavians, British and Irish and we are just starting to get some Russians. There's a good range of people.
"There's quite a wide age group, from the about 45 right up to 80. There are quite a lot of people in their 40s and 50s.
"All the people here are business people from across Europe, and some are retired," he said. "Many of the owners have been here since it opened in 2002 so there is a good community spirit here.
"It's really nice to feel you are part of something," added the president, who is very much involved in the social scene at Torre Bermeja.
The facilities are also fantastic, with beautifully maintained communal gardens,  male and female saunas and a fully equipped gym.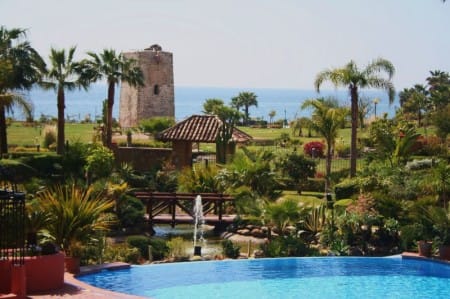 "We have two big outdoor pools and an indoor pool and an area with chairs and tables where you can sit down and have a chat," said the president.
Then there's the Roman tower, which adds a real quirkiness to Torre Bermeja that you certainly will not find anywhere else.
"We are on the beach here and there is an archaeological area with a Roman tower between us and the sea," said the president.
"The tower is very well preserved."
"In fact, everyone here has a real interest in preserving the place, and even the area and roads around Torre Bermeja," he added.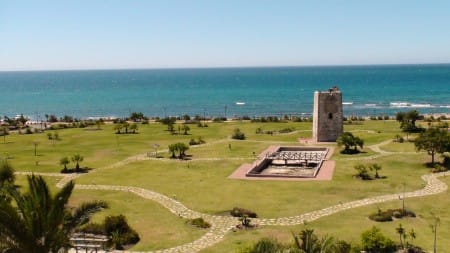 Torre Bermeja employs 18 full-time staff including gardeners, security and handy men to ensure the safety and comfort of its residents.
Another facility that makes residents' lives easier is a fantastic WiFi connection, available both in the flats and by the poolside and in the communal outside areas.
This means those wishing to bring their work to Torre Bermeja or to keep in touch with friends will be able to do so really easily.
All in all, Torre Bermeja is a wonderful place to consider for all those looking for somewhere hassle-free, comfortable and friendly for their first or second home.
By Eloise Horsfield | Property News | June 26th, 2012