Cabo Bermejo, luxury by the sea
Cabo Bermejo is a beautiful luxury development on the glorious Costa del Sol just a short drive away from Marbella, Puerto Banus and Estepona.  Its wonderfully presented apartments and gardens are ideal for either a main or second home, where owners can come and enjoy the very best of southern Spain in a safe and secure setting.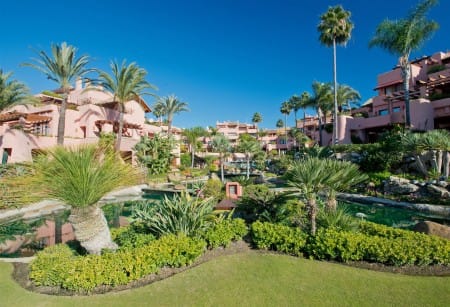 Martin Morris, 63, bought a two-bedroom apartment in Cabo Bermejo six years ago with wife Sharon.
"When we first saw it we instantly fell in love with the place," said Martin, from London. "Despite being shown many other apartments in other locations, they couldn't beat the view and facilities that Cabo Bermejo had to offer."
Not only are Cabo Bermejo's two- and three- bedroom apartments all equipped with the best appliances, there are also two large swimming pools, a sauna and three gyms within the complex.
"The two pool areas have just been completely refurbished and they look absolutely beautiful. The gyms are also great and usually empty!" added Martin, who also appreciates the tropical gardens, pools, ponds and waterfalls throughout the site.
"They are beautifully maintained and make Cabo a gorgeous location," he said.
Each apartment has its own private terrace, with stunning views over the Mediterranean Sea.
"We also have a grassed area with loungers and sun umbrellas directly above the beach for Cabo Bermejo's exclusive use, right on the sea. This is great for sunbathing as you get the sea breeze when the weather is really hot."
Martin and Sharon spend an average of three months a year at their apartment, often welcoming their children and grandchildren to their Spanish home in the sun.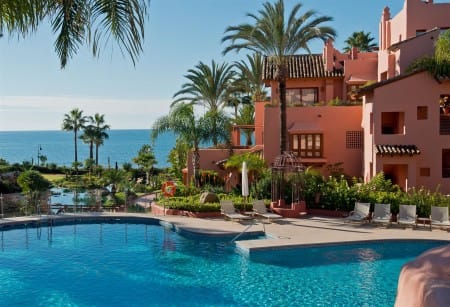 And during the summer isn't the only time to come and enjoy Cabo Bermejo – during the colder months it makes a fantastic place for a getaway too.
"The apartments have under-floor heating and the bathrooms also have heated floors and towel rails, which is great in the winter," said Martin.
"It really is a home from home," he added.
While Martin and Sharon spend lots of time in the surrounding towns of Estepona or Puerto Banus, eating out or going shopping in Marbella, another thing the couple really enjoys is the atmosphere within the complex.
"We have got to know many other people at Cabo so for us the social side is brilliant and effortless. Our neighbours have become great friends, and two doors away are our best friends from London, who bought on our recommendation," he added.
"Our onsite manager, Hamid, is in my opinion the best at his job on the coast. He always seems to be there when you need him and with Kim, his girl Friday, we really get the most amazing service as owners. Any problems in the apartment are rectified immediately and he always get the onsite cleaners in to get our apartment ready for our arrival".
And the best thing is that Cabo Bermejo is entirely secure, with all the entrances manned permanently.
"The security on site is excellent with 24-hour guards, constant patrols and electronic magic eye protection and CCTV," said Martin.
"We do feel really safe".
By Eloise Horsfield | Property News | January 30th, 2015