Game of Thrones producers eye Andalusia for next series
Andalusia is being considered as a location for season five of the hit US TV show, Game of Thrones. If successful, the series will add one more credit to the long list of productions that have used the south of Spain as a backdrop.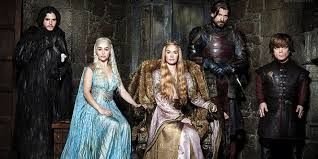 Game of Thrones, a fantasy drama that has seen worldwide success since it first aired in 2011, is produced by the US TV channel, HBO (Home Box Office).
"HBO is considering filming in Spain," confirmed the US ambassador to Spain, James Costos, in an interview with Cadena Ser radio. "Negociations with the Andalusian Film Commission are steady and there are wonderful locations in Spain."
Canal+, which airs the series in Spain, later confirmed, via Twitter, that HBO was looking at Andalusia as a possible location for the fifth season.
"I'm hoping for the best," said Costos, who previously worked for HBO. "Bearing in mind the landscapes here, and how well I know the series, I have the feeling that, when the crew comes, they will find what they are looking for."
Fans have already begun to speculate what form the filming will take, with some hoping the previously unseen Kingdom of Dorne will be created in Andalusia.
With breathtaking scenery of mountains, beaches and natural parks, it is hardly surprising why Andalusia is a possible location for this fantasy series. And it will not be the first time prestigious productions have been made here: the list of big-name films and shows that have used Andalusia as a backdrop is impressive.
The 1962 hit, Lawrence of Arabia, was filmed, in part, on the sand dunes of Cabo de Gata Natural Park and on Algarrobico beach, in Almeria. Years later, Steven Spielberg chose Almeria's beaches and Tabernas desert to shoot Indiana Jones and the Last Crusade.
Star Wars also came to Andalusia, with Seville's Plaza de España representing the city of Theed, while Doctor Zhivago used the spectacular landscapes of the Marquesado de Zenete region in Granada for its epic opening scenes.
More recently, the James Bond film, Die Another Day, chose Cadiz to be Havana, while Halle Berry emerged from the sea on the city's La Caleta beach in her famous scene.
By Eloise Horsfield | Property News | June 13th, 2014