Gaucin, a beautiful white village, perfect for country lovers
From its setting tucked into the folds of a mountain surrounded by green Andalusian countryside, romantic Gaucin is a charming white mountain village surveying valleys and mountains all the way to the Costa del Sol's famous shoreline.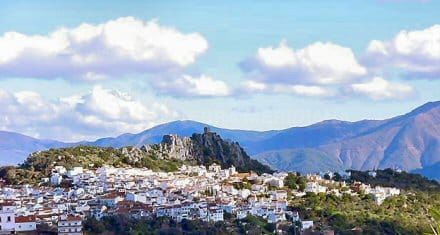 Gaucin is every bit as pretty and scenic as the nearby mountain village of Casares, an internationally recognised UNESCO World Heritage beauty spot, and its setting is every bit as spectacular. Indeed, the views from here take in eagles soaring over green valleys and scenic mountain ranges that give way to the coastal plain and expansive blue Mediterranean Sea. From Gaucin, you can see all the way to Gibraltar and across the Straits to Morocco.
Because of its spot perched on a mountain ridge, Gaucin was once a remote lair for bandits and smugglers with the only access through a dangerously narrow steep path. While today the road is gentle, easygoing and newly resurfaced, this tradition still adds a sense of romanticism to a pretty white-plastered town that huddles in the sun under the gaze of an ancient and rather panoramic castle.
The panoramas to be enjoyed from its ramparts, 600 metres above sea level, earn the castle and indeed the town the name of 'Balcon de la Serrania de Ronda' – or balcony of the Serranía de Ronda mountain range. On clear days you will actually be able to spot the Rif Mountains of North Africa from this village, whose Moorish architecture reveals roots that run back via the Muslim period to the Romans and further back.
This tight-knit community of 2,000 people also includes foreign residents who have long since lost their hearts to the village and its beautiful surroundings. Some have contributed with Spanish artists to making Gaucin a hub of art and creativity that extends from painting, sculpture and craftsmanship to also encompass interior decoration and some excellent restaurants and tapas bars. The culinary arts are therefore well represented in this village which still cherishes its Andalusian heritage and traditions.
Moreover, Gaucin is only a stone's throw away from the bigger towns of Marbella, Puerto Banus, Estepona and Ronda, with the beaches of Estepona and Manilva around 15 minutes by car. You can be surrounded by cork forests and open countryside one moment, and within no time at all find yourself enjoying a fish meal on a sunny beach or a round of golf at the nearby championship course of the gorgeous Finca Cortesin Golf & Spa Resort.
If you are after a traditional Spanish white village that also allows you to access the delights of the Costa del Sol easily, then get in touch for a great selection of Gaucin properties for sale.
Originally published November 2012, updated by Adam Neale November 2018
By Adam Neale | Property News | November 28th, 2018