Featured White Village, Benahavis Pueblo
If you want to live in a traditional Spanish village brimming with history, fantastic scenery and with a thriving expat community, then Benahavís may well be the place for you.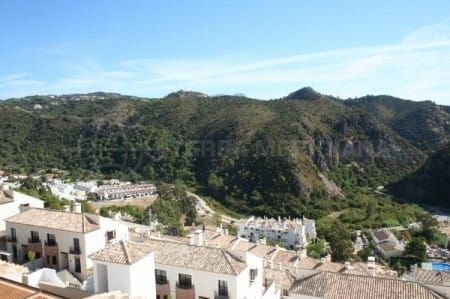 Views to die for
This charming pueblo blanco, formed under Arab rule, is nestled in the foothills of the Serranía de Ronda. It is surrounded by natural parkland, cork and pine groves and shaped by no fewer than three rivers, the Guadaiza, the Guadalmina and the Guadalmedina, each with its own valley.
And yet, despite being right in the centre of a mountainous idyll, Benahavís is still only a 15-minute drive from the coast meaning the bright lights of the Costa del Sol are within easy reach.
A bit of history
Benahavis was founded at the end of the 11th century and its name means 'Son of Havis' in Arabic, after Havis who ruled Montemayor Castle at the time.
The castle's position was key in the fraught battles between Andalucia's Arab kings. Its ruins can still be seen today, along with fantastic views over the coast.
Fascinatingly, there are several underground passageways connecting the castle with the coast 7km away. During Arab times the tunnels, large enough to fit a man on horseback inside, were used to transport soldiers, food and weapons to and from boats shored up on the beaches.
The castle and the village were handed to the Christians in 1485 when Ferdinand and Isabella took Marbella and its surroundings.
Golf
For golf fans Benahavís is ideal as it has nine courses, including that of La Zagaleta, an exclusive mansion club which has turned Benahavis into the richest town hall per capita in Andalucia.
For those who want to really get involved there are regular golf tournaments. What's more, joining Benahavis Golf Club enables members to play at local courses for lower prices.
Culinary delights
Benahavís is extremely well known for its cuisine and boasts a high number of top class restaurants. This is why for many, Andalucians and expats alike, the word Benahavís is synonymous with food.
Recommended destinations include La Casita, El Castillo, Amigos, Amanhavis Hotel, where the menus cover local, French, Belgian and Mediterranean food are of particularly high quality. For genuine foodies, Benahavís really is the best place to live on the Costa del Sol.
Great sense of community
Benahavis has a thriving expat scene made up mostly of British, Scandinavian and Irish residents, which means it would be practically impossible for any newcomer not to make friends.
"One of the nicest things about Benahavis is that it is an established working village," said local resident, photographer Daniel Posner.
"That is something that is very important as an expat. A lot of urbanisations are in the middle of nowhere, with no real focus to them and you have to drive miles to get anywhere. In Benahavis, however, everything is close by.
"You get to know a lot of people – if I'm walking into the village I have to make sure I have a lot of time because I always bump into so many people I know," added Posner, who is from Britain and has lived in Benahavis for five years.
"And it is really great if you have children," he added.
"All the activities laid on by the town hall, such as the festivals, are put together with them in mind."
Posted on August 2nd, 2012 filed under About Costa del Sol Areas.
Tags: Benahavís
Costa del Sol Property Blog