Welcome to Puerto Banús, Marbella, Spain's most exclusive marina
One of the best known and possibly the most exclusive pleasure harbour in the province of Malaga, is Puerto Banús. The harbour and residential area of the same name are a part of Marbella, a town that has been dubbed the Monte Carlo of Spain thanks to its history as an exclusive seaside retreat. Over the years golf has come to equal and perhaps even surpass the sea as an attraction, but the local lifestyle has remained as exclusive as ever.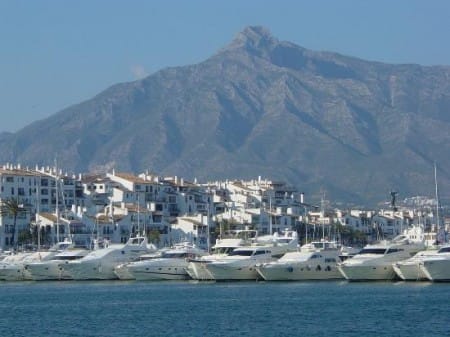 Puerto Banús is the brainchild of José Banús, an entrepreneur who had acquired some land to breed fighting bulls in the area known today as Nueva Andalusia. In the sixties, he envisioned adding a luxury Marina to Marbella and eventually contracted two architects, Noldi Schreck and Macos Sainz to undertake the project. The harbour facilities and the first homes were inaugurated in May 1970 and a rush of businesses and residents quickly followed to settle here. The marina almost immediately became a natural extension of Marbella, gaining wide international acceptance. For instance, King Fahd of Saudi Arabia moored his giant yacht here alongside those of a host of famous personalities.
Apart from the marina itself, proximity, both immediate and relative, is key when it comes to Puerto Banús as a location for residential living. The town of Marbella, luxury shopping facilities, a dozen renowned golf courses, beaches, restaurants, and nightlife are all right in Puerto Banús or a short drive away. For trips lasting a day or more, a car will get you to some of the most important sites in the region: the Serranía de Ronda (30 minutes or less), Granada (3 hours), Gibraltar (1 hour), Málaga (1 hour), Cadiz (3 hours), Sevilla (3-4 hours), Cordoba (3-4 hours), and of course Morocco (quick ferry crossings from Algeciras, about an hour's drive away).
Finding a good investment right in Puerto Banús is easy. Los Granados, Oasis de Banús, Laguna de Banús, Malibu, Playa del Duque, Playa Rocío, and La Alcazaba are some of the local residential complexes offering a wide variety of apartments, duplexes, and penthouses in permanently guarded communities with the usual amenities of tropical gardens, swimming pools and much, much more. They are all situated a short walk eastward from the marina, on or very near the beach, with the Marbella Club Hotel and the Puente Romano Hotel Beach Club just a little further east.
By Eloise Horsfield | Property News | February 7th, 2013