Golf in the Estepona Area
ATALAYA GOLF & COUNTRY CLUB INTERNATIONAL
Ctra. De Benahavís, Km. 0.7
Tel. (+34) 952 882 812
Fax (+34) 952 887 897
e-mail: info@atalaya-golf.com
www.atalaya-golf.com


Situated a few kilometres to the east of Estepona, this club has two 18-hole courses, an extensive practice area and three putting greens. The original 72-par, now called Atalaya Old Course, was designed in 1968 by German golf champion Bernard von Limburger. It has wide, undulating fairways and elevated greens, all surrounded by mature eucalyptus, olives, pine trees and cactus. The 71-par Atalaya New Course, created in 1990, lies further inland and from its more elevated position there are excellent views of the Mediterranean from most holes. Both courses appear at first glance to be fairly flat, but there are unexpected challenges even for experienced players.
LOS FLAMINGOS GOLF CLUB
Ctra. de Cádiz, Km 166
Tel. (+34) 952 889 163
Fax (+34) 952 889 159
e-mail: info@flamingosgolf.com
www.flamingosgolf.com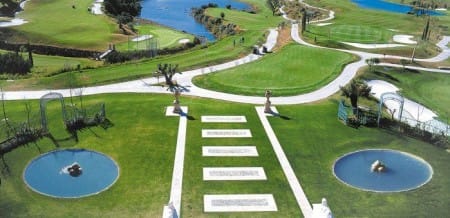 Only 15 minutes by car from the centre of Estepona, this is considered to be one of the best and most exclusive golf resorts in Europe. Two magnificent 18-hole courses surround the glorious 5-star Hotel Villa Padierna and there are plans for another two courses in the immediate area. Near the first hole of Flamingos Golf is a putting area and soon a sizeable driving range will be inaugurated. There is a first-class Pro Shop, with everything anyone could want for their game of golf and much more, and the club offers no less than three restaurants along with two bars and a thermal spa.
EL PARAÍSO GOLF AND COUNTRY CLUB
Ctra. De Cádiz, Km.167
Tel. (+34) 952 883 835
Fax (+34) 952 885 827
e-mail: admin@elparaisogolfclub.com
www.elparaisogolfclub.com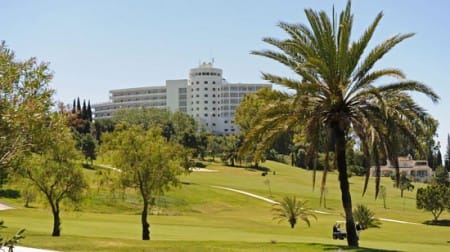 One of the oldest established courses in the Estepona area, El Paraíso was designed by Gary Player and opened in 1973. The 18 holes, played over gently undulating ground frequently punctuated by meandering streams, are surrounded by tall palm trees and an abundance of pines, olives and oleanders. A couple of superb lakes provide an aesthetic aspect and are a haven for water birds, but can be a hazard for golf balls. The extensive driving range is open seven days a week, providing wet weather mats as well as all-weather ones, and there are chipping and putting greens as well as practice bunkers.
ESTEPONA GOLF
Ctra. de Cádiz, Km.150
Tel. (+34) 952 937 605
e-mail: information@esteponagolf.com
www.esteponagolf.com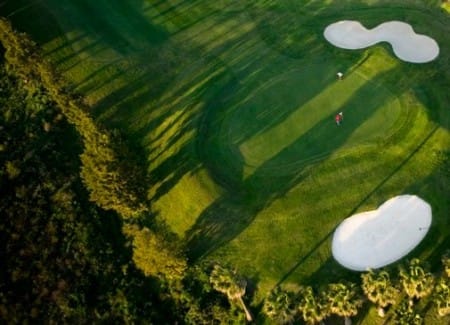 This English-run course, a short distance to the west of Estepona town, is situated midway between the Mediterranean Sea and the stunning Sierra Bermeja mountain range. Fantastic views are therefore enjoyed from most of the 18 holes and also from the clubhouse which, apart from offering all the usual top-class facilities, has a large terrace and lawn ideal for parties and weddings. The fairways are wide open, with one or two strategically placed bunkers and few water hazards, and the greens are renowned for their fast play. A challenge to any player, experienced or not, is the short par-4 10th where water almost completely surrounds the green.
LOS ALMENDROS CAMPO DE GOLF
Crta. De Genalguacil, Km.3
Tel. (+34) 952 113 327
A 9-hole par-3 course, inaugurated in 1999 by its designer, Bartolomé Benítez, Los Almendros is just 5 Km. inland from the town of Estepona. Nestling in a steep-sided valley of almond trees, from which it gets its name, the short fairways and tight greens are also surrounded by cork oaks and olives. There is a putting green, practice tee and rustic-style clubhouse/restaurant. A course to enjoy and not to be taken too seriously, it nevertheless can be challenging to any player who wants to perfect their chips and putts.
LA RESINA GOLF & COUNTRY CLUB ESTEPONA
Ctra. de Cádiz, Km.162.5
Tel. (+34) 951 278 346
Fax (+34) 952 923 873
Considered by some to be one of the best 9-holers in Spain, La Resina was designed in 2002 by South African golfer Craig Cooke. It is an exquisitely landscaped, par 3–4 course located a few minutes inland from the main coastal road and only 10 minutes by car from the centre of Estepona. A triple-tee system allows players to vary their game and the overall terrain is variable. The large terrace of the expansive clubhouse overhangs one of the lakes and looks out on to the 9th hole.
VALLE ROMANO
Ctra. de Cádiz, Km.152
Tel. (+34) 952 800 600
Created by Cabell R. Robinson, this 18-hole course is situated just to the west of Estepona town. Designed to be enjoyed by beginners and professionals alike, each hole has a choice of five tee positions and the large, gently sloping greens have various flag positions. Wending its way over a lightly undulating landscape, surrounded by top-class houses and blocks of apartments, the course finishes in front of the clubhouse from where spectacular views of the Mediterranean can be enjoyed.
By Eloise Horsfield | Property News | February 4th, 2013